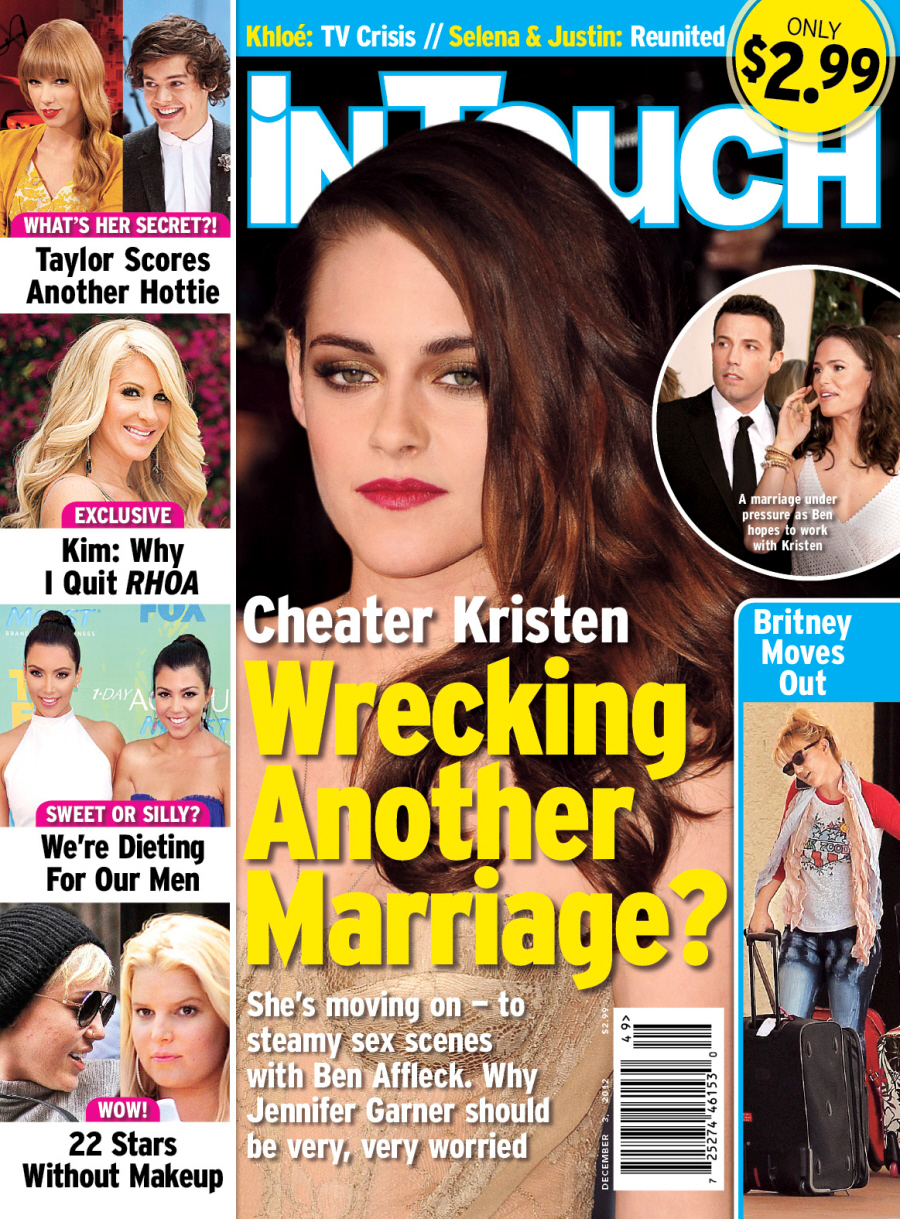 During last week's Twihardapalooza coverage, some of the Twihards began a rumor that Kristen Stewart was looking pregnant. It was hilarious. Mostly because I think Kristen had to be dragged kicking and screaming to play nice with Robert Pattinson during the publicity tour, so it's not like she was feeling especially lovey-dovey when it came to making babies. Of course, there's always the possibility that Kristen let Rob get her armpit pregnant. But OK! Magazine is really trying to get those Twihard dollars (they're like real dollars, only sparkly!), so OK! Mag is running a "maybe she's knocked up" story:
Kristen Stewart and Robert Pattinson are going to be parents! According to a new report in Ok! magazine, Kristen has been begging Rob to start a family ever since they got back together.

Although Rob was really hurt by her affair with Rupert Sanders, he's finally given in and the two are in the midst of baby making!

"Rob finally caved this week," a source says. "They were talking about their future and Rob told her that as long as she stays true to him, he's willing to have a baby with her."

"She's been on cloud nine ever since and can't stop talking to her friends about it," the insider says. "She feels like she's getting a second chance at life. Now that they're back in a good place and planning their family, she feels alive again. She says she started crying when Rob told her."

Rob and Kristen play parents in Breaking Dawn Part 2, and it's clear that being onscreen parents helped them realize that they want a family even more. But now that they've decided they want a child, the question remains: where will they raise their half-Brit baby?

"They've both agreed that they want to raise their baby in England," the source adds. "Rob is very patriotic and he feels like an English childhood is the be-all and end-all. Kristen loves it there too and she feels her baby would have a better shot at a normal upbringing in Europe."
I just feel like… no, none of this is going to happen. But I've been wrong before, so God knows. Meanwhile, there are literally 20 million tabloid stories about Rob and Kristen this week, so let's just do some highlights:
*In Touch Weekly's cover story this week is all about how Kristen is going to cheat on Rob again, this time with Ben Affleck. Ben wants Kristen for a movie about an older grifter (Ben) who takes a young grifter (K-Stew) under his wing. Then things get sexy. Basically, ITW says that because there are sex scenes in the script, Ben and Kristen will obviously be boning off the set (which is a fair assumption, to my mind). I kind of love that the story is so Twihard-focused, though – it's like no one cares if Ben screws around on Jennifer Garner?
*Us Weekly's sources say that Rob and Kristen's "issues aren't fixed" and Rob still doesn't completely trust Kristen. A source says, "Rob is at a point where he sometimes ignores her. He'll go out and won't respond to her calls or texts right away. Things will be strained for a while." But, Kristen "is working hard at the relationship." And just like I said, in the past Rob was often too clingy and dependent on Kristen, and she considered that "the least attractive thing about Rob." So now that he's acting like a bastard towards her, I'm sure she's really into that.
*Kristen's stylist Tara Swennen has a new interview about Kristen. Some highlights: Kristen is "a tomboy at heart (both of us are), but she understands that fashion is an arena, that she can be a chameleon and not dress the way she does every single day. She'll always change into her Converses by halfway through a carpet, which is to be expected at this point, but she puts on the heels for me for the photos, God bless her… I clearly prefer a heel. I just think it photographs better. Regardless of it being any type of heel, I think it elongates the silhouette, which obviously you always wanna do, make them look taller and have that longer look. But it's part of her personality; I think it's fun when she does it. There are definitely times when I have to say, 'Please, please, please put the heel on just for me.'" When asked about that hideous lace Murad gown at the LA premiere, Swennen said, "It took a lot of balls for her to wear that dress, so I'm super-proud of her." Yeah. Swennen is definitely part of Kristen's overall problem. And I hate that Kristen changes her shoes always and forever.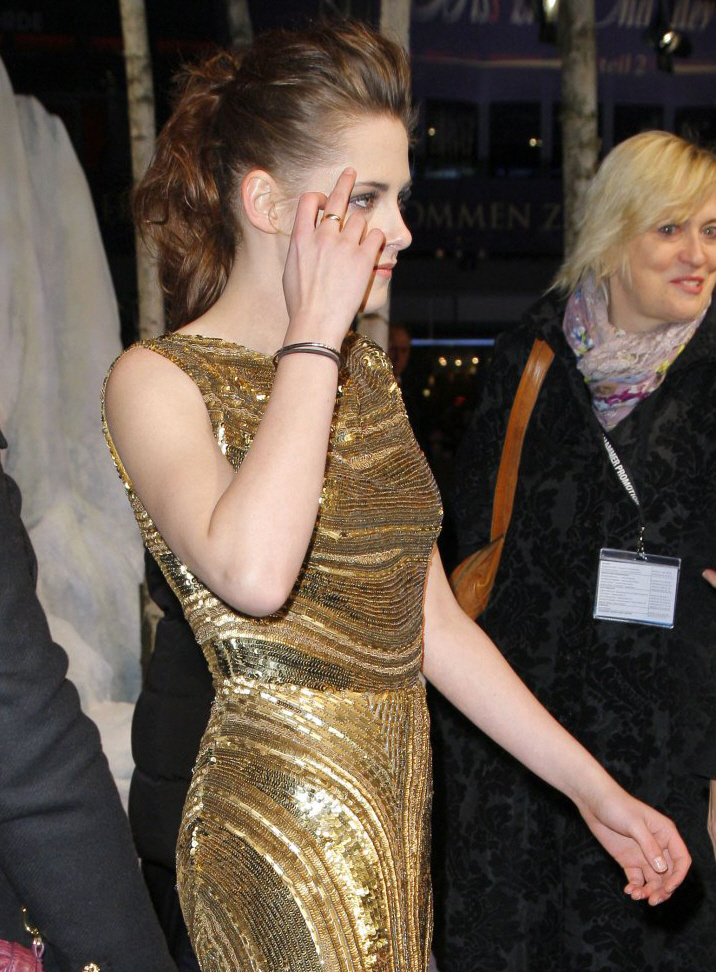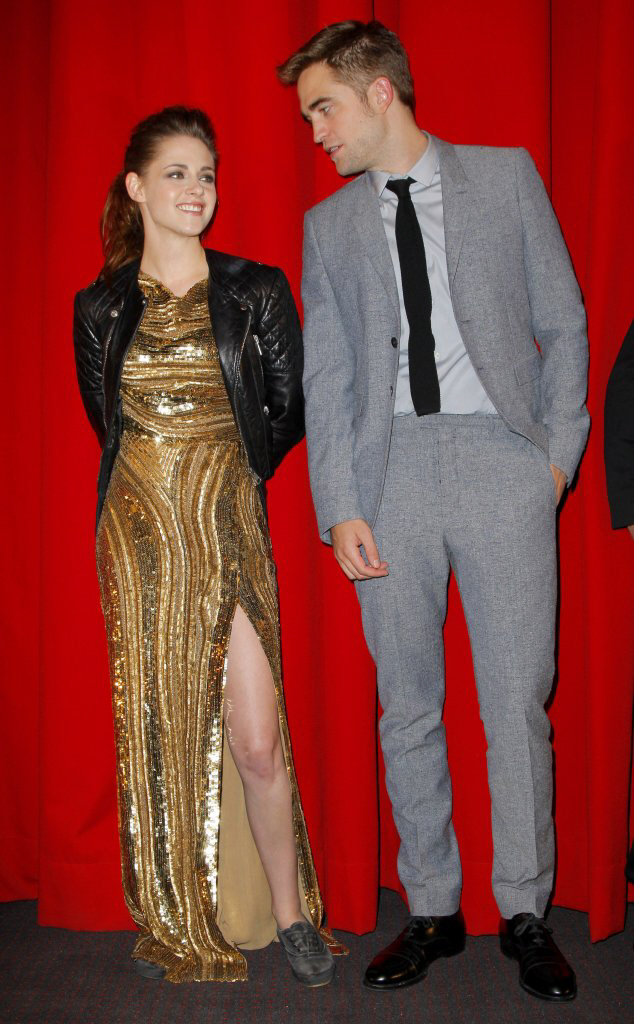 Photos courtesy of WENN, Fame/Flynet.