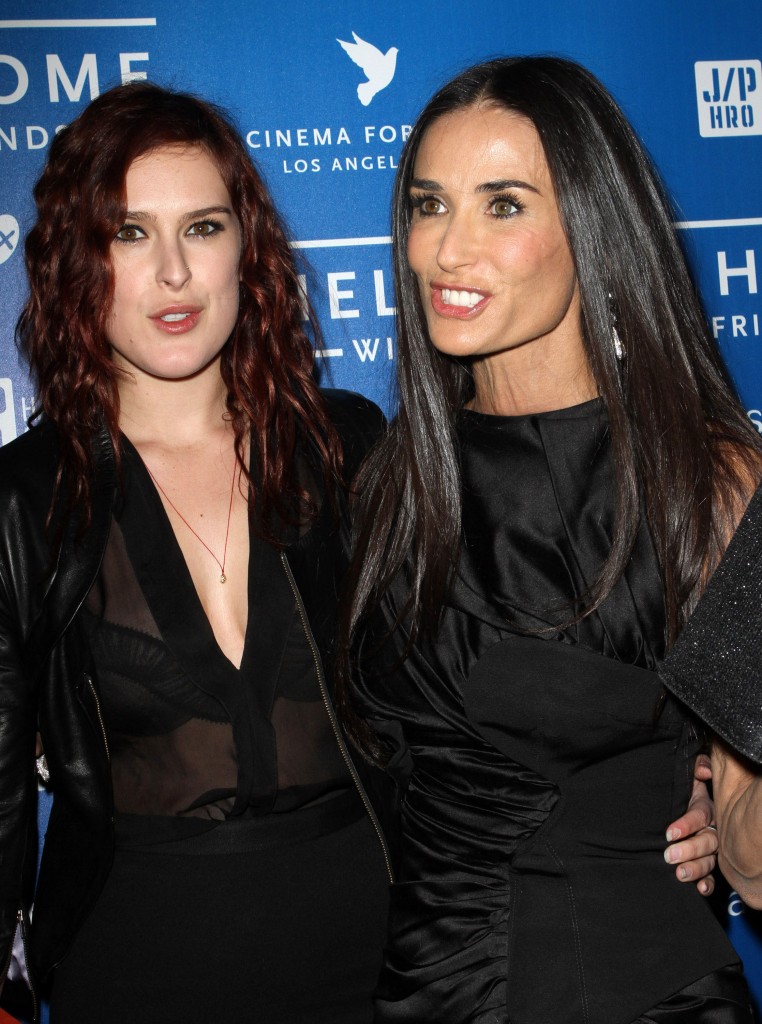 We haven't heard from Demi Moore in some time. After she tried to debut a new piece this summer, and said piece likely balked, she started to lay low. Then there were stories, run in even the more reputable outlets, that Demi was in such a bad place still, and was so needy, that her own daughters were shunning her. She wassaid to be jealous of her ex Ashton Kutcher's very serious, very public relationship with Mila Kunis, and to be deliberately stalling signing off on a divorce. (If they were ever legally married – I believe the rumors that they weren't.)
Sadly, it doesn't seem like much has changed for Demi over the past few months. According to Radar she's still so forlorn and hung up on Ashton that her daughters are begging her to move on.
Rumer, Scout and Tallulah Willis want their 50-year-old mother to divorce Ashton now, a year after he was caught cheating on her, so she can finally end that chapter of her life.

"Demi just can't let go of Ashton despite him obviously moving on from her, and her daughters don't think it's healthy or helpful for her," a source close to the girls exclusively told RadarOnline.com.

"They are begging her to get over Ashton and move on with her life!"

As RadarOnline.com previously reported, after Demi's trip to rehab her daughters were unhappy with how she continued to deal with her problems, and their relationship rapidly began to fall apart.

They tried to mend fences recently, but according to the source things are turning sour once again.

"All three girls want her to divorce Ashton and stop talking about him, they think that she needs to focus on the future and quit worrying about what he is doing," the source says.

The photos of Ashton and Mila together have been a source of pain for Demi, who complains about their relationship to her daughters.

"Demi refuses to let it go, and her daughters are trying everything they can to get through to her that things are over with Ashton," the source says. "They love their mom but they want her to stop talking about Ashton!"

As Radar exclusively reported, Demi is trying every trick in the book to delay her divorce from Ashton as she is furious her husband of six years has moved on so quickly and is now happily dating Mila.
[From Radar Online]
Do you think Demi ever really kicked the drugs, particularly the Adderall she was allegedly abusing to keep that pin thin shape? This is pure speculation (like a lot of my job), but judging from rare candids I bet she tapered off for a while, gained a little weight back that she really needed, but never really quit. That stuff is prescription speed and will change someone's personality if they don't need it and abuse it long term. Demi never seemed like the strongest or most self aware person, and if she's wallowing and isn't sober it's just a recipe for disaster. Otherwise, if she were sober and in a good place, I doubt she was still be clinging to the memory of that douche. She has tons of money and it's not like she has to work at all. She could be doing basically anything she wanted with her life.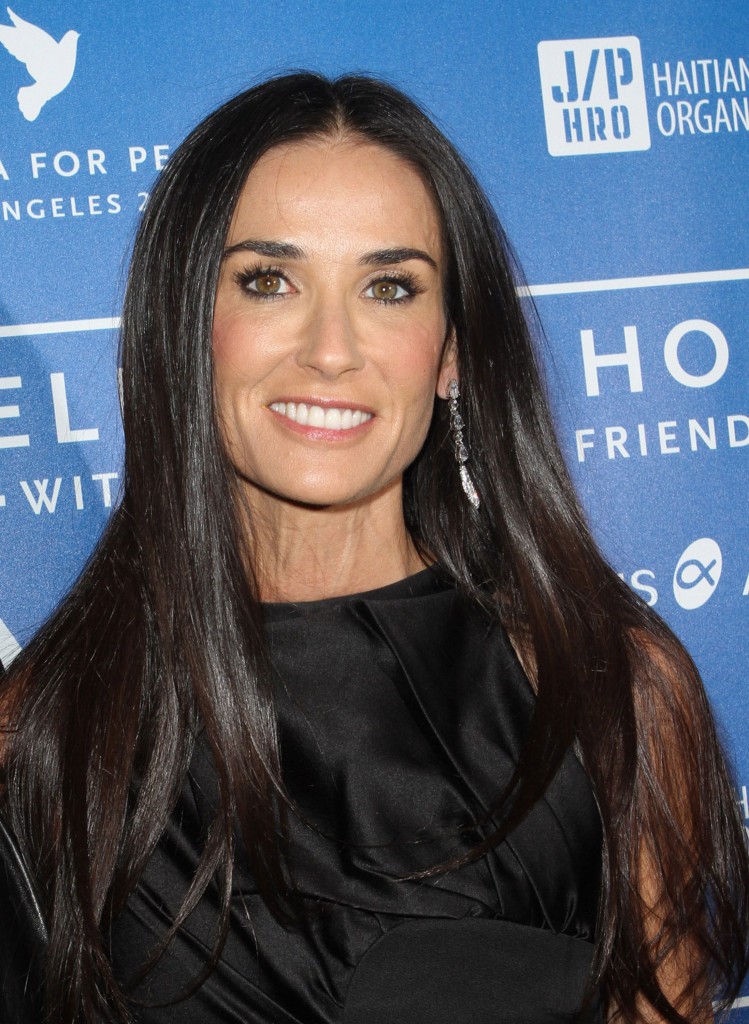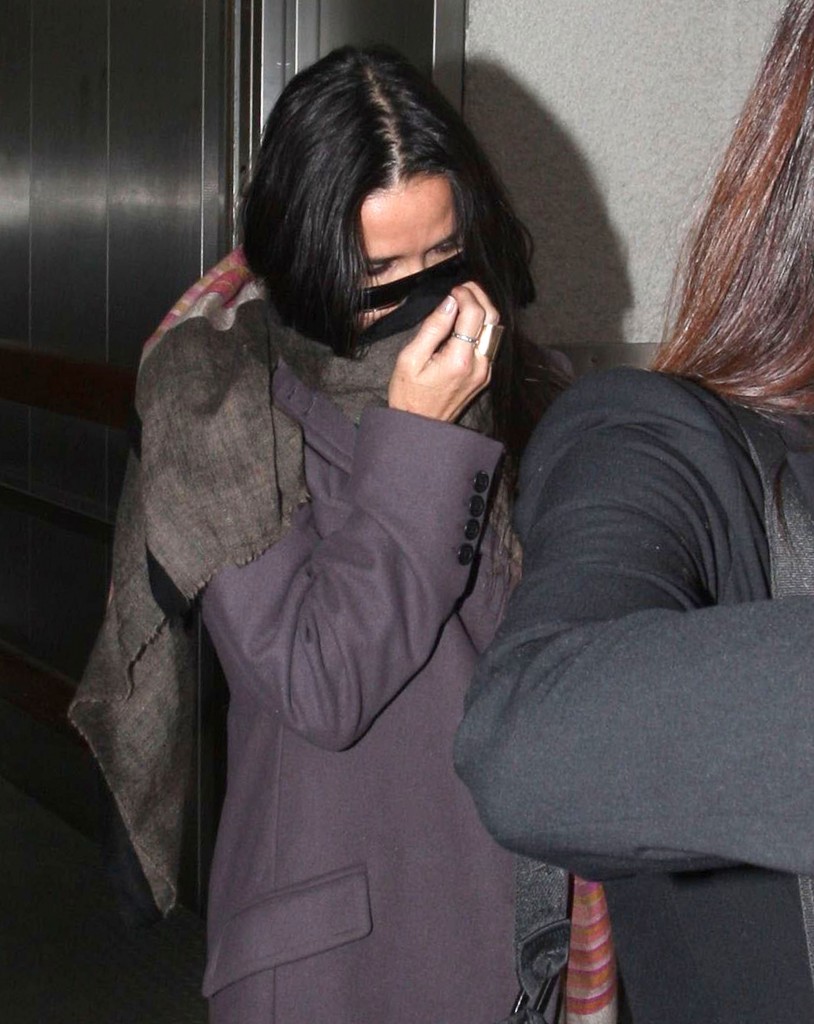 Demi is shown at LAX on 11-17-12. Credit: FameFlynet. The header image of Demi with Rumer is the last red carpet I can find that she walked, on 1-14-12. Credit: WENN.com