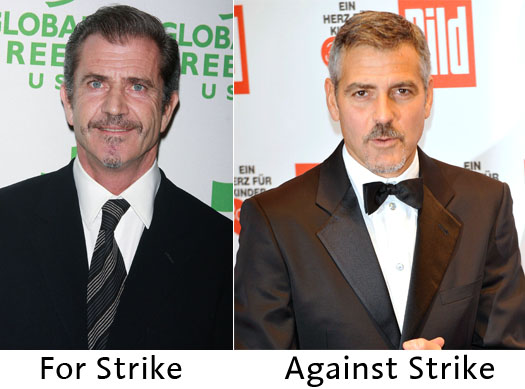 The Screen Actors Guild is having its 120,000 members vote in January on whether they'll strike. The reason they're striking is similar to the writers' strike last year – members feel they should get more compensation for internet broadcasts. In this case there appears to be clear dissent among members as whether they should strike.
More than 130 Hollywood stars including Oscar winners George Clooney, Tom Hanks, Charlize Theron, Morgan Freeman and Sally Field, joined on Monday in opposing a strike authorization vote by the Screen Actors Guild.

The A-list performers registered their opposition in a letter that circulated on the Internet as union leaders, including SAG President Alan Rosenberg, met in New York City with rank-and-file members to seek support for a strike authorization.

The letter marked the latest sign of sharp divisions within the 120,000-member union over tactics employed by Rosenberg and his allies to squeeze a better contract offer from major studios, especially for pay from work put on the Internet.

A smaller group of stars including Mel Gibson and Martin Sheen on Friday voiced support for a strike vote, while board members from SAG's New York division came out against it.
[From Reuters]
A-list, even B-list actors are less likely to be affected by the poor contracts given to actors who are working for productions that are broadcast over the Internet. But the actors who oppose the strike vote have a very clearly directed opposition to the "threat" of a strike used as a tool to get the studios to negotiate.
"We feel very strongly that SAG members should not vote to authorize a strike at this time," Monday's letter stated. "We don't think that an authorization can be looked at as merely a bargaining tool. It must be looked at as what it is — an agreement to strike if negotiations fail."

Citing worsening economic conditions, the letter urged SAG leaders to accept as "an imperfect agreement" the studios' latest contract proposal and to join with other Hollywood unions three years from now in pressing for better terms then.

The industry is still recovering from a 14-week strike by screenwriters that ended in February, after idling thousands of production workers and costing the local economy an estimated $3 billion.

The letter, addressed to SAG board members, officers and staff, was signed by 134 prominent film and television actors, including numerous Oscar winners and nominees.

On Friday, the governing board of SAG's New York branch also issued a statement urging the union's national leadership to call off its strike authorization vote, saying widespread layoffs and cutbacks had altered the labor landscape.
[From Reuters]
A strike at this point in the economy could devastate actors who are already struggling. Where the reasoning is just as valid as the screenwriter's strike in early 2008, now is just not the economic climate to be demanding more money and potentially putting thousands of working actors on the unemployment rosters. A person should get paid fairly for the work they do, but there are precious few people who would give up a paycheck in exchange for negotiations that may or may not succeed in getting them a few extra dollars later.
Some of the actors supporting a strike are Mel Gibson, Ed Harris, Holly Hunter and Martin Sheen, as well as SAG President Alan Rosenberg.