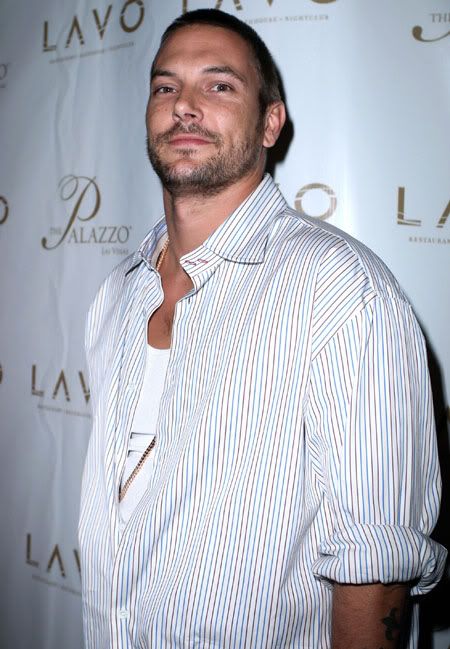 This story is from Star Magazine, so whether it's true or not is iffy, but according to Star Kevin Federline isn't quite the reformed dad that he tries to portray in the media. They quote an insider who says he still heads to Vegas to party for days and that he loves to hire hookers and smoke weed.
K-Fed went public to paint himself as a straight-arrow, devoted single dad to their two sons, whose biggest concern is to "show them what it's like to have normal, stable lives." What he left unsaid, sources tell Star, is that his definition of a "normal" life includes partying with hookers, smoking pot and spending wild, booze-filled nights in Las Vegas!

"Kevin loves his sons dearly, but he isn't always the model dad that he wants to appear to be," says a family source. Another insider takes it a big step further: "Kevin's been trying to pull the wool over everyone's eyes! He acts like he's the father of the year, but he's far from it. Behind the scenes, he's a pot-smoking slacker who doesn't have a job but still goes out of town to party for days and leaves his boys in the care of their nanny, Jenny. She's amazing, but sometimes it's a lot for her to handle…

"Kevin loves smoking weed and spends hours getting high and playing video games with his buddies," the insider tells Star. The family source adds that Kevin is careful never to smoke it when he's around [his sons]…

"He loves sexy hookers and regularly parties with them at his home in L.A."
[From Star Magazine, print edition, December 22, 2008]
I would bet this is true and that K-Fed does still party. He didn't morph into a saint overnight. He does care for his sons and is there for them but he's probably still smoking up and heading to Vegas occasionally. In his interview with Hello!, which is probably the same as his interview with People, he said that there wasn't anyone new in his life and that "I don't really feel like bringing that around the kids." If he was dating a stable girlfriend, or even looking for one, he might not have phrased it that way.
As for K-Fed's future, he said he's "going into a fashion line" and is "building my own brand, Otzi," which will focus on clothing for boys. He also is "working on a TV show with a production company" which could mean that the long-rumored reality show starring K-Fed is in the works. The guy used to make $35,000 a month on child and spousal support from Britney and has a gorgeous home complete with a pool and spa area. (I say used to make $35k because I can't verify that he still receives that amount.) He doesn't need to do much work and he's going to party when he can. His sons are still better off with him and it sounds like he tries to shield them from the half-dressed hookers he supposedly hires with Britney's money.
Kevin Federline is shown on 9/13/08 at the opening of Lavo Restaurant and Nightclub at the Palazzo in Las Vegas. Credit: WENN