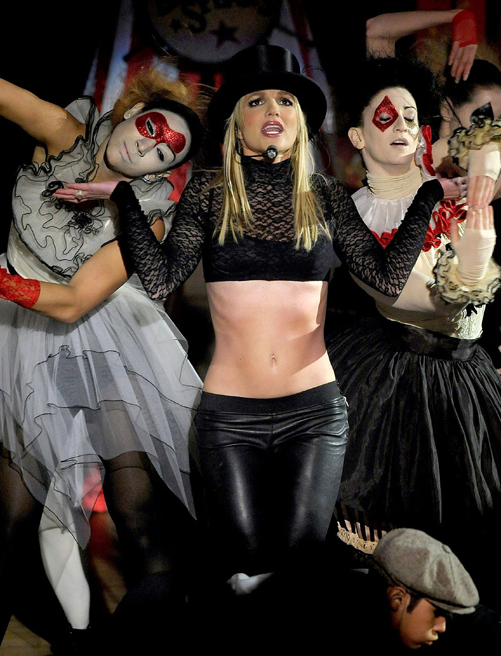 Britney Spears is getting slammed in the press for recycling her same old "Womanizer" routine over and over again. Brit's been performing on television shows around the globe in an attempt to promote her newest CD and prove the world that she's back. But her inability to show even the slightest creativity means her routine is getting super dull. Why would fans want to watch the same old thing over and over again?
Britney recently performed on the Japanese TV shows "Hey! Hey! Hey!" and "Best Music Artist" – and of course stuck to the same old routine. She did mix it up a tiny bit, with a vaguely different outfit on one show and a fake tattoo of a heart on her cheek. Exciting.
The pop star performed her hit Womanizer in a black and gold bra, white top hat and black satin hotpants on a Japanese TV show. Her choice of outfit was clearly a bid to spice up her repeatedly recycled Womanizer routine, which she has performed identically in four countries. Even in the Far East, where fans are known to enjoy wacky and extrovert routines, her costume raised eyebrows.

Joining Britney on stage were her troupe of dancers, dressed in a circus costumes to reflect the title of her new album Circus, which hit No.1 in the U.S. charts last week. After her set, Britney chatted to the Japanese hosts of the show, with a translator standing close by talking to her in English. She wished her Japanese fans 'have a happy Christmas', despite a majority of the country being Buddhists or Shintoists. In recent weeks, Britney has performed an identical routine to Womanizer in France, Germany, the U.S. and on Britain's X Factor.

During her whirlwind trip to Japan, Britney has embracing the local culture and enjoyed an evening eating sushi at a traditional Japanese restaurant with her father Jamie Spears, assistant Brett and manager Larry Rudolph. In regular updates on her blog, Britney enthused about her love for the Asian nation. She said: 'I love Japan! I think all the tiny cars are so cute.

'I enjoyed a walk in a botanical garden and got to see a Japanese wedding. Then Brett and I went shopping… We just visited the oldest Buddhist temple. It was so beautiful.'
[From the Daily Mail]
I don't expect someone like Britney Spears to have much knowledge about every country she visits, so the dumb comments don't really surprise me. However the woman is a performer. That's the only thing she does. She's not a good singer. She's done a great job establishing that she can't act. All she has to do is put on an interesting costume, lip sync, and dance. It doesn't seem like it should be that hard to mix it up a bit and have more the one routine for the one song she performs.
It's not like she's in concert where she has an entirely new audience every night and no television cameras. Since she's on TV, people around the world are watching, and everyone has noticed that Britney Spears has got nothing new. Several websites have even wondered if she really is ready for a comeback. If nothing else, Brit needs to hire some very good people to keep her routine fresh, or no one's going to be interested in her for much longer.
Here's Britney's Japanese performance. Header photo is from Britney's "Good Morning America" performance on December 2nd. Image thanks to WENN.

Britney Spears performed on the Japanese