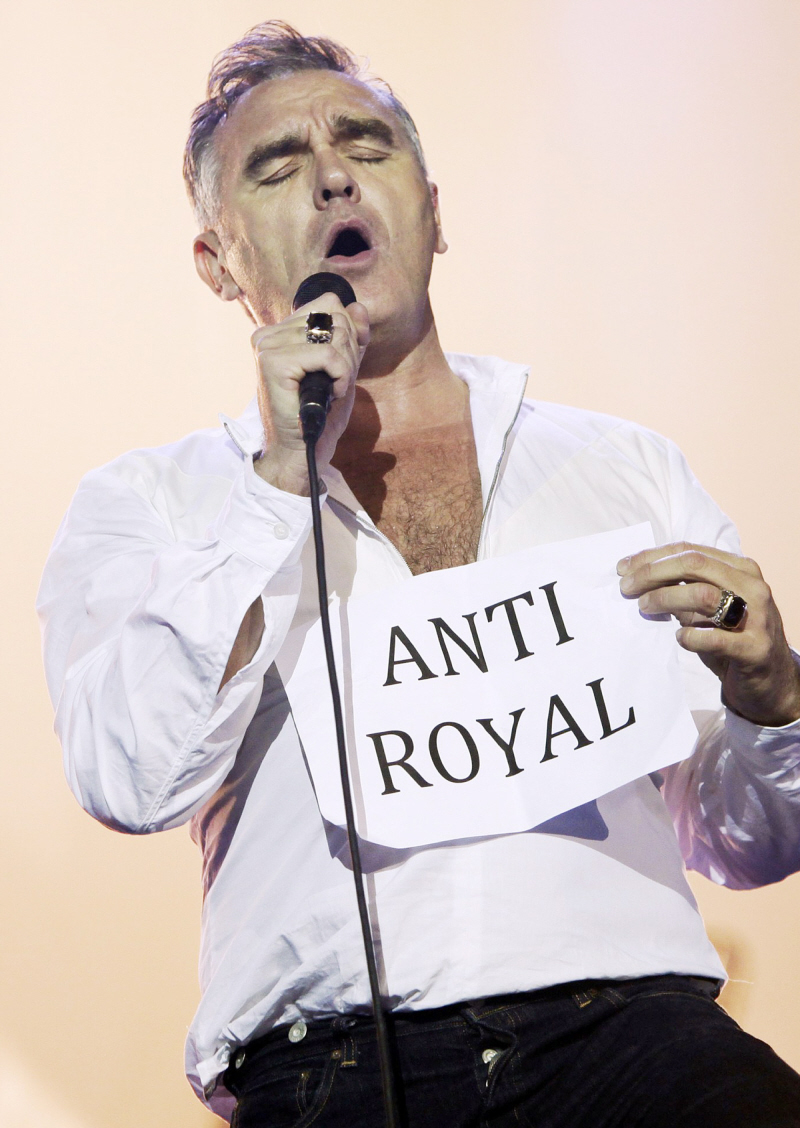 Is it weird that I've never really felt that strongly about any of the players in the current psychodrama of "the prank call" and the nurse's suicide? I think it's horrible that the nurse committed suicide, of course, but I can't even imagine that making a dumb decision at work would lead to someone's suicide. As I said before, I think the DJs were in the wrong, but I also don't believe they had murderous malice in their hearts – they were simply doing a "bit" for their radio show, and it was a dumb bit and they should feel bad about it. But I don't believe they have this woman's blood on their hands, you know? And the overreaction to the DJs by the media, by the royal family, by the professional scolds, and by the hospital didn't help matters at all.
Anyway, noted curmudgeon, racist, anti-monarchist and a—hole Morrissey has some thoughts about the psychodrama and who should be blamed. Hint: he thinks it's ALL on the royals.
British singer Morrissey is blaming Kate Middleton and the royal family for the death of nurse Jacintha Saldanha, who was tricked into helping reveal details about the pregnant Duchess of Cambridge by Australian DJs Mel Greig and Michael Christian. The radio personalities did so by impersonating Queen Elizabeth II and Prince Charles during a prank call.

(Saldanha, 46, was found dead Dec. 7 near London's King Edward VII Hospital where Middleton, 30, had been treated for acute morning sickness. The nurse left a suicide note for her husband, Ben Barboza, and their two children, Junal, 17, and Lisha, 14.)

"It wasn't because of two DJs in Australia that this woman took her own life — it was the pressure around her," Morrissey, 53, told New Zealand's 3News. The musician believes Middleton was in the hospital "for absolutely no reason" and said "she feels no shame about the death of this woman. She's saying nothing about the death of this poor woman. The arrogance of the British royals is absolutely staggering."

The royal couple have, however, issued a statement regarding the nurse's passing. "Their Royal Highnesses were looked after so wonderfully well at all times by everybody at King Edward VII Hospital, and their thoughts and prayers are with Jacintha Saldanha's family, friends and colleagues at this very sad time."

In the new issue of Us Weekly (on stands Friday), a source reveals that Middleton was devastated by Saldanha's suicide. "Kate's heart went out to her family. Her first question was, 'Does she have children?'"

Morrissey also questioned Middleton's hyperemesis gravidarum diagnosis. "Does she have a health condition?" the singer asked. "Is it anorexia or is it pregnancy? I mean, morning sickness already? So much hoo haw and then suddenly as bright as a button as soon as this poor woman dies she's out of hospital? It doesn't ring true."

(According to The National Organization for Rare Diseases, the percentage of pregnant women who suffer from hyperemesis gravidarum is estimated to be between .03 percent and 1 percent. The illness is characterized by severe nausea, vomiting, weight loss, dehydration, lightheadedness and fainting. It often requires hospitalization.)

Morrissey estimated that Buckingham Palace receives "thousands" of prank calls per day. Blaming DJs Greig and Christian, the former Smiths vocalist argued, "is just a way of distracting people."

"The fact [the DJs] got so far probably astonished them beyond belief. But the pressure put on the woman who connected the callers was probably so enormous that she took her own life," Morrissey reasoned. "And we forget about that and of course the royals are exonerated as always."

The Sydney-based DJs have publicly apologized for their prank call, calling themselves ""shattered, gutted, heartbroken" over Saldanha's suicide. The nurse's family, meanwhile, has launched an inquiry into the circumstances surrounding her death.
Of course, Morrissey is a mangy conspiracy theorist and a racist and he has a long history of saying asinine things. But does that make him wrong in this one particular instance? While I think his overall theory is flawed (this is all just some huge conspiracy to make Kate look good, I guess), he makes a couple of decent points. Like, the royals were "exonerated" immediately. Of course, it would have been better if he pointed out that the media exonerated itself pretty quickly too, changing tactics midstream after the nurse's suicide. Eh. Whatever.
Here are some photos of "the other duchess!" Pippa Middleton promoting her terrible book in the Netherlands yesterday. How f—king hideous is this satin dress? What is wrong with Pippa?! She has a cute figure, but she has such god-awful taste in clothes.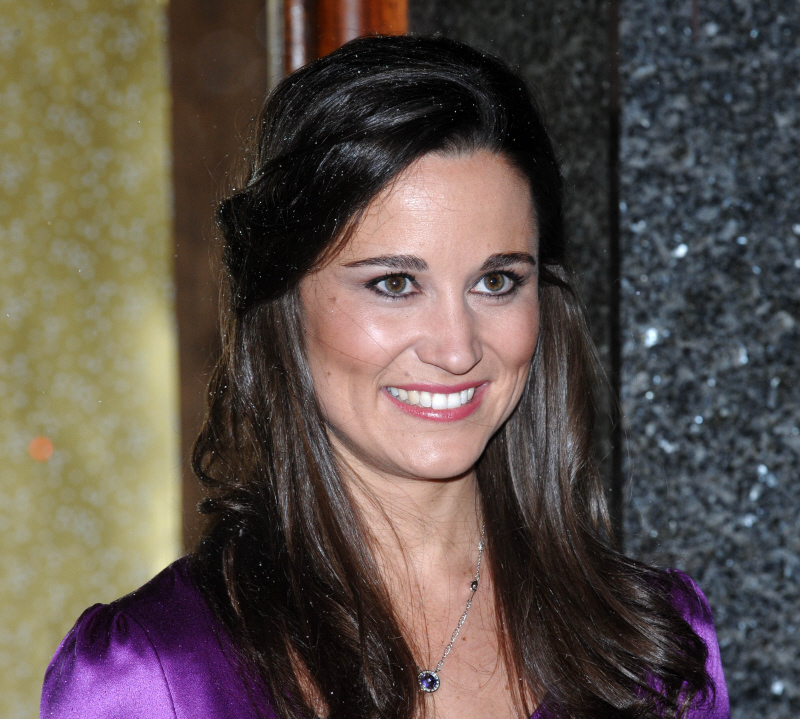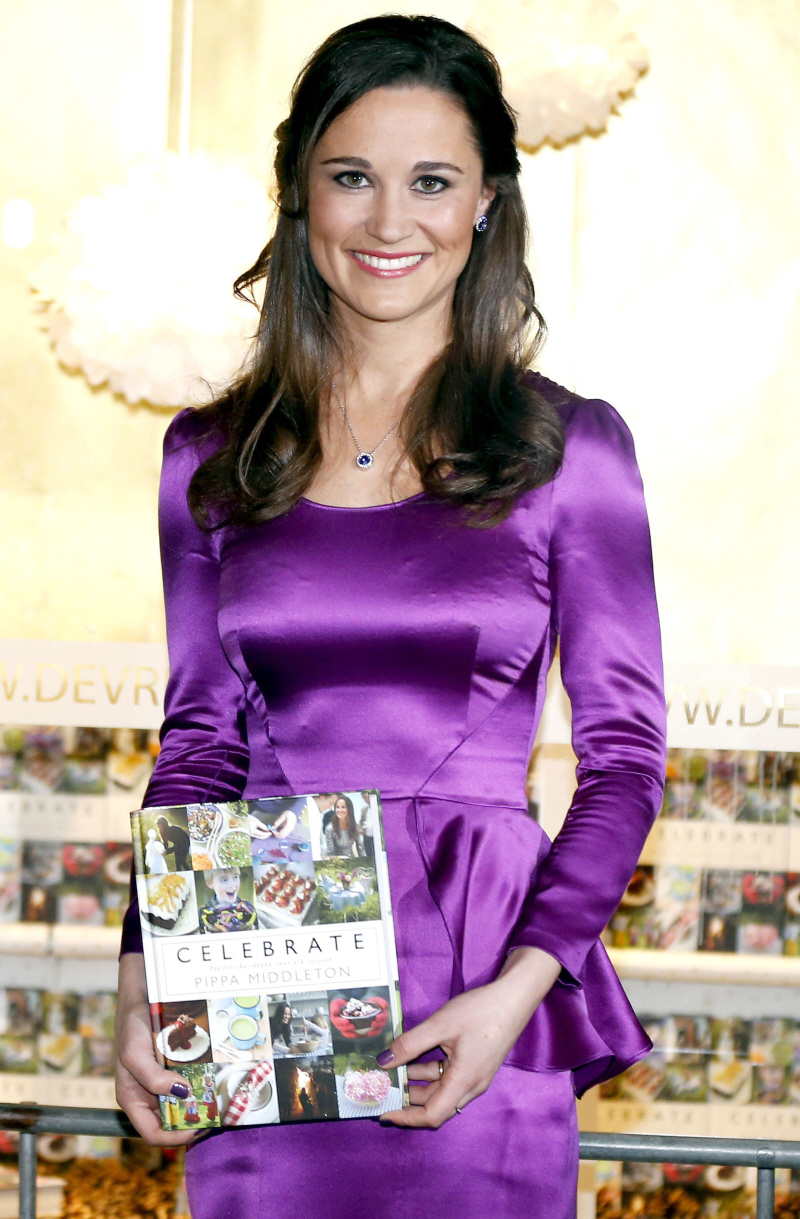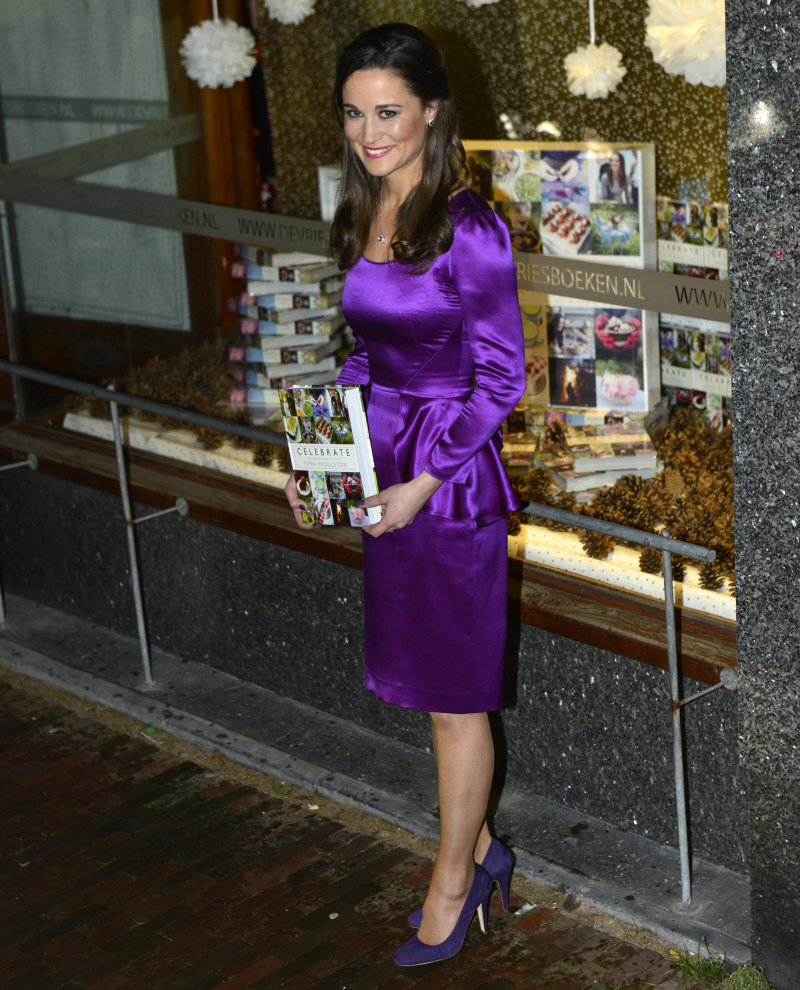 Photos courtesy of WENN.com.