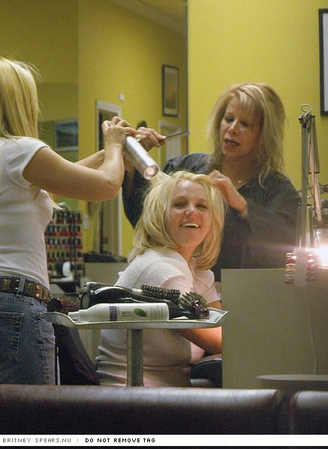 Starpulse has a story stating that little people organizations are outraged that Britney hired people of small stature to entertain her husband at his birthday party in Atlanta. We could find no press releases or official statements confirming this, although it does seem obvious that her actions would upset people:
Spears has been criticized by a host of foundations representing the interests of smaller people, who have branded the stunt at last month's (Mar. 21) surprise event utterly tasteless.
At the party, hosted in a Las Vegas, Nevada restaurant, two female dwarves were reportedly employed to carry in Kevin Federline's 28th birthday cake, while another dressed as a miniature Sonny Bono alongside a Cher look-alike.
Horrified sources claim boozy guests giggled and cheered, with some jokingly suggesting a dwarf-throwing contest.
But dwarf groups are enraged at the appearances, insisting the stunt was demeaning.
A member of America's Billy Barty Foundation – named after the late diminutive Hollywood veteran – says, "It is wicked to hurl abuse at anyone of diminished height simply because they are small.
"We know dwarves and midgets who are immense in stature because of their talent.
"Mostly they are able to rise above any insults. But inevitably, feelings are hurt by nasty comments. There's only one word for it – bullying."
When we first reported that Britney hired dwarves to entertain her husband, we noted that "People who mock little people are ignorant and stupid." It's like hiring someone in black face for laughs, and Britney deserves plenty of criticism for this.
Here are some little people organizations so that we can all be a little more enlightened about how offensive Britney's actions were. (Again, there are no official press releases, but it may be helpful to get someone else's point of view.)
– Dwarfism.org, which notes that the term "midget" is highly offensive
– The Children of Difference Foundation
– Little People of America
Britney is said to be due in September if she's really pregnant. We don't think that dumb bitch should produce any more children, and hope that the nanny can drum some sense into SP, because he doesn't have much of a chance with the parents he's got.
Here's Britney getting her hair done and talking on the phone yesterday. [via]
7 more pictures after the jump.