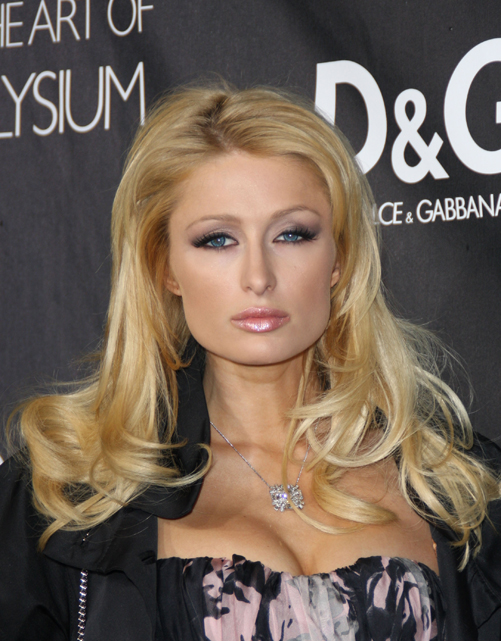 Paris Hilton: where does that ego come from? I don't really like Paris as a person, but I enjoy writing about her because I'm endlessly fascinated with her unreal perception of who she is. How in the world does someone get such a high opinion of herself? I mean there's high self-esteem and then there's ego-centric narcissism, and Paris is definitely that latter. She just gave an interview to Esquire – they subtitled it, "Twenty pearls of wisdom from the heiress on her goals." The most important goal she had growing up? "To be a blond icon." She certainly managed to be an icon – from what I've heard, drag queens idolize Paris.
Here are a few of her pearls:
I was the oldest granddaughter. Everyone was so excited that I was born, they would always take pictures of me. My grandma would call me Marilyn Monroe or Grace Kelly. Ever since I was little, it's what I knew I wanted to do–be a blond icon.

I don't know why everyone wants to be famous. To make a living, I guess. Maybe they think it's an easy job.

The best thing I've ever bought with money is my house. I call it my Paris Palace. It's beautiful. Every room has beautiful crystal chandeliers and amazing moldings from Italy. When people come over they say, "Hey, this looks just like you."

Having a nightclub in your house really helps for having a party, because then you don't need to go out.

I'm not jealous. I don't understand why people are jealous. You have so much better karma in life when you wish other people the best.

Because of my last name and the way I look, some people think I'm a spoiled brat. But I'm not like that at all. I'm one of the most down-to-earth people I know out of anyone in Hollywood.
[From Esquire]
Of course someone who has nearly everything – at least in terms of material advantages – wouldn't understand jealousy. Paris mentions karma several times in an attempt to look deep. If she had any depth, she'd be able to put herself in other people's shoes and understand jealousy. I will give Paris points for one thing – she says she always sends thank-you notes. And from what I've read, she's generally very nice to her fans, so that doesn't surprise me. She also hit on some other deep issues, like putting pheromones in her perfumes and dressing up like Tinkerbell.
The best part of Paris' interview came at the end, when she offered her insights into aging:
If there was one person I could meet, it would be Marilyn Monroe. I have her pictures all over my house. I just think that she's really beautiful. And the way she spoke just seems so sweet. Everyone loved her, and they still do. I think she's going to be one of those people who's talked about forever and ever.

I don't know if people will be talking about me that way when I'm seventy-five.

You may not be able to be hot when you're seventy-five in a conventional sense. Like, young people won't think you're hot. But your husband will, and so will people your own age.
[From Esquire]
So Paris plans on being hot to other old people. I guess that's one of her more worthwhile goals.
I will admit that while I don't like her, Paris is a hard worker. She gets paid to party, and while it's more fun that a lot of jobs, she does it so much that she's practically a workaholic. She's also constantly slapping her name on things and promoting new products. I can't help but wonder what kind of a person she would be if instead of working so hard at superficial things, Paris applied that same devotion to something worthwhile. Not that dressing up your dog in costumes and getting trashed in Vegas isn't worthwhile. But just imagine…
Here's Paris at the Dolce & Gabbana flagship boutique on Robertson Boulevard on Monday night. Images thanks to WENN.