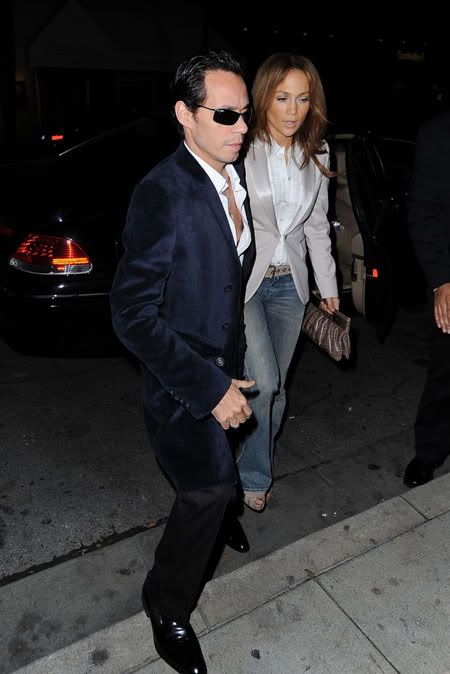 Yesterday the news came out that J.Lo and Marc Anthony were inevitably having trouble in their four year marriage. I was surprised they lasted as long as they have. They do seem to have a mutual love of living the high life and acting smug, so maybe that bonded them in a way that lasted for several years. Now that Lopez's career is in the tubes, though, she's said to be blaming Anthony and wanting out of the marriage, her third and Anthony's second. Lopez was photographed at the premiere of Benjamin Button on December 8 without her wedding ring. US Weekly has a cover story this week that suggests it goes deeper than that, and they use the somewhat convincing "multiple sources" argument to site problems in the relationship, including Marc's controlling nature:
Multiple sources confirm to to Us Weekly their marriage is at a breaking point.

"They both didn't wear their rings on purpose," a mutual pal of the married couple of four years (who renewed their vows in October) tells Us. "Nothing Jennifer does is without purpose."

While Anthony's rep insists to Us, "They are doing great," a source tells Us deep trouble has been brewing.

"He's very, very controlling of her," a close Anthony pal tells Us. "The skirts aren't as short. You don't see so much of that booty anymore." The new Us Weekly also reports that Anthony also picks out Lopez's clothes and keeps tabs on her phone calls.

But Lopez — who once claimed she "loved getting his opinions" — has become less interested in his approval since the birth of their 10-month-old twins, Max and Emme.

"She walks in from work, washes her hands and grabs the babies," a longtime friend tells Us. "With him, it's almost like, 'Ugh, they're crying again?'"

Another problem: Lopez — who once commanded $15 million per film — "blames Marc for her career going down the tubes," says a mutual pal, adding that she's bitter about the failure of their 2006 drama, El Cantante, which only grossed $7.5 million. (Her 2002 flick Maid in Manhattan earned over $94 million.)

"Jennifer looked around and said, 'This is my life now? I'm a Long Island housewife?'" a pal says. "She hates that everything she worked for went down the tubes."

Lopez isn't the only one with growing resentment toward her husband. Her best friend, Leah Remini, also can't stand him.
[From US Magazine]
Anthony and Lopez were seen out to dinner at Luau restaurant in LA on Tuesday, and given the rumors they surely invited the paps to document their outing. Madonna and Guy used that tactic frequently too, and they managed to hang in there for months if not years after the first rumors of rifts in their relationship. Makes you wonder if maybe these rumors about Lopez and Anthony are true, and how much they're each motivated to make it work. If they do get divorced, I hope we get to hear all the details. Anthony had that issue with not being able to pay his state taxes and it was rumored that they pocketed the baby photo money for that reason. I would bet that they live above their means and that money is a real stressor for them despite how much they seem to have.
Photo credit: WENN