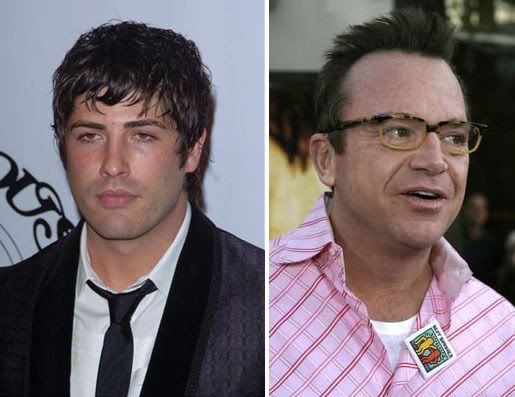 Brandon Davis' mom called up her friend, comic actor Tom Arnold, and asked him to go over to the Beverly Hills hotel and save her cowardly son, who she thought was stuck in a room with some bullies or something. Brandon Davis is the socialite who's rumored to be broke after his oil magnate dad died and left his family with a lot of debt. He's known for hanging out with Paris Hilton and being a jerk.
Tom Arnold rushed into the hotel with a baseball bat thinking he'd rough up some drugged-out thugs who were bullying Davis, but there was no one in the room except for one girl. The funny thing about this article is the fact that Brandon sounds like a pussy who called his mom for help. (They never said he called her, though, just that she asked Tom Arnold to rescue him for some reason. I would bet she just didn't want him hanging out with those guys.)
Wielding a baseball bat, Tom Arnold rushed to the rescue of bad boy Brandon Davis – after the billionaire heir's worried mom begged Tom to save her troubled son.

[He] stormed into the ritzy Beverly Hills Hotel lobby on Jan 9, waving a bat and demanding: "Where's Brandon Davis' room?…"

His mom, socialite Nancy Davis, and Arnold are close pals – and she asked Arnold to rescue Brandon when she thought he was at the hotel with some rough companions.

"Tom charged into the hotel and told security he'd received a call that Brandon, who has a history of drug problems, was 'pretty messed up and was with multiple guys who could be dangerous' in a room there," said a source.

"Security ran up to the room with Tom, expecting a big showdown. But by the time they got there, all they found was a frightened young girl."
[From The National Enquirer print edition, January 29, 2007]
They say Arnold was trying to be a hero but missed his chance because Brandon bolted the scene before he got there. I wish this story ended with Tom Arnold wacking Brandon Davis over the head. Is that wrong?
Rumor has it that Brandon Davis is Lindsay Lohan's unlikely savior, and that he encouraged her to go to rehab. It seems to me like she did it for her career, though, and I read that producers of her new movie told her to go to rehab or get out.