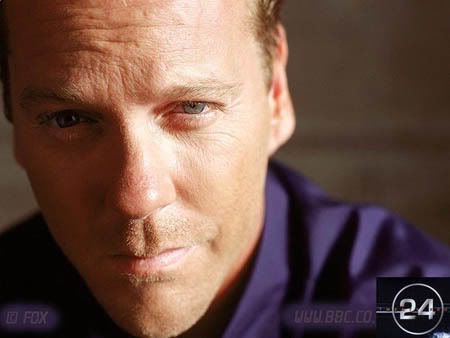 Mike Walker in the Enquirer manages to have hero stories about your favorite TV stars every week, and his latest news is no exception.
Keifer Sutherland was said to have been out hiking when he came across a frightened 9 year-old on a rocky cliff. The boy's older brothers had jumped from the cliff to the water below, but he was too scared to join them and was stuck there cowering. Sutherland came to the rescue! He carried him down to his brothers and then told them what's what:
Out hiking with a pal, the "24″ star suddenly heard loud cries – and moments later found a frightened youngster standing on the cliff, paralyzed with fear. Turns out the kid and his brothers had climbed the cliff to jump into the creek far below. The older brothers jumped first, then yelled, "Come on in, the water's fine!" The kid lost his nerve, couldn't jump – and was afraid to climb back down the hill alone. Kiefer piggy-backed the boy down to his brothers, then read them the riot act.
[From The National Enquirer print edition, January 29, 2007]
Like I said, this guy Mike Walker has hero news every week so I wouldn't be surprised if he gets stories fed to him by the TV networks. He had two separate stories about medical heroics by Dr. McDreamy Patrick Dempsey that sounded a little too good to be true.
Sutherland could have helped this boy, but it probably wasn't as big a deal as he's making it out to be.