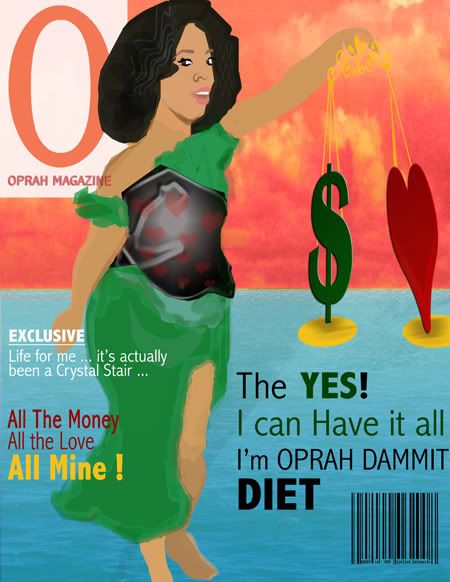 From E-Online:
If you measure riches in cold hard cash, Oprah Winfrey's got it going on. And for those of you who measure riches in love and warm, fuzzy feelings…well, Winfrey's got plenty of that going for her, as well.

The multimedia maven topped two snazzy lists this week, landing at number one on Forbes' first-ever compilation of the 20 richest women in entertainment and placing first in the annual Harris Poll that determines America's favorite TV personalities.
From the Upcoming Issue of O Magazine: The Oprah Winfrey Magazine
WHAT I KNOW FOR SURE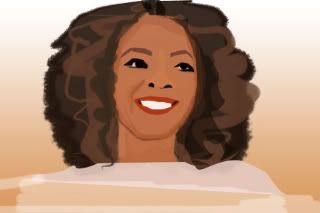 So here we all are just on the far side of that crazy holiday season full of wishes and expectations. The pressure to give and receive—and spend until you wish you hadn't. It's a part of the culture we need to change, or we'll all pay a price for mindless giving. Well not me … its actually mathematically impossible for me to spend other than mindlessly . Too many zeros for the human mind to grasp. Sometimes I have to actually overspend just to reduce the neck strain from the krugerrands weighing down my Herme's bags (which arrive pre-release, pre-season, in bulk and for free –' cause Herme's knows all about the cost of not showing Oprah love).
Four years ago, you may remember, I went to South Africa to bring gifts to 50,000 children, many of whom had never received a present in their lives. That was the first year I won the Harris poll as America's number one favorite Oprah – Lightbulb moment!.
I knew I couldn't rely on popularity alone to keep on knowing WHAT I KNOW FOR SURE. Love lists are all very nice, but the OPRAH mobile had its GPS set for Benjaminville. I mean sixteen years of a number one talk show hadn't gotten me to number one on that list. I searched high and low till I found the most overbearingly Sure of Knowing WHAT HE KNOWS character I could — and syndicated his shiny-pated ass
Those Dr. Phil syndication dollars pushed me over the finish line onto Forbes Billionaires list . What did I learn? I learned that I can have it all … all the money … all the love and I can be the covergirl on my own magazine every month … I can have a pony made of cookies – and Steadman won't mind the crumbs in bed.
I Feel a life lesson coming on!
"Everyone has the power for greatness—not for fame, but greatness, because greatness is determined by service." Even before I did a make-over on Coretta Scott King, who's helmet hair was not of service to anyone, I knew my favorite quote, I knew in my heart that its message was true. As far back as I can recall, my prayer has been the same: "Use me, God. Show me how to take who I am, who I want to be, and what I can do, and use it for a purpose greater than myself." Naturally I had no idea back in the day what a challenge that would be for God … who knew that the greatness of myself would be so large and in charge. I mean it's gonna be quite a job for God to come up with something than what I did all by myself … Where do you go from up?
All of us need a vision for our lives and even as we work to achieve the vision, we must surrender it to the power that is greater than we know. The power of the Forbes TOP 100 Most Richest Celebrities List or the polling expertise of the nice people at Harris are obvious examples of candidates for this greater power.
It's one of the defining principles of my life that I love to share: God can dream a bigger dream for you than you could ever dream for yourself. Success comes when you surrender to that dream—and let it lead you to the next best place. And of course, for me, shortly after the Next best place – to the Very Best Place of All … that being the number one place on all lists everywhere.
What I know for sure is that if you want to have success, you can't make success your goal. As my friend Wintley Phipps, the gospel singer and minister, once told me, the key is not to worry about being successful, but to instead work towards being popular and rich —and the success will naturally follow.
How can you serve your way to greatness? That is surely a question the staff at Hermes know the answer to — I schooled them there. When you shift your focus from success to accumulating vast amounts of pollable love and money from strangers, your work as a teacher, clerk, doctor or dot-commer will instantly have more meaning. Relative, of course, to those of us who are already front loaded with super-meaningful buckets of money, love and cookie based ponies.
Oprah