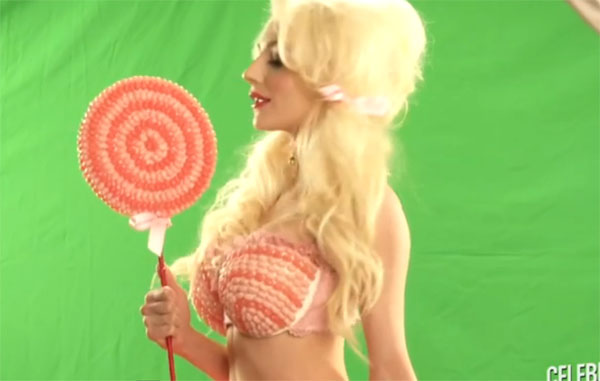 Courtney Stodden is filming a new music video for her upcoming single, called "Reality." The video isn't even out yet and she's granted two "exclusive behind the scenes, making of" interviews, to Celebuzz and E! Online. You know what this reminds me of, Heidi Montag's music career. I could have sworn that she also had a single called "Reality," but I was mistaken, it was called "Superficial." Heidi Montag and Spencer Pratt were so much more tolerable than Courteney Stodden and her daddy husband. It's like Paris Hilton versus Kim Kardashian. A few years back we had no clue that a second generation of reality "stars" were coming, and that they would be worse in ways we couldn't imagine.
So here we have Courtney, preening and prancing in a bikini with jellybeans stuck on it, and explaining the "concept" for her single as if it's high art. Apparently she falls for a "hot nerd". Paris Hilton already used this concept for a music video. I'm going to quote E! here because they break it down a little better than Celebuzz, but props to Celebuzz's interviewer for maintaining a sense of humor about the whole thing.
Reality is "whatever you want it to be" in Courtney Stodden's world.

"There's this nerd, he's a 'hot nerd,' and I get captivated by him," the 18-year-old singer exclusively tells E! News, chatting behind the scenes of the music video for her first single, "Reality."

"Is it his fantasy, is it reality? I don't know, you'll have to wait and see!" she teases.

You do not, however, have to wait and see Courtney in a bikini made out of jelly beans!

In the video, "I am a walking piece of candy," she explains, calling her look "kind of retro, kind of pinup-looking."

"I love these, they're kind of Marilyn," she added, showing off her glittery sky-high platforms with pink ribbon crisscrossing up her legs.

Courtney Stodden didn't bother with a bikini for Thanksgiving

Asked what vibe she was hoping to achieve with her "Reality" video, Courtney said she just wanted people to "sit back, relax and watch it."

Considering her edible arrangement is only the tip of the bikini iceberg—we're sure they will!

Nick Uzarski, who was hand-picked by Courtney and her husband, Doug Hutchison, plays the hot nerd whose dreams come true (or do they?!).

Courtney tells us that her hubby doesn't get jealous, the 52-year-old actor attesting to that by pretending to make a big show of covering his wife up in front of the cameras.
This is the most coverage Courtney has received in months. I'm only hoping that Courtney and Doug flame out quicker than Heidi and Spencer, and that they're headed for obscurity soon. They haven't even reached the height of Heidi and Spencer's fame, and are still clinging to the dregs of reality shows. That's probably where they'll stay, until they fade away and break up, maybe not in that order.
Here's Celebuzz's interview. This girl's voice is so annoying.

And here's a video of Courteney interviewing candidates for her video. It's NSFW in that she gets them to strip down to their undies. Everything about this girl is NSFW though. This video makes me think that it's just a matter of time before she cheats on Doug, if she hasn't already. I get the sense that he will put up with it too.