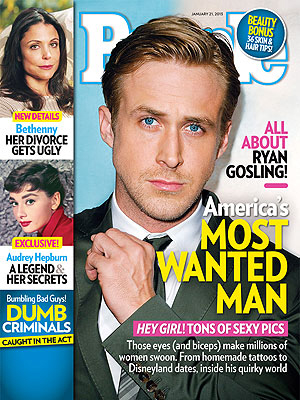 Ryan Gosling finally got his People Magazine cover! Unfortunately for his rabid Hey Girls, it's not People's Sexiest Man Alive, although the headline "America's Most Wanted Man" is certainly encouraging, right? I guess People is glossing over the fact that Gosling is (GASP) Canadian! But sure, Ryan is a "wanted man" in America. More so in 2011, probably, but I guess his fanbase hasn't completely abandoned him in this current Eva Mendes Era. Honestly, my first thought when I saw the People cover was "Damn, Ryan really needs 'Gangster Squad' to be a hit, right?" Otherwise I can't see why he would agree to this mess.
Devoted son, quirky leading man – and everyone's favorite fantasy boyfriend.

But how does Ryan Gosling stack up in his real-life romance with actress Eva Mendes?

The "hey girl" Internet obsession, 32, "is an incredibly sweet boyfriend," a Gosling source tells PEOPLE in this week's cover story. He and Mendes, 37, "get along so well because she's not needy or smothering," says another insider. "They just work."

Mendes is hardly the only one to fall under Gosling's spell. The former Mouseketeer – who brought his mom, Donna, as his date to the Jan. 7 Gangster Squad premiere in L.A. – is "funny and charming," says the film's director, Ruben Fleischer.

"When you're with him you feel different. He has a magnetic quality – larger than life."

And yes, he knows how to work his quirks – everything from self-designed tattoos to an enduring Disneyland fascination.

"Women love him because he's just kooky," says the insider. "He's definitely in touch with his childlike side."
"They get along so well because she's not needy or smothering…" Did that quote bother the hell out of anyone else? Keep in mind – this is People Mag. This is coming from Ryan's publicist. This is how he wants to put himself out there. So, this is Ryan's version of himself, how he wants people to think of him – he's the guy who needs to be in a relationship with a girl who is not "needy and smothering." Nevermind that Eva Mendes followed him to Bangkok because she wanted to keep an eye on him and his potentially wandering dong, amirite? But Ryan is the kind of guy who says/thinks that a relationship works because the girl doesn't demand too much out of him. He is not the guy who thinks that a relationship works because both people are equals and there's a give-and-take and her career and her needs and her stuff is just as important as his stuff. That's just an FYI to the Hey Girls – Ryan is not going to be into you if you have your own stuff going on, or if you're "needy".
Here's "Hey Girl I don't like needy bitches" Gosling at the Gangster Squad premiere two nights ago: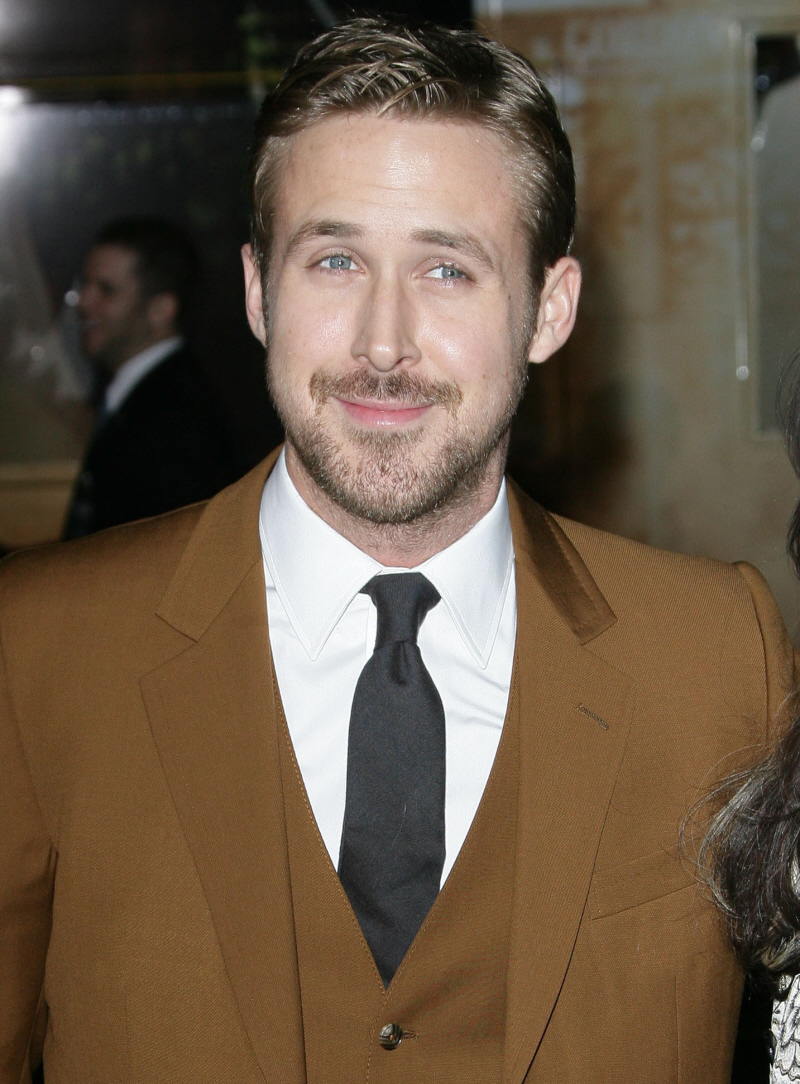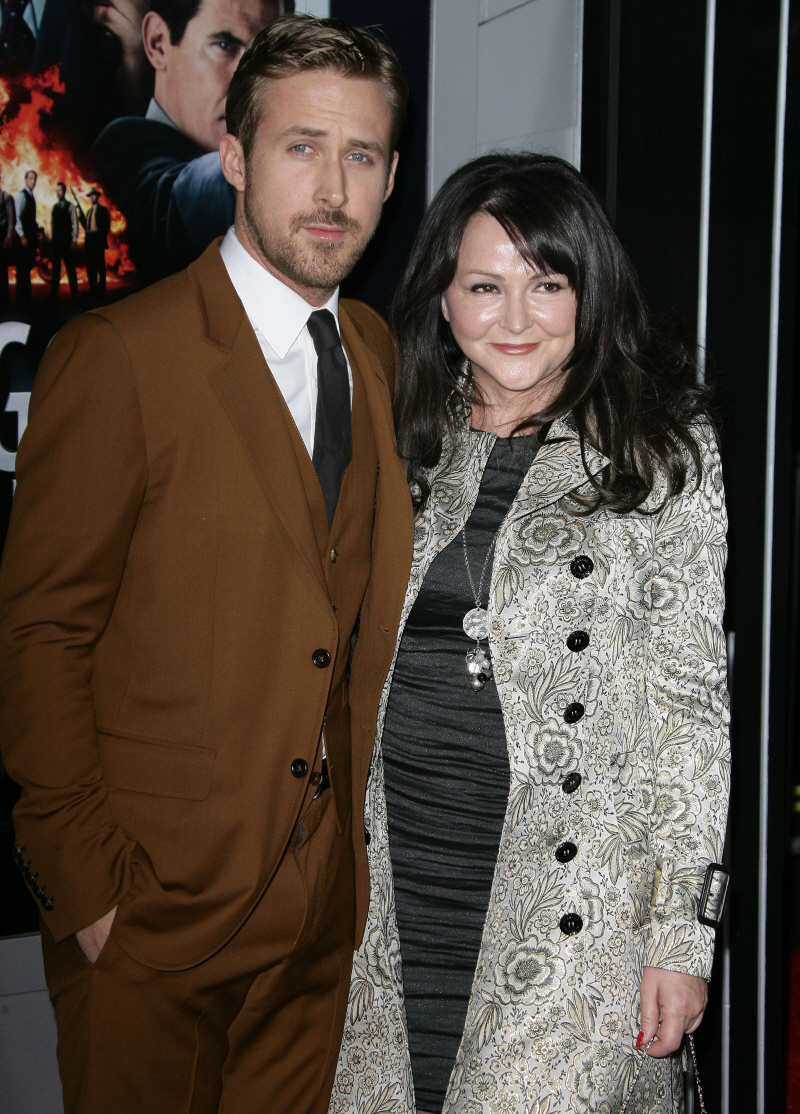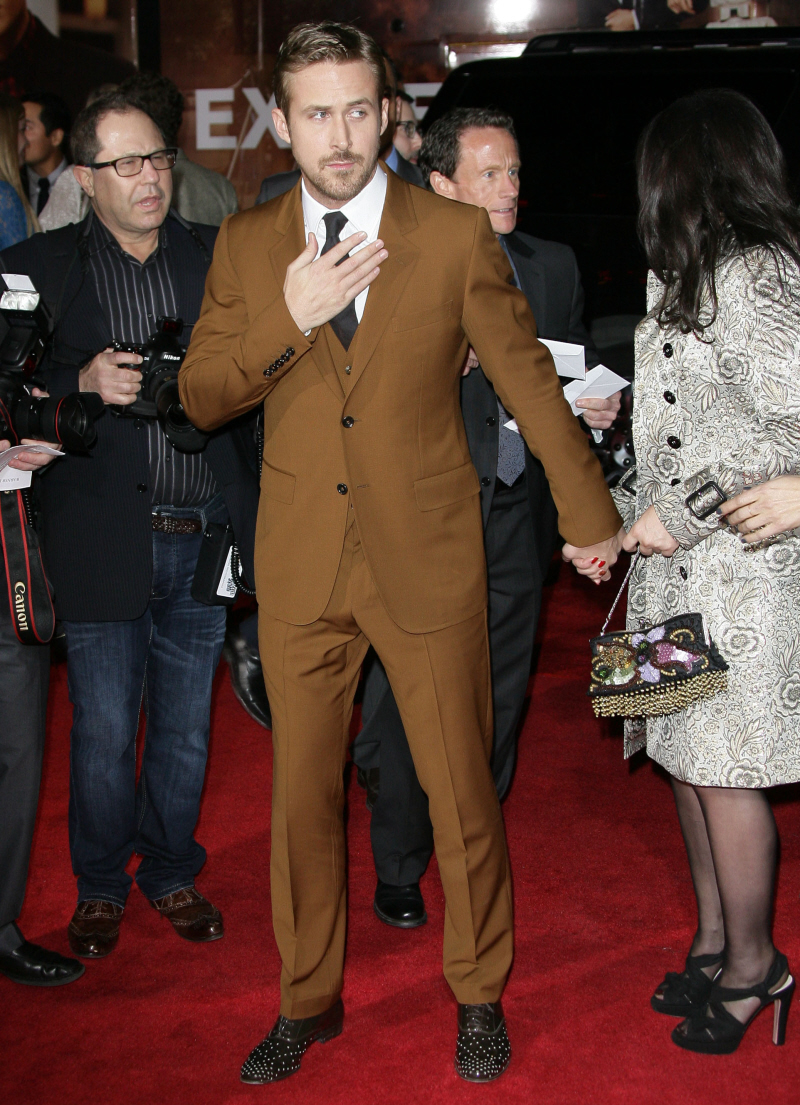 Photos courtesy of WENN, cover courtesy of People Magazine.