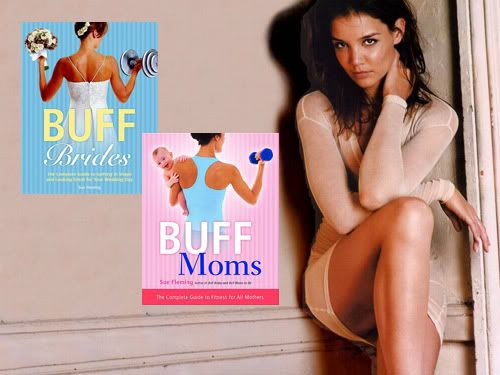 It came out about two weeks ago that Katie Holmes was following the Buff Brides program to get back in shape. It was said that she met personally with Sue Fleming, the owner of Buff Brides. Sue is a close friend of the family, and we reported that it was not true that Katie had met with her.
Now everyone is up in arms because Tom Cruise is supposedly overseeing Katie's shape-up plan, but they're basing that on quotes from Sue Fleming which are false.
Several newspapers are running the same story in which Buff Brides fitness guru Sue Fleming says that Tom managed Katie's fitness program and that he brought her to tears by saying that he wanted her to be a beautiful bride. We e-mailed with Sue today, and she assured us that she did not say the following:
But Fleming hits back: "Katie can and will do it. She has great motivation. She loves her fiance and was proud that Tom oversaw this programme.
"He told her he wanted her to be the most beautiful bride ever. She was in tears when he said that."
Maybe another trainer said this, but Sue Fleming did not. Sue's never even met with Katie Holmes, and these quotes are definitely not from her.
Meanwhile Katie's dad is said to be quite pissed that Katie is exercising so much, but given the fact that the quotes from Sue Fleming are totally fabricated, it sounds like this is made up too:
He tells British magazine Reveal: "My daughter needs rest, relaxation and recuperation.
"Katie is already doing exercises to build up her back and shoulders and I simply can't go along with what is happening."
Those quotes from Katie's dad sound fake too, don't they? Who says things like "I simply can't go along with what is happening?" In fact this whole story stinks of b.s., but it's getting carried by plenty of newspapers. People want to believe that Tom is so controlling that he's telling Katie exactly how to work out.