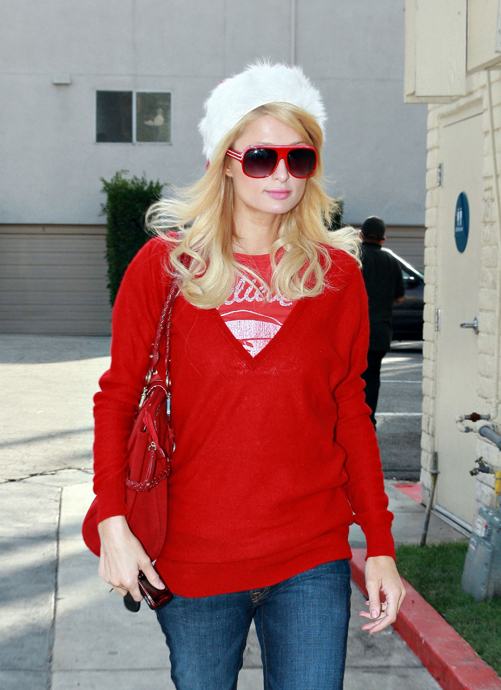 Paris Hilton's home was robbed early this morning, according to the LAPD. Paris lives in a nice gated community, but that gate can only do so much – especially when you leave a door unlocked. That's right, the robber walked right in. Luckily Paris wasn't home at the time. Five in the morning for her is like three in the afternoon for the rest of us. She's on a totally different, nightclub-based schedule.
The robber took about $2 million worth of Hilton's jewelry and other items.
An estimated $2 million worth of jewelry and other belongings was stolen from the home of Paris Hilton, according to the Los Angeles Police Department. The incident occurred at 5 a.m. at Hilton's Hollywood Hills home on Clarendon Street. The burglar, or burglars, got into the house through an unlocked door, according to LAPD sources, who spoke on condition of anonymity because the investigation was ongoing.

According to detectives, a man wearing a hooded sweatshirt and gloves forced entry through the front door, ransacked Hilton's bedroom, took unknown property and fled, said Officer April Harding… Detectives from the LAPD's Van Nuys division were at the Hilton home this morning conducting interviews. The sources told The Times that Hilton was not home at the time of the burglary and that the house is equipped with security video equipment.

Harding said a security guard reported a forced entry at 5 a.m. at the Sherman Oaks home. The guard described the burglar as a man in a hooded sweatshirt and gloves… Hilton recently told Esquire magazine: "The best thing I've ever bought with money is my house. Having a nightclub in your house really helps for having a party."
[From the L.A. Times]
Police said they don't believe the burglary at Hilton's house is connected to a string of burglaries in the Hollywood Hills. Those all involved teams of two or three men who were cloaked head to toe in black and seemed to be pretty savvy. This is one guy in a sweatshirt and some gloves who walked in an unlocked door.
I'm assuming the guard was Paris' private security and not the neighborhood's guard. I'm also curious if he gave the description of the burglar based on the security video equipment in her home or if he actually saw the guy. If the man is Paris' private security, I'm guessing he's going to be in a lot of trouble over that unlocked door.
It's probably safe to assume that Paris has insurance and won't be out much in terms of actual cash value. But that feeling of your privacy being violated and victimized is really horrendous. And even though I don't really care for her, and it's hard to say nice things about Paris, no one deserves to have their home burglarized.
Here's Paris and Nicky Hilton hitting up a Taco Bell yesterday afternoon, along with them leaving Bar Deluxe late last night. Images thanks to Fame and WENN.