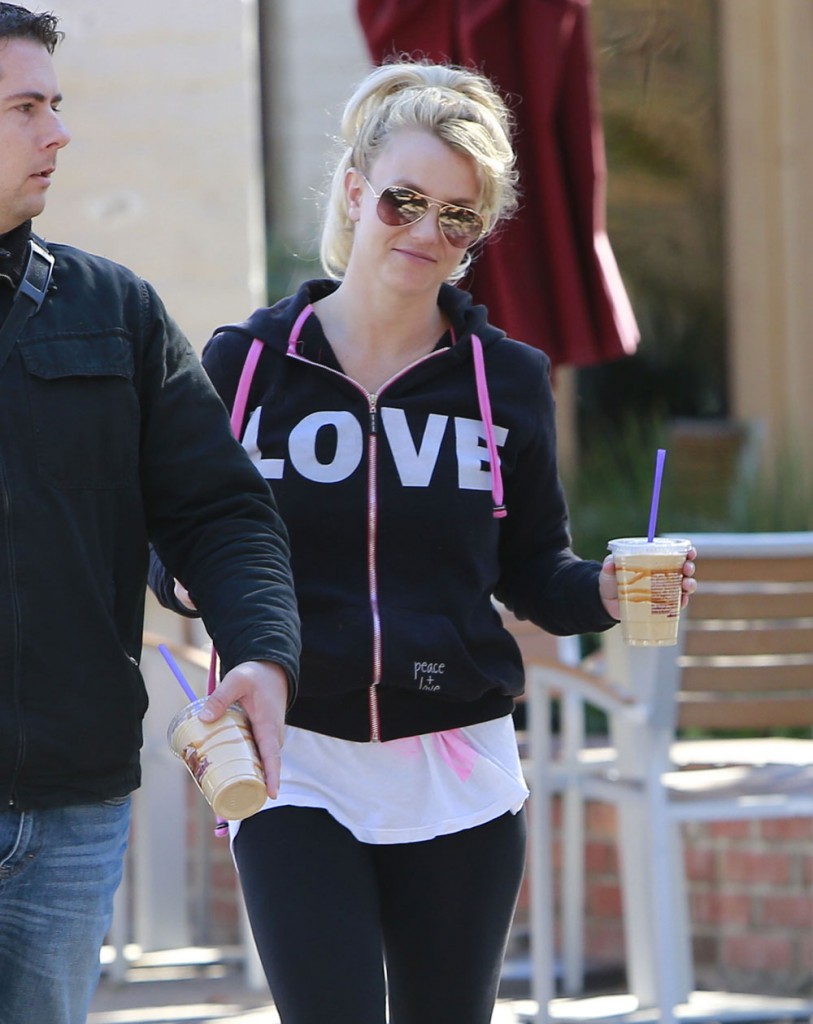 These are photos of Britney Spears out wearing a "Love" sweatshirt and some Uggs yesterday in the wake of her split from fiance Jason Trawick. Britney and Jason were together for years, and it's got to be hard on her to go through a split now, particularly when she's just stepped away from the X Factor and doesn't have firm plans for her next career move. Maybe Britney likes it that way, though. She looks like she's very well put together here and doing fine, and communicating that to the public was probably the purpose of this little outing.
Radar has several insider-y stories that make it sound like Britney is not as together as she's seemed lately, and that she's still very much in need of both a conservatorship and being handled with kid gloves. The thing is, I lost faith in Radar's sources when they ran that hoax story about Britney's ex brother-in-law claiming he's the father of Britney's oldest son. It was all based on a fake lawsuit (US Weekly was also fooled by it) and it made me wonder how much information they have on Britney, and how much is conjecture. So with that caveat, here is some of Radar's latest news. They claim that Britney is still holding out hope that Jason will be coming back, that she's not entirely convinced that it's over, and that the split was orchestrated by Britney's dad and Jason. If this is true it makes me sad for her. Here's more, and these are excerpts from a couple of different stories on Radar:
"It really wasn't Britney's decision to announce the split last week, it was Jamie who made the call," a source tells RadarOnline.com exclusively.

"Jason wanted out, and in the fragile state that Britney is in, it's not like he could have a rational conversation with her about it, so it was really between him and Jamie. They decided how the relationship needed to end and how to go about the technicalities, such as removing Jason from the conservatorship, when he would move out and how to announce the split. Britney was left out of everything and really didn't even know what was going on."

When it was finally time to break the news to Britney, the source says the two men did it in a controlled and safe environment and were very careful explaining the situation to her, because they were afraid she wouldn't take it well.

"Jason and Jamie wanted to make sure that Britney didn't lose it, so they had to water things down for her a bit," the source says. "She knows that the engagement is off and that Jason has been removed from the conservatorship, but she still hasn't exactly grasped yet that the relationship is totally over."

---

"Jamie will be keeping a very close eye on Britney now she no longer has Jason in her life. He loved Jason like a son and trusted him to look after his daughter. Now that Jason is gone, Jamie is concerned that Britney doesn't have any true friends to look out for her outside of her immediate family members, and he believes it is more important than ever right now to keep the conservatorship in place to protect her. As part of his conservatorship duties, Jamie controls who Britney interacts with, she isn't free to go out and meet people on her own. It's actually a really sad situation for Britney because she is extremely lonely, but Jamie wants to ensure there's no repeat of the Sam Lutfi situation and that his daughter is not taken advantage of."

---

"[The split] has really been in motion awhile. Jason has been very stressed and concerned for Britney and what she might do if he left," an insider told FOX411′s Pop Tarts column. "He is worried about her and really loved her, but it started to take a real toll on him. The burden of taking care instead of a partnership where she also takes care."

"Jason took on the role of 'parent' and Britney the role of 'child' when he agreed to conservatorship. This makes an uneven balance of power, typically kills intimacy and creates a dynamic of conflict in the relationship," explained licensed psychotherapist, Stacy Kaiser.
[From two stories on Radar and Fox News]
These reports are similar to what Kaiser has been saying about this relationship – that it's not fair to Britney to have her romantic partner be her co-conservator, and that it speaks to Britney's fragile mental state. The thing that is starting to bring me over to that side of the story is that Jason broke up with Britney (if it went down that way) right when The X Factor was ending. It's like he was acting more like a business manager than a boyfriend, and when that aspect was over he stepped aside. (Both as her fiance and as her co-conservator.) Or maybe it was all a coincidence. I don't believe that he only had a business relationship with Britney, though. Do you remember that creepy video he made for her, in bed, in which he was encouraging her? He was her boyfriend, but he was also in control of her, and it was all quite strange. I'm just wondering what's next for Britney, and if she'll have to do another album and tour. She seems like she's in a better place now, but like she'll never be the one making decisions about her daily life.
Update: We may know what's next for Britney. TMZ reports that she's very close to signing an "astronomical" deal with an unnamed venue in Vegas that would earn her more than Celine Dion's $100 million a year. It's up in the air whether she will be performing or making appearances, or a combination of both. Maybe that's why she looks so damn happy here.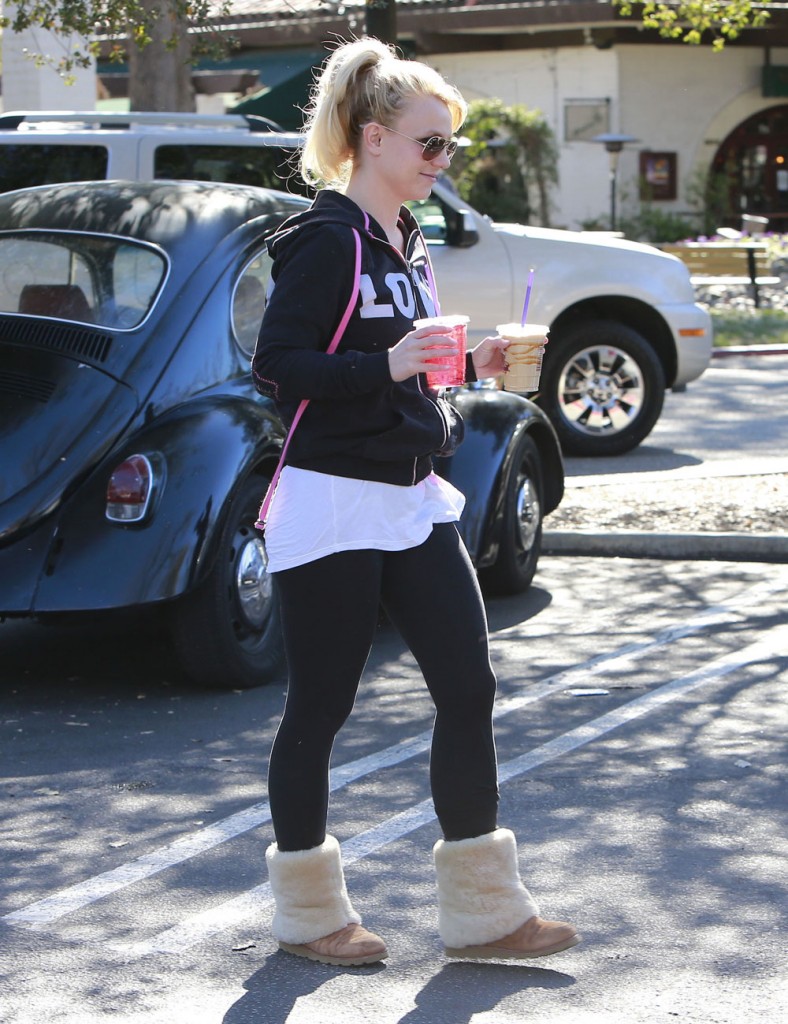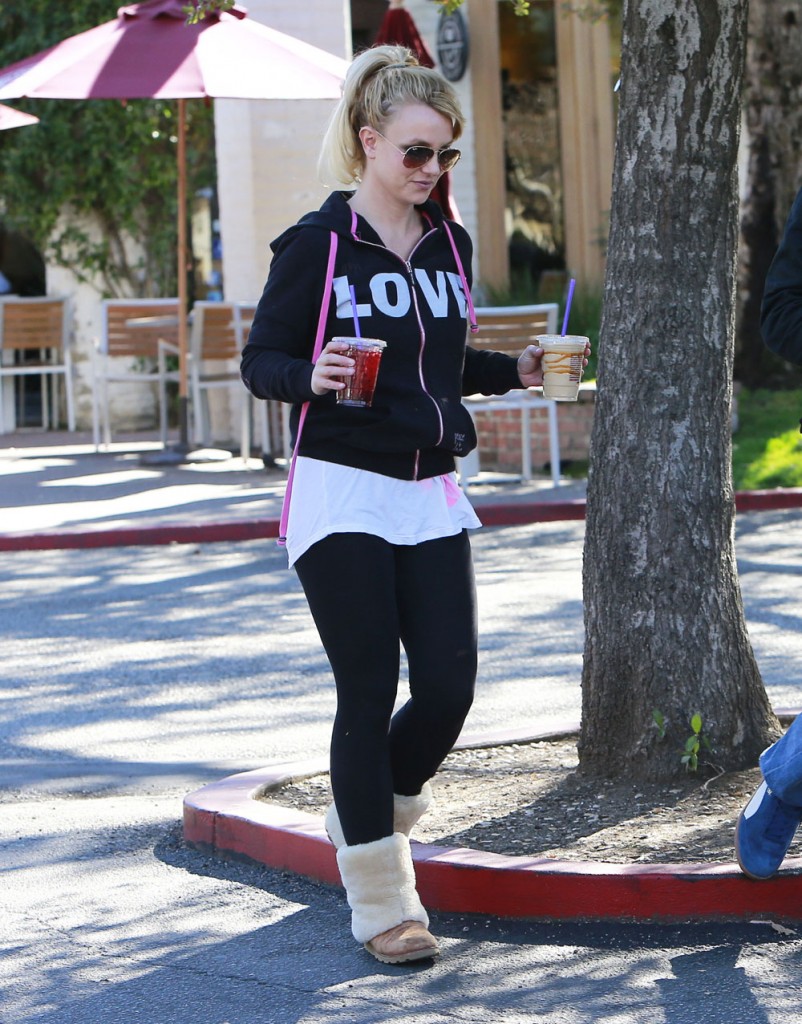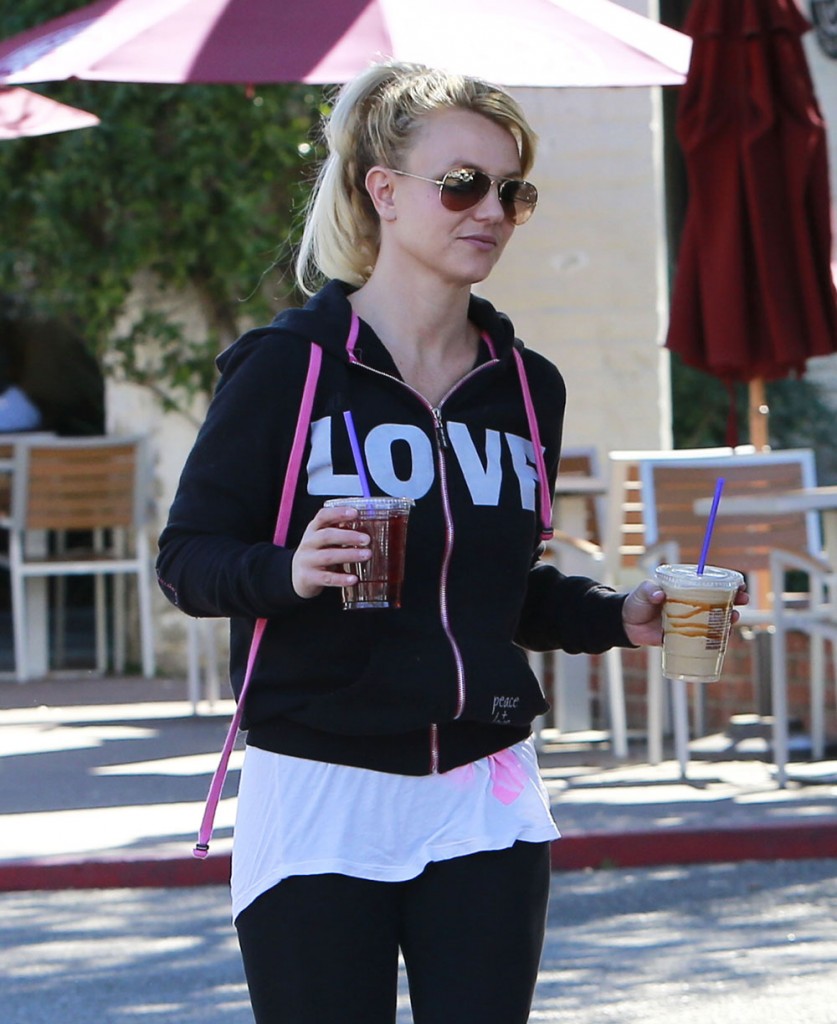 Photo credit: FameFlynet