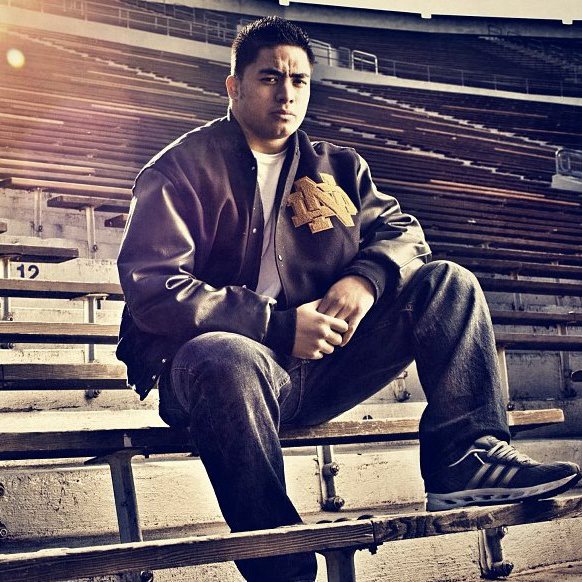 Whenever we have a sports crossover story, I call my dad to get his take. My dad watches ESPN like I watch E!, and my main question is always "did you know who this guy was before this scandal?" In the case of Notre Dame defensive linebacker Manti Te'o, my dad said that he'd definitely heard about him before this latest news and that Te'o was a big name in college football. Te'o is a great linebacker, in fact he's the "most decorated collegiate football player of all time." Part of Te'o's lore was a story he told the press about how his girlfriend died of leukemia in September of last year, on the same day he lost his grandmother. Te'o's sad personal history helped bolster his image, and he finished second in votes for the prestigious Heisman trophy last year, the highest award in college football. (Incidentally it's rare for a defensive player to earn a Heisman, and Te'o earned more Heisman votes than any defensive player to date.)
Deadspin ran an extensive investigative piece yesterday exposing the fact that Manti T'eo's girlfriend was a hoax. The woman he claimed had died had never existed, and her photos were those of another woman, which were lifted from Facebook without her consent. It was all the work of a guy named Ronaiah Tuiasosopo, who was a buddy of T'eo's according to people who knew him. In response to this scandal, Te'o claimed that he was the victim of an elaborate Internet hoax, which didn't jibe with his claims that he had sent flowers to his late girlfriend's funeral, and that he hoped to see her family "again" after a recent game victory. Many people, including my dad, believe that Te'o was in on the whole thing.
I'm going to quote the NY Daily News here because they do a good job of really summing up this story and the major points. (You can read the story on Deadspin too.) It's complicated, and the jist is that either Manti Te'o is a naive victim and fell in love with a woman without ever meeting her, or he orchestrated a con in order to seem more sympathetic in the eyes of the press. For their part, Notre Dame did an investigation and claims they buy his story. They're backing him. Also, if you'd like a breakdown of the major points in this case, USA Today has a brief article that explains it well.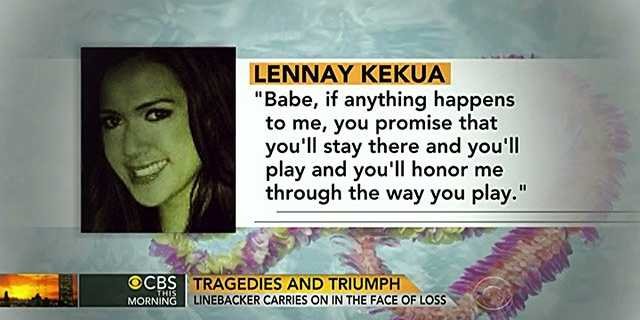 The late squeeze of Notre Dame linebacker Manti Te'o is not dead and was never his girlfriend. In fact, she was never anybody at all.

In a shocking report on Deadspin Wednesday, the website said the girlfriend, Lennay Kekua, never existed and that Te'o, who publicly drew inspiration from her "death" during a Heisman-caliber season, was part of the hoax.

It also claimed Kekua's existence was perpetrated by a former California high school quarterback named Ronaiah Tuiasosopo, 22.

The story quoted a source saying Te'o and Tuiasosopo are "family, or at least family friends." It said Deadspin "spoke with friends and relatives of Ronaiah Tuiasosopo who asserted that Ronaiah was the man behind Lennay," maintaining her identity through a Twitter account.

An hour or so after the story posted, Notre Dame released a statement saying Te'o had been the victim of a "hoax" in which someone used the fictitious name Lennay Kekua to build an online relationship with Te'o, before conspiring with others to convince him she had died of leukemia in September.

Notre Dame athletic director Jack Swarbrick said at a press conference Wednesday night that Te'o, 21, was the victim, that the university hired independent investigators after learning of the scheme on Dec. 26, and that those investigators had identified the perpetrators — though he did not identify them.

Manti T'eo finishes second in the Heisman Trophy voting this season.

When asked why he believes Te'o wasn't "in on it," Swarbrick said he is "comfortable with the consistency" of the stories Te'o told the university and the facts uncovered by the investigators.

Te'o, who Swarbrick said is expected to tell his full side of the story as early as Thursday, did not learn he had been scammed until he got a phone call the first week of December from the same number he had allegedly used to contact Lennay, according to the athletic director.

It sure was some hoax: Te'o's father, Brian, told the South Bend (Indiana) Tribune that the pair had met in person in November 2009 after Stanford — where Kekua was enrolled — beat the Irish, 45-38.

Te'o leads Notre Dame into the BCS title game against Alabama.

Last Sept. 11, Te'o's grandmother, Annette Santiago, 72, died. It was later reported Kekua also died.

"Painful and humiliating," Te'o, who is expected to be selected in April's NFL draft, said in a statement of how it felt to learn the truth. "It further pains me that the grief I felt and the sympathies expressed to me at the time of my grandmother's death in September were in any way deepened by what I believed to be another significant loss in my life."
I don't believe that this guy was duped. USA Today points us to this postgame video interview, after Notre Dame beat Michigan State on September 15 (supposedly 4 days after his fake girlfriend "died") in which Te'o says he hopes to see his girlfriend's family "again."
It's possible that T'eo developed an intense emotional relationship with someone online, and that he was fooled. I would have bought that story five years ago, but not today when everyone has iPads and cameras built into their laptops. People Skype and use Facetime, and somehow this guy never asked to see his "girlfriend" on camera? I'm not buying it. I've heard stories about this, though, and I've seen "Catfish." (I mean I watched most of it, I gave up about 3/4 through when it started to drag.) There are some sick people out there who get their kicks from assuming fake identities online. Maybe he got duped, but I doubt it.
There's a follow-up story on TMZ with more details on this story along with how Te'o allegedly found out he was victimized. (Which is partially covered in the story above, but TMZ gives bullet points.) Supposedly he was going to come clean to the press before he got scooped by Deadspin. That's a likely story. T'eo is going to hold a press conference today, which should be interesting.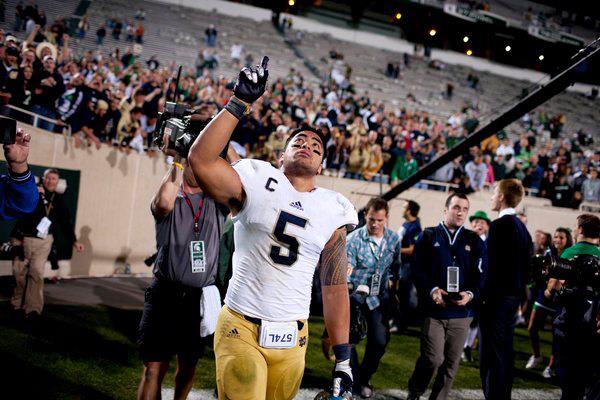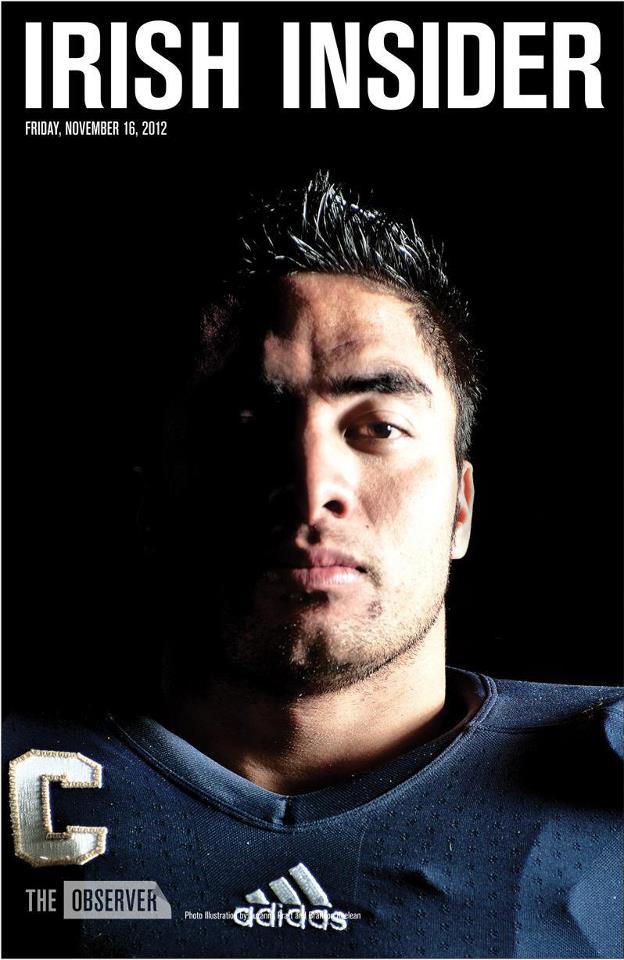 Photos via Facebook, CBS News