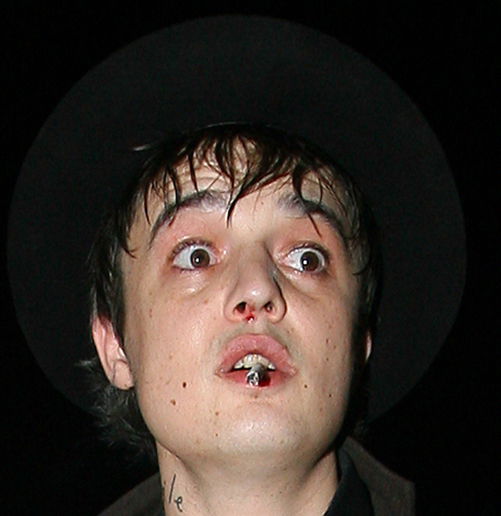 Pete Doherty's arm exploded! Or something pretty close to it. Last weekend Pete was in the recording studio, doing the only thing you'd do there. No, not recording music. What a stupid idea. Pete was shooting heroin into his exhausted veins. At this point they're pretty much shriveled up like a long line of raisins. Which is probably what Pete thinks his veins really are. While trying to shoot heroin into his arm, the artery burst.
It's been a while since the corpse in a pork pie hat, Pete Doherty, did something worthy of being in the news, but this week he's come up with a CRACKER.

Old Pete was in a recording studio last weekend, apparently not just walking around as if he was in a Tim Burton cartoon, but actually recording some of that shit music again (five seconds of hook stretched out over three and a half minutes of sonic torture – hey, daddio, get with it!) and while the paps are away the mouse will play.

Well, if you consider jacking a load of horse into your arm 'playing' that is. Pete's arm was so fed up with being used as indie's voodoo doll it decided to give up the ghost and, erm, burst ("Too much heroin and a burst artery or something – Apparenty." – Dr. HM).

Anyway, it EXPLODED while he was there and the private doctor's speed dial was rung. Problem is, by the time the doctor arrived, the drugs had kicked in on dusty Pete and he kept running away from the doctor. So in some form of opiate Benny Hill tribute they had to chase him around the room before finally manhandling him to hospital.
[From Holy Moly]
That is incredibly gross. And I believe every word of it. If the line of thought goes that a part of Pete's body was so exhausted from being treated badly that it exploded, I don't understand why his head hasn't shot right off by now. Really, every vein in the man's body – and every organ too – ought to have burst into flames by now.
Pete's lucky this is the first time that happened. And I have no idea how a doctor repairs such a thing, but I hope it involved some kind of crazy and disgusting surgery that had to be performed right then and there.
I would never be so foolish as to tell Pete Doherty to give up drugs. It's not like Amy Winehouse, where you still hope there's a teeny, tiny chance of sobriety. Clearly this guy is going to shoot, snort, and imbibe every single substance on this earth until it kills him.
But if he did have a shot of something being so upsetting (and in this case, gross) that it made him see the light, I'm pretty sure it would be an exploding arm.
Here's Pete arriving for his gig at The Monarch pub in Camden, London with a sore nose and carrying a laptop on November 7th. Images thanks to Splash.