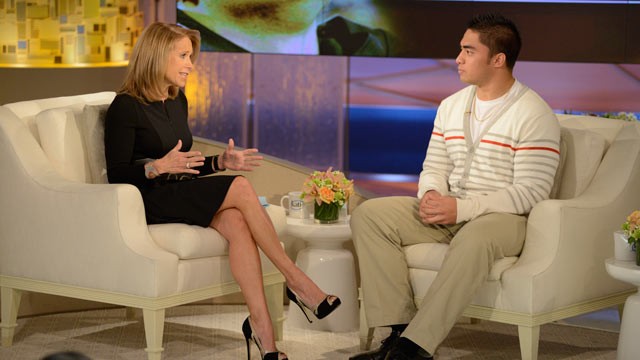 Just when the media storm on the news of Notre Dame Linebacker Manti Te'o's fake dead girlfriend has died down, he's done a sit-down interview. But wait – there's more! Manti's interview with Katie Couric airs today, and multiple outlets have advance details for us. I'm sure we'll hear more about it once it finally airs, but fingers crossed that the major points have already been released to the press.
If you're unfamiliar with this story, you can go here and here for a recap. At this point I'll assume everyone has the basic details.
Previously, Manti told ESPN (in an interview which was not video recorded), that he was the victim of an elaborate internet hoax. He gave a timeline of the deception which was consistent with Notre Dame's press statements, and with details I found convincing. I thought it was possible that Manti lied about some aspects of his relationship with this phantom online woman, but that he wasn't in on the hoax from the get-go. In his Katie Couric interview, Manti attempts to explain why he continued to talk about his girlfriend's death to the press even when he knew, by his own timeline, that he had been duped. He said basically that he answered questions in the only way he knew how, by clinging to the reality he once knew. Manti's parents also joined him for parts of the interview.
Also, outlets have found solid evidence to support Manti's claim that he was duped. Here's more, from various sources:
On why he continued to lie about the woman after he knew he was duped
Pressed by Couric to admit that he was in on the deception, Te'o said he was convinced the woman he knew as Lennay Kekua died in September. Te'o claims he never met Kekua in person but developed a relationship with her through phone calls and electronic messages.

"Katie, put yourself in my situation. I, my whole world told me that she died on Sept. 12. Everybody knew that. This girl, who I committed myself to, died on Sept. 12."

"Now I get a phone call on Dec. 6, saying that she's alive and then I'm going be put on national TV two days later. And to ask me about the same question. You know, what would you do?"

Te'o made at least three references to his girlfriend in news media interviews after Dec. 6. – From NY Times

---

NY Daily News finds receipt for flowers Manti sent when Kekua "died"
Wednesday, the New York Daily News published a story saying it obtained a receipt of flowers Te'o sent Sept.12, the day he believed Kekua had died, from 1-800-FLOWERS.com. It listed "Kainoa Kekua" as the recipient of "36 stems of premium white roses" sent by Te'o with a South Bend, Ind., address.

The message, the newspaper reported, was: "My dearest Lennay, although our time together was brief, I feel like I've known you all of my life. Till we meet again. I love you, Manti."

Phone records support Manti's claims
Also Wednesday, ESPN's Jeremy Schaap said he was given documents by a person close to Manti Te'o saying they were Te'o's AT&T phone records from May 11 to Sept. 12 of last year, a span that covers the time Te'o said he believed Kekua to be in a hospital in Los Angeles while recovering from a car accident and being treated for cancer…

ESPN reported the phone records show Te'o made and received more than 1,000 calls totaling more than 500 hours from the same number in the 661 area code, which covers Lancaster, a part of Los Angeles County.

Woman whose identity was stolen for the hoax goes public
Diane O'Meara told NBC's Today that Ronaiah Tuiasosopo used pictures of her without her knowledge in creating a fake Kekua.

"I've never met Manti Te'o in my entire life. I've never spoke with him. I've never exchanged words with him," O'Meara said Tuesday.

The 23-year-old marketing executive went to high school in California with Tuiasosopo, but she says they're not close. Tuiasosopo called to apologize the day Deadspin broke the story, she said. – From USA Today

Manti "doesn't know" whether his story bolstered his Heisman votes
"I don't know. I really don't know," Te'o replied.

He was more certain, however, when Couric pressed him by pointing out that it had become "sort of a legend that you had endured this hardship and gone on to play your team and your school to victory… Did you feel like, wow, I'm getting a lot of attention for this?"

Te'o denied reveling in the attention.

"I think for me the only thing I basked in was that I had an impact on people, that people turned to me and for inspiration and I think that was the only thing I focused on. You know my story I felt was a guy who in times of hardship and in times of trial really held strong to his faith, held strong to his family and I felt that that was my story," said Te'o, who is a Mormon. – From ABC News
I believe this guy was fooled. The phone records and receipt for the flowers helped convince me. Maybe this will be a lesson to people to be smarter about online relationships. Sometimes people are just lonely and want to believe. I'm still really curious about the woman who was talking to Te'o on the phone. I doubt she'll ever go public. She must have had deep feelings for him if she would talk to him for hours on the phone every night. Was she some married middle aged lady? I'd love to know. Maybe that's why this story hasn't died out, it's kind of fascinating.
Update: Supposedly Manti was talking to this Ronaiah guy, not an unnamed woman (I read in an earlier story that it was a female cousin of Ronaiah's) and Ronaiah had disguised his voice to sound feminine. This story is INSANE.
Here's a clip of Manti's interview with Katie Couric.