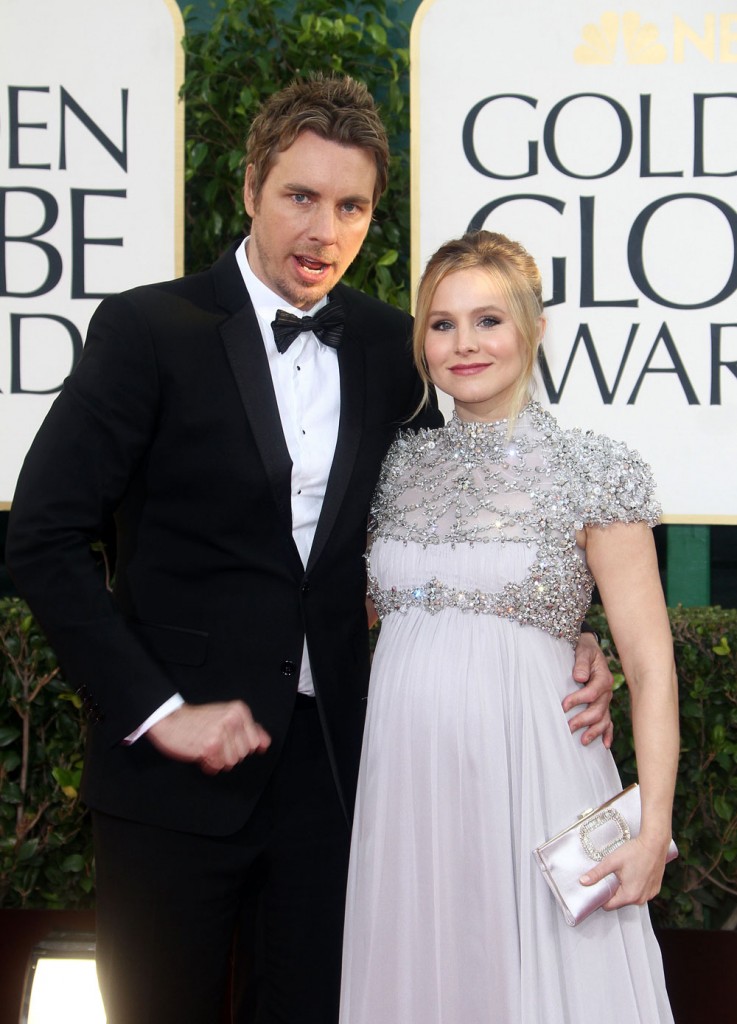 Pregnant Kristen Bell was on The Ellen Degeneres show today, and the Ellen people sent us some clips. Bell, 32, is pregnant with her first child, with fiance Dax Shephard. I love those two as a couple and hope for the best for them and their baby.
Kristen revealed to Ellen that they knows the sex of the baby but are choosing to keep it a secret. She said she's due sometime in late Spring, which I would guess to be around May. Ellen wouldn't take no for an answer on the baby's sex and she seemed to get some clues from Kristen suggesting that it's a boy. My favorite part of the interview is when Ellen asked Kristen if she's considering a natural birth and she's all "hell no." This was really funny:
On if she's going to have a natural childbirth
I've got nothing to prove. I feel like when I arrive at the hospital. I want a glass of whiskey, I want the epidural in my back. And, I want to get hit in the face with a baseball bat and wake me up when it's over because I've seen the videos and it looks terrifying.

On how she has dopamine-induced high self esteem
I look in the mirror and I think it's the reverse body dysmorphia because I can understand what my shape is but I see Brooke Shields. And, it doesn't make a lick of sense but it's something that the baby's giving me hormonally makes me feel really giggly and happy.

On if Dax Shepard is excited
He is, yeah. In different ways then I am. He's just thinking about all the off-roading he'll have in this tiny partner.

Ellen says "So, it's a boy?"
Maybe? Do you have to be a boy off road? Absolutely not.
[From The Ellen show, received via email.]
Kristen also shared this adorable picture of Dax practicing for their baby by putting one of their dogs in the Baby Bjorn. She claims the dog got in there willingly.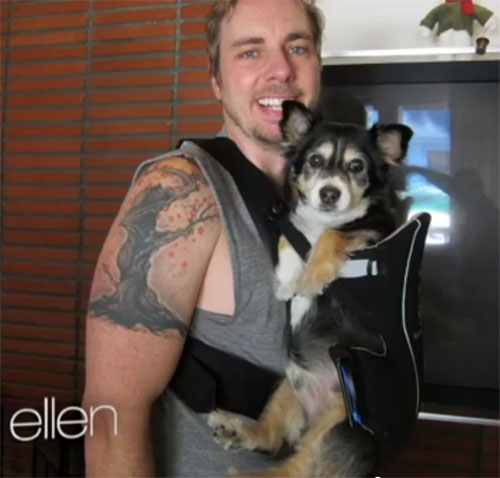 And she also dressed her dogs up for Halloween like Downton Abbey staffmembers Mrs. O'Brien and Thomas Barrow. I sh*t you not.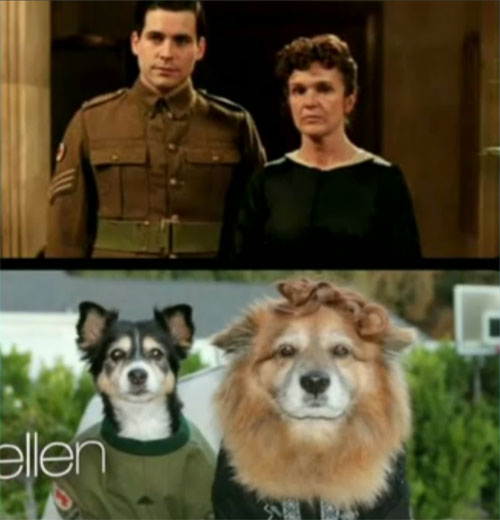 Do you remember the last time that Kristen Bell was on Ellen and she started crying when Ellen told her there was a sloth backstage? (Video is here.) That was just a year ago, and Ellen was punking Kristen, there was no sloth, and kind of exploiting her strange obsession with sloths. Last year Kristen told Ellen how Dax hired a sloth to come to her 31st birthday party. She was so freaked out about it, even recounting the story, and explained that she's one of those people who cries easily.
Anyway Ellen brought a real sloth on stage with Kristen this time! The sloth's name was Lola, and Kristen said that she'd actually heard that there was a sloth named Lola in LA. She has all the LA sloths' names memorized apparently. Kristen really kept it together this time, I was surprised. I cry easily too although I can hold it in if I focus. I could see Kristen struggling not to cry. (My kid has a school project to do on Helen Keller and those YouTube newsreel videos really do me in.) Kristen was working hard to seem calm about the sloth but she was probably dying inside.
Here's the video of Kristen seeing the sloth. She's also gifted a baby sloth outfit from Ellen and she loves it. This girl is such a trip.

And here's the rest of Kristen's interview:

Header photo credit: FameFlynet