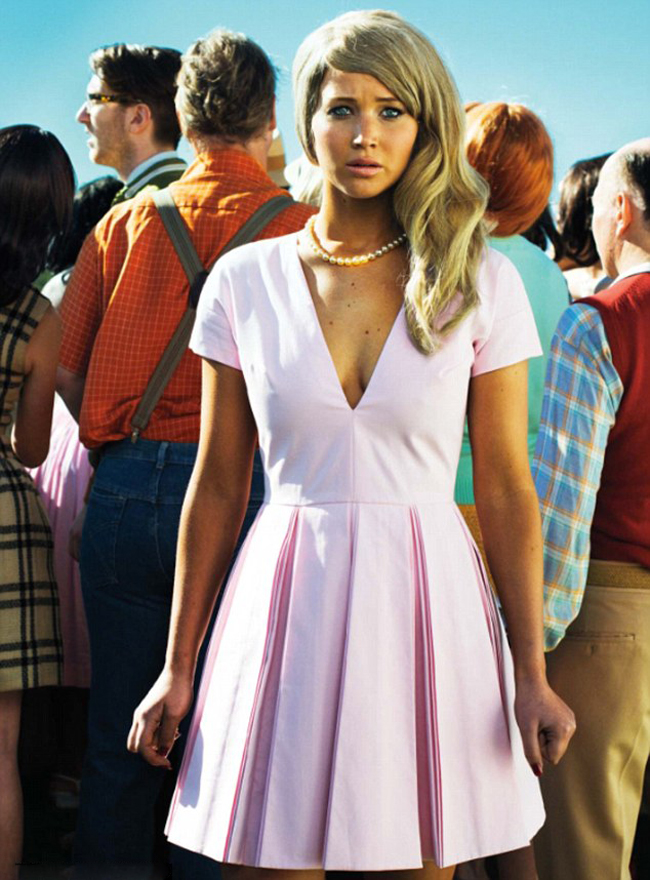 Jennifer Lawrence gets featured in the February issue of W magazine to promote Silver Linings Playbook. Why just a feature? Well, she covered the mag's September issue in a weird "Mockingjay"-inspired photoshoot that looked like JLaw was afraid a cockatoo would crap on her head, so it's just too soon for another cover. I'm sure she'll be back up front and center while promoting Catching Fire next year though. In the meantime, we're only getting this little featurette with a bizarre, Valley of the Dolls-esque shot of Lawrence looking much more vapid than I ever thought possible. She's wearing a Dior pink cotton dress, a Mikimoto pearl necklace, and a very obvious wig. Not a good look, right? I mean, her body is still amazing, and she's a pretty girl, but JLaw obviously isn't into this frou-frou shoot. Girlfriend would definitely rather be talking about farts.
The interview is titled "The Nonconformist," and I think that's in reference to SLP and the Tiffany character. For the record, I still don't understand why the script fashions the character as "crazy." This is a woman who endured a very significant life tragedy, and her depression was situational, not chronic. Yes, she sort of went of the deep end in the aftermath, but I think Tiffany is much more "neurotic" than "insane." Does that make sense? This interview was conducted before Jennifer and Nicholas Hoult broke up, so she makes mention of him too. Here are some excerpts: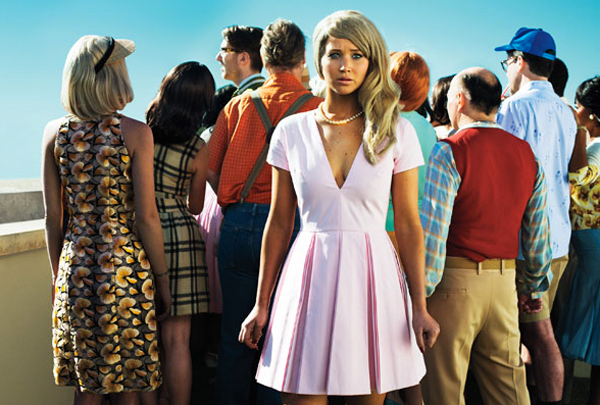 Journo discovered her half naked in a hotel room: "I have no modesty left."

What superpower she'd not like to have: "It would be horrible to read people's thoughts. I always know when I'm being lied to, and that drives me nuts."

On her candid ways in interviews: "I don't think I'm particularly brave or bold or different from anyone else. I just think this is an easier way to be."

On Tiffany in Silver Linings: "I like that my character knows that she's crazy–and accepts it. She says, 'Keep being weird! Just be proud of it.'"

She's supersititious: "Whenever it's 11:11, I make all of the people around me wish that my boyfriend [the actor Nicholas Hoult] not get killed in a motorbike accident. He just bought a motorbike, and I think my ritual will keep him alive. The other night, at 11:11 p.m., I told an entire bar to say, 'Nick will not die in a motorbike accident.' And they did it." I asked her if she repeated this ritual at 11:11 a.m. too. "I don't wake up for it!"

She's not a morning person: "God, I hardly ever wake up before 11. I'm an artist! I need at least 18 hours a night, with catnaps. I'm not that crazy," she said, half-joking. "But I am an artist."
[From W magazine]
Again, even JLaw is describing Tiffany as "crazy" when she's really just a major weirdo. Oh well. Clearly, she's joking about the 18 hours a sleep thing as well as the "artist" comment. Jennifer has already stated that she doesn't even have a method, and I think she's poking a bit of lighthearted fun at people who do take acting very, very seriously. Does anyone else get superstitious about numbers like JLaw does? I have a thing with the numbers 30 and 11, so we have that in common. Also, Jennifer is terrified to look at mirrors, and I can relate. I'm always so worried about Bloody Mary coming out to play that I keep my eyes closed in the bathroom at night. Yes, I'm a total dork.
Just for kicks, here's a replay of that awful bird photoshoot from last year's W magazine.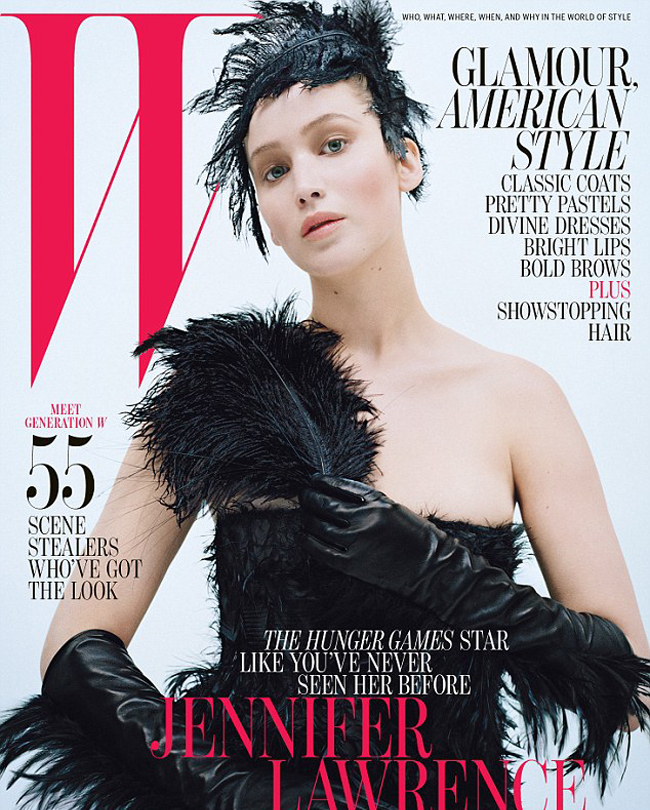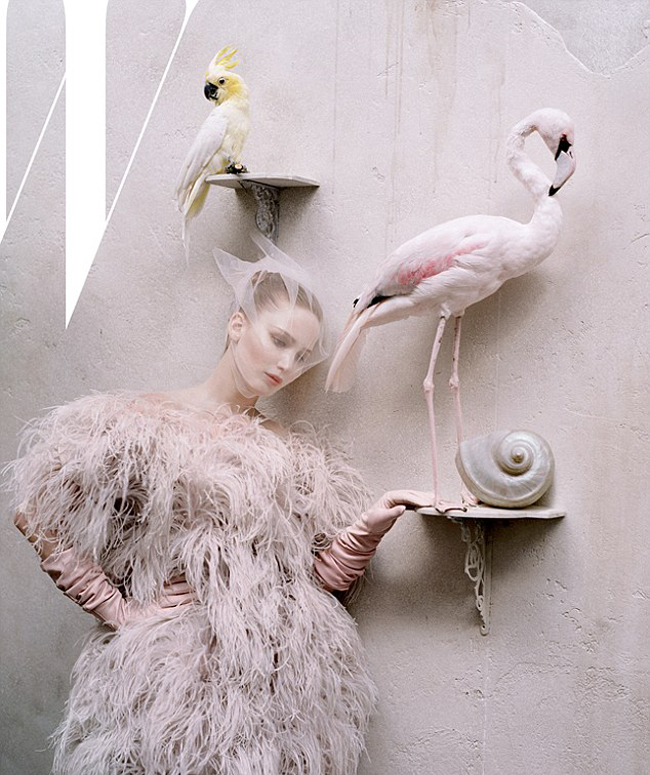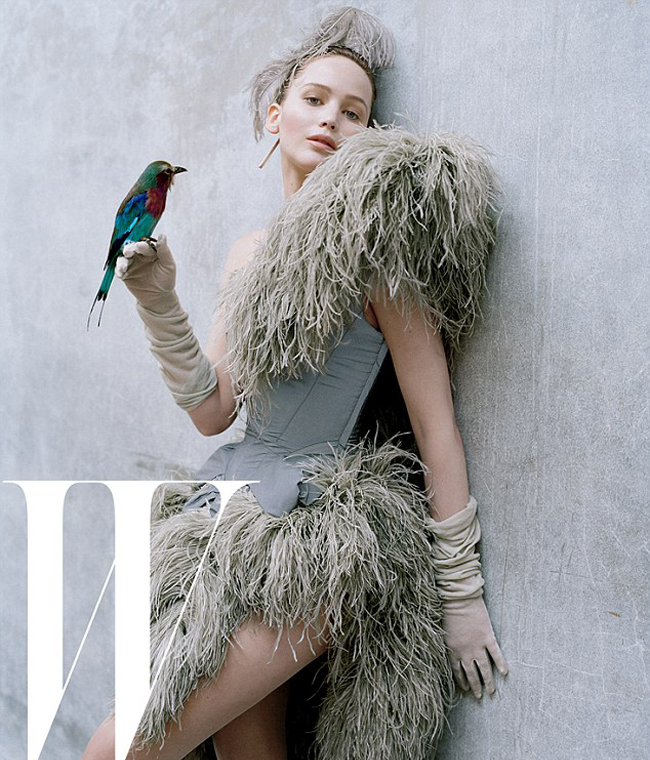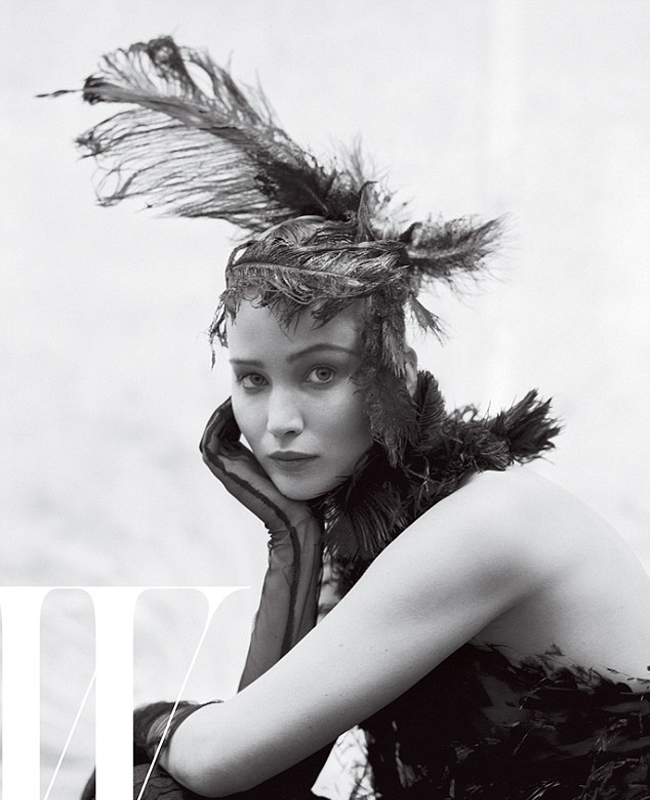 Photos courtesy W magazine