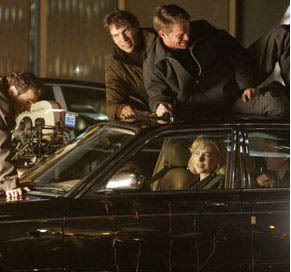 Nicole Kidman was trying to shrug off some zombies clinging to the hood of her car while filming a scene for her new movie. The car was being towed to make it look like she was really driving, but the stunt went wrong and her car hit a pole. She and her young co-star were both wearing seatbelts. Although she was taken to the hospital after the accident she was released after a couple of hours and seems to be fine.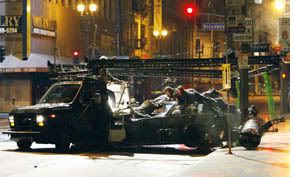 At around midnight, the stunt driver operating the rig skidded while taking a corner at roughly 45 mph, causing Kidman's car to hit a poll and knock over a garbage can.

Both the actress and her costar, 10-year-old Jackson Bond, who was riding in the front passenger seat, were wearing seat belts.

Members of the crew immediately wrapped a blanket around Kidman and paramedics arrived to check the actress for injuries.

Kidman, 39, was taken to Cedars Sinai Medical Center in an SUV, and was released within two hours.
US Weekly also reports that Kidman's two children, Connor and Isabella, visited her on set earlier that day but were not there at the time of the accident.
Kidman has had a rough go of it lately. Now that Keith is out of rehab he will soon be touring and it's doubtful that he'll have much time for her.
Picture from Us Weekly.