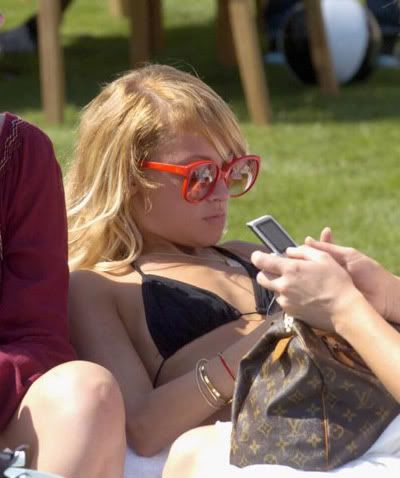 Nicole Richie admits she's thin in an upcoming interview for Vanity Fair, and confesses that she has seen a doctor and a nutritionist about it:
THE SIMPLE LIFE star has opened up to style magazine Vanity Fair, admitting she shudders at the thought of young women trying to obtain her skinny look. Richie accepts her slimline look can be a concern and admits she has a weight problem in the publication. She says, "I know I'm too thin right now, so I wouldn't want any young girl looking at me and saying, 'That's what I want to look like.'" But she insists her weight problems are not connected to an alleged eating disorder, and she's doing whatever she can to take control of her health. She adds, "I started seeing a nutritionist and a doctor… I do recognise that I have a problem, and I want to be responsible and fix it, and I'm on that path right now." But even her doctors aren't convinced the star isn't anorexic. In the upcoming Vanity Fair article, one of her medics, JEFFREY WILKINS says, "If it's not anorexia, she should be able to gain the weight. If it ends up being anorexia we can help her with that."
[via]
About two weeks ago, Richie said she realized she was thin, but was nonchalant about it.
Richie wears a red string bracelet on her right hand, a symbol of anorexic pride. It seems like she's perfectly aware that she doesn't eat but is in denial about how severe it is and won't admit it outright to the press. At least she's trying to get help, but it's going to take a lot of hard work and therapy.
In related news, there is a picture of supposed coke residue after Nicole Richie left a bathroom stall, but the evidence is unconvincing and seems fabricated.
Here she is in La Quinta, CA at a Coachella Party. We realize that Taryn Manning is holding a little pipe in one of the pictures since everyone has pointed this out. They've also noticed that Nicole seems to have lost some her hair. Hair loss is a sign of anorexia.
Pictures [via]