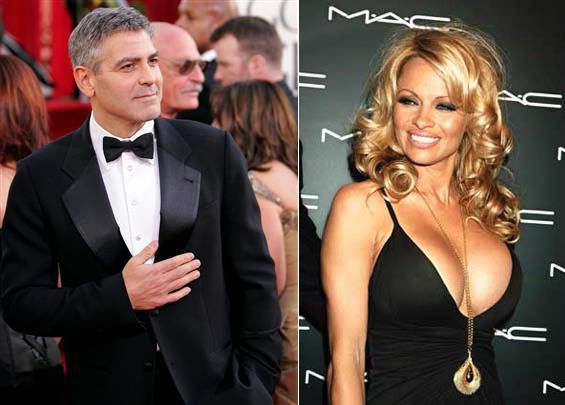 Cool and suave George Clooney…and Pamela Anderson? EW!
There are reports "Pammy" and Clooney are dating. I hope that hunky George has his cootie shots because she gives me cooties just looking at her!
The pair were reportedly seen canoodling in the private VIP section of a Los Angeles restaurant, with Pammy even sitting on George's knee.

They want to be careful – at their age, too much excitement could finish them off.

If there's a nugget of truth in this tale it would mean Anderson can call off her manhunt.

In recent weeks, she has been linked to her bodyguard, a Hell's Angel and r'n'b crooner Usher. She even gave shock jock radio DJ Howard Stern an on-air lapdance.
Please tell me this is research for a movie role on breast implants. Or maybe George is gearing up for his role as a drugged out rock star and needed "background" information. The only good thing about this hook-up is that we can be sure it won't last long.
Note by Celebitchy: Clooney is a man whore who can't commit, so WTM is right that it won't last long.