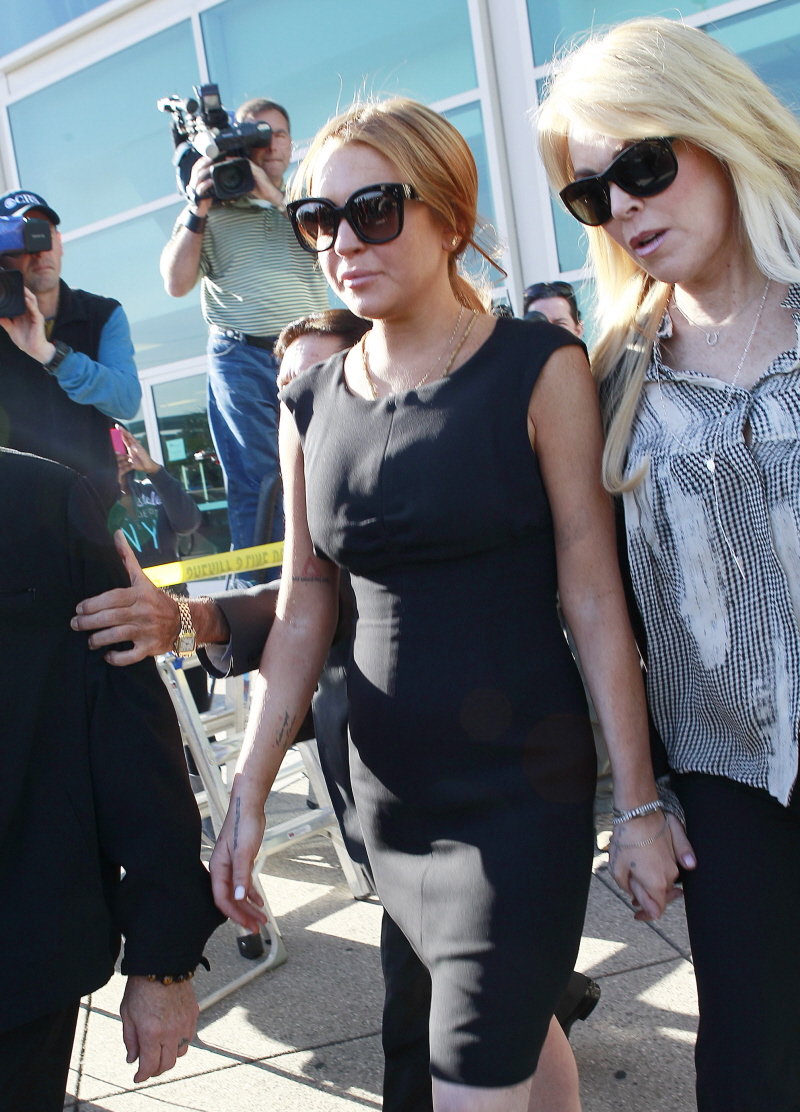 Dina Lohan has a new delusional, ridiculous interview with Mario Lopez on Extra. I guess Dina didn't want to sit through another interview with Entertainment Tonight, because their interviewer really went after her the last time. So it's time for Extra! And it's chaos and insane. The video is below, and we'll discuss it after.
Some highlights of the interview:
When asked if trouble seems to find Lindsay or Lindsay finds trouble," her mother replied, "A little bit of both. I really think she's a target and since I am a single parent, I think they think there's a weaker link that she doesn't have as much protection around her."

Dina said living in New York, closer to the family, is one way to keep Lindsay safe, "I have been trying to get her out of [L.A.] for five years… she's safer at home."

As for the rumors the mother and daughter were reportedly turned away from two hotels when they arrived in Los Angeles for Lindsay's recent court appearance, Dina laughed, "That was so silly. We got to the hotel, and there were so many paparazzi, so we opted out. We went to another hotel, the suites were full and then we ended up at the Beverly Hills Hotel."

Dina also said she is sick of being a tabloid target, calling herself the most misunderstood mom in America. She has written a new tell-all book, "A Parent Trapped," which details the Lohan family drama, including her relationship with ex-husband Michael Lohan.

Dina explained, "I don't really want to speak about that on camera, but I've been a single mom my whole life. I've had sole custody and my other three have had no relationship with him… Yes, I feel like I'm the victim of domestic violence for years, so if I can save a life or change a life. I want it to be a helpful book. I'm always hopeful things will get better and slowly, but surely hopefully they are."

Dina is also hoping that Lindsay can clear up her legal problems when she goes to court in March. Another thing Dina would like to do, "Dancing with The Stars." Mario, "Who would you be partnered with?" Dina, "Max." Mario, "He's supposed to be strict." Dina, "I like that."

On the subject of Max, Mario asked about the rumored relationship between Max from "The Wanted" and Lindsay, "Okay, speaking of Max, that's a good segway, Lindsay's been hanging out with Max of "The Wanted." Dina, "I can't go there, that's personal, but yes he's lovely." Dina went on to admit, "They are very good friends, he's a sweetheart."

As for what Dina would like Lindsay to do in the future, Mario asked, "Would you like to see Lindsay married with kids?" Dina says, "Yes! I just want to babysit."
So much ridiculousness in one short interview, right? Let's take it point by point. One, why is Lindsay "the weaker link"? Dina talks as if SHE is the famous one and her poor crackie daughter just grew up in the spotlight because of Dina's enormous fame! Two, LL now living in NY with Dina – Dina just wanted her closer because Dina wants to "momager/pimp" her all of the time. Three, "opting out" of the hotel because there were paparazzi? HAHAHAHA. Four, Dina's book, A Parent Trapped. How asinine. How trashy. Five, why does Dina still talk about Lindsay like she's under 18 years old?! Why is Dina still talking about "sole custody" – that's not something to brag about, especially considering how Lindsay has turned out.
And finally, Lindsay getting married and having kids? Jesus. Is that the next cracked-out con? Lindsay is going to try to land a married man and have his kid? SMH.
Also – Radar has a new video of Dina acting kind of out of it, and they claim she was totally drunk in the middle of the day. Which wouldn't be surprising at all, but the video doesn't show her as, like, a fall-down drunk. She seems like she's just kind of out of it and "maintaining". You can see it here.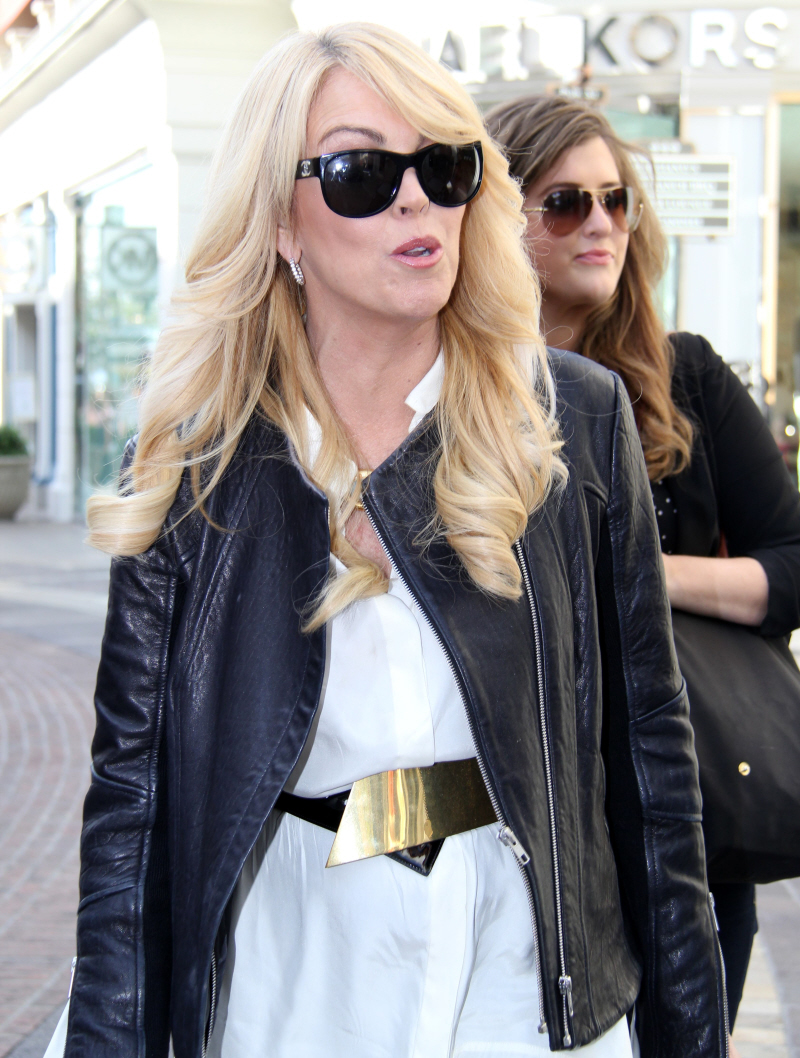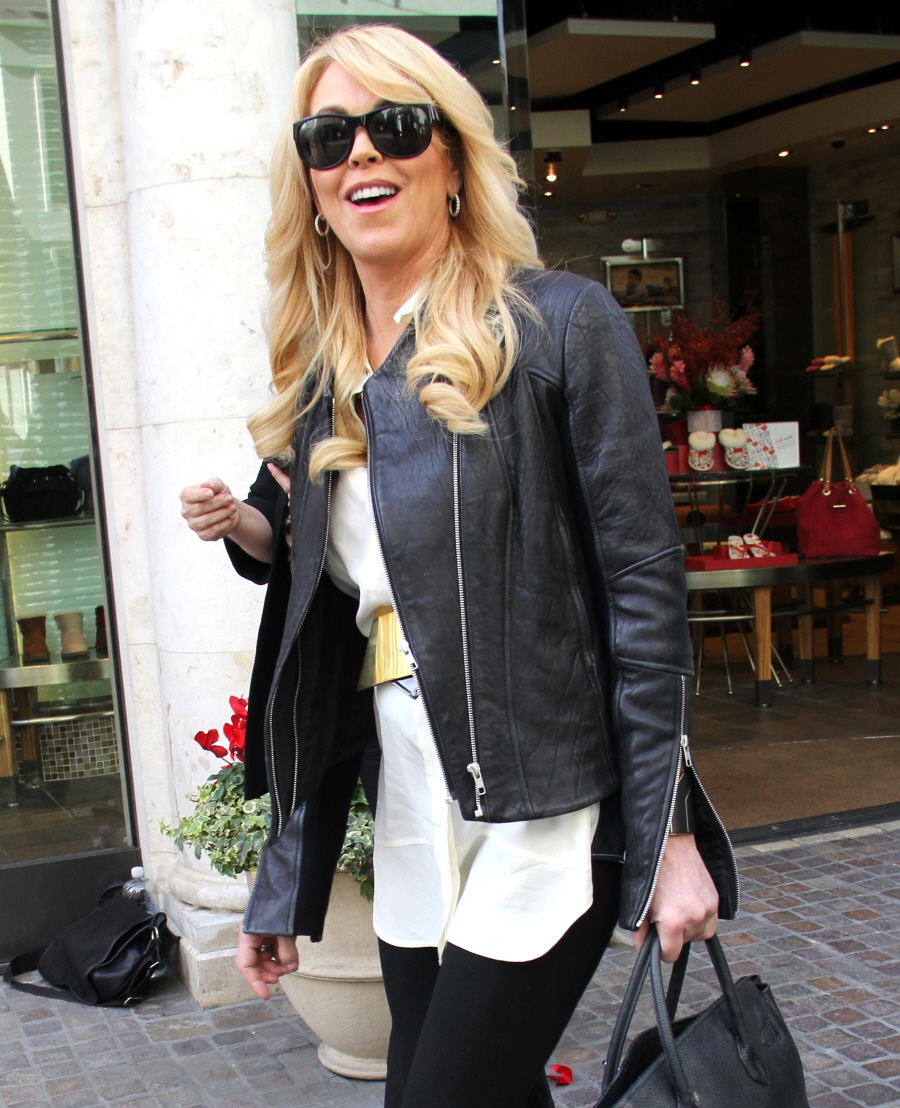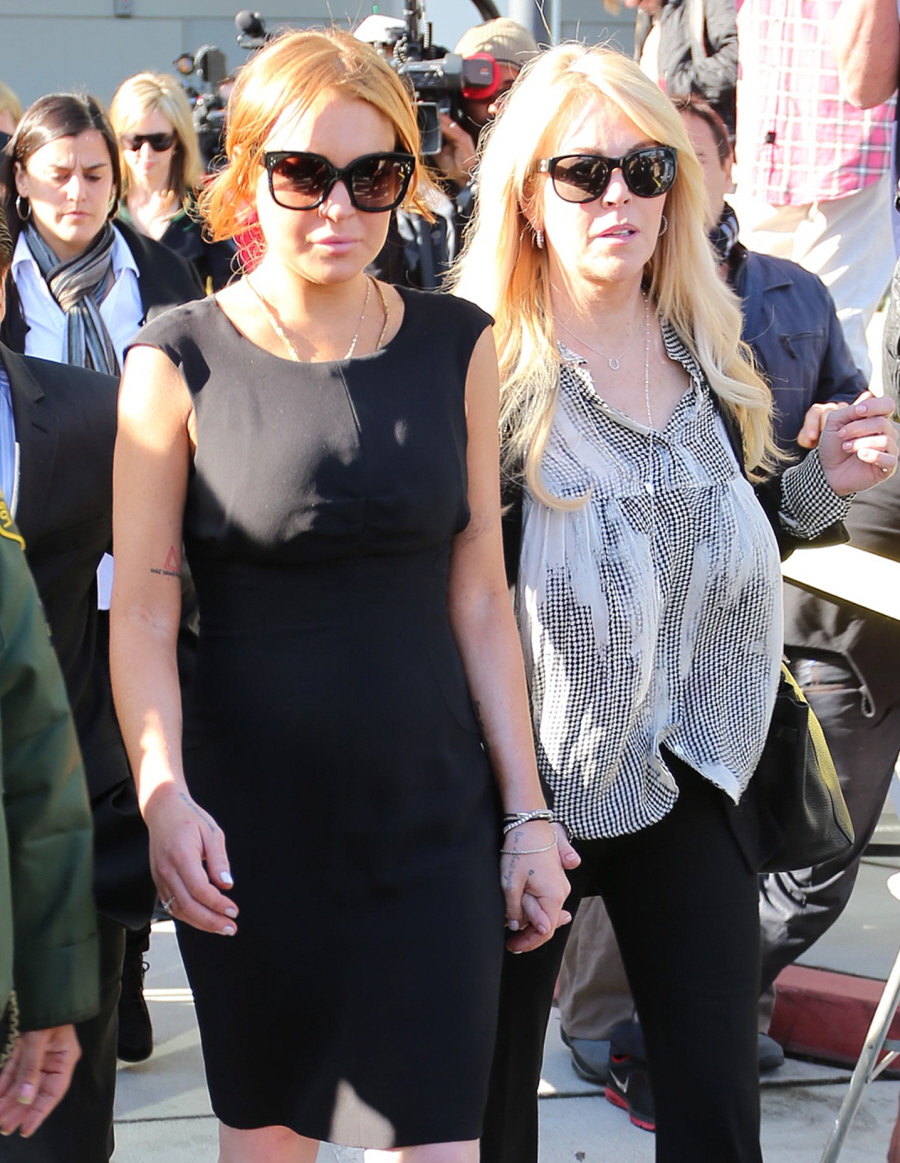 Photos courtesy of WENN, Fame/Flynet.