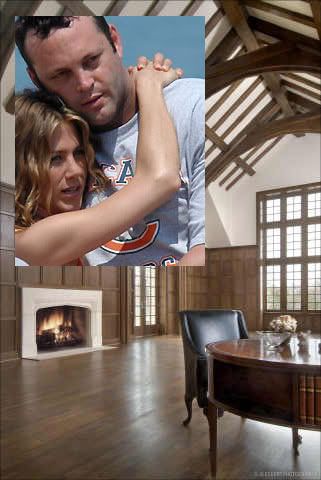 The Mirror claims to have an exclusive today that Jennifer Aniston and Vince Vaughn have bought a mansion in a Chicago suburb, but we read about it several days ago at Bricks and Stones.
The Mirror reports:
The stars, who have been dating since they filmed The Break-Up last summer, have spent the past five months searching for the perfect lovenest away from Los Angeles.
And they found it in the posh Chicago suburb where Vince grew up…
Standing on 7.5 acres of land, the mansion boasts nine bedrooms, 13 bathrooms, a garage that accommodates six cars and a huge double-height, woodbeamed hall where they can entertain their friends.
According to our spy, the pair are overjoyed that they've finally found their perfect home – and that it's far from the showbiz world of Hollywood. "Jen and Vince have spent ages looking for the right place and when they found this, they knew it was perfect," says a source close to the couple.
"It's in a quiet, private neighbourhood and Vince is so well-liked there that he and Jen are hoping they're just going to be allowed to keep a low profile and get on with their lives.
Bricks and Stones even had these lovely interior photos of their new home.
Now that Jen and Vince have officially shacked up, maybe she'll be more secure about their relationship. She supposedly asked him to call off a movie project that would have him filming in England for three months, because she didn't want to be alone.