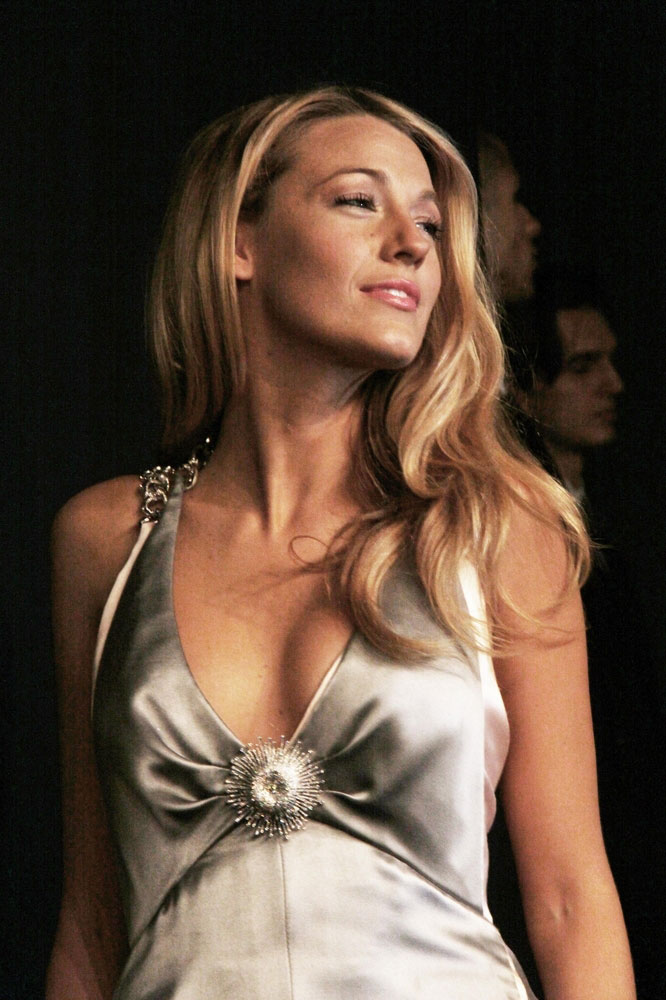 Blake Lively is the celebrity spokesperson for Gucci Premiere perfume. You may have seen her commercial in which she struts around in gorgeous dresses while applying perfume like she's trying out a new vibrator. As part of her promotional duties she did a long video interview with fashion and beauty blog, Refinery 29. (You can watch the video there. I tried to embed it, but it's auto-play.) Blake really knows how to give interesting beauty tips. I'm not sure they'd work for everyone, but Blake wants us to know that her style is "effortless" and will work for you, too. I'm sure she had a full blowout and a professional makeup application before she said this.
On her sense of style
You look at Katherine Hepburn and her pant suits or you look at Grace Kelly and her incredibly feminine gowns that look like a princess – very fittingly. I look to women like that because I always look for style and not trends.

There are two very different things. One can be iconic in any time period. I always want to wear things that my kids can look back on and say 'mom, you look amazing.' Not like 'I can't believe you wore that.'

On the paparazzi trying to get a money shot
It's never comfortable when there are a million people with cameras that are screaming your name. A lot of them really want to get that embarrassing photo. You're getting out of your SUV and there's a guy on the ground trying to shoot up your dress and then it's your fault later…

Leading up to it is never really stressful. You make it a fun process like going to a costume party.

On caring for her nieces and nephews before a premiere
The last premiere I went to I had my nieces and nephews I was babysitting them, they were at my hotel at the pool all day… I was getting dressed, I had my dress, my sister hadn't shown up yet. She was late, so I was like 'ok you guys you're coming to the premiere…' so I'm holding the babies I have them in the car with me, I walk the red carpet. I get back in the car and continue to watch them until my sister shows up and then I can continue with my night.

On her hair
I'm actually a pretty shy person by nature so it's very much a safety net for me. I love to have my hair down and I love to have it full. I always like it to look really relaxed. [Structured hair] just makes me feel stiff and uncomfortable. If I have my hair down, there's something romantic about it. I feel like it looks lived it… it has a story.

Her haircare tips
When I wash and dry my hair I have naturally wavy hair so I'll dry it where it's still a little bit wet and then I'll put it just in a ballerina bun and then when I take it out it has a really nice natural deep wave… If you have any sort of natural bend in your hair, if you let it dry in that bun… make sure the bun is really tight then it will come out with really pretty waves.

Her beauty tips: improvise
It's always about 'are there any accidents that are going to happen… let's use eyelash glue' [to glue down a dress so it doesn't ride up]

My mom is very clever that way… always thinking of odd things in a pinch. My mom used Advil as blush once… she didn't have blush, so she licked the Advil and took the pink off of it.

On fragrance
Fragrance for me is actually one of the most important things that I live by daily, as well as on the red carpet. I like a more natural, effortless look so I often don't wear much makeup in my life if any, so fragrance is something that really defines you and it tells your story. It brings back so many emotions and so many memories. When you smell the smell of someone you love… the flood of emotions, the power that has is incredible.

Fragrance is something that can be your signature for life.
[Transcribed from video on Refinery 29]
I have long naturally wavy hair around Blake's length and I doubt my hair would look cute if I put it up damp in a bun like that, but you know that I'm going to try it. I'll probably be blowing it out again and then curling it to fix it afterwards. I don't like my hair to look messy.
Blake also went on about how Gucci Premiere was "the perfect fragrance" because they were able to blend feminine floral notes with masculine wood notes and hints of citrus or something. This women is possibly the perfect spokesperson. She's enjoying the hell of out that fat contract with Gucci.
I have to call bullsh*t on her "I'm actually a pretty shy person" comment. Blake is not shy. The interviewer was noticeably shy and reserved and it took her a while to warm up. Blake is always ready with an animated story about how she wrangles babies while attending move premieres and uses clever tricks to get her incredible hair and dewy skin. Blake's brand of "shy" is anything but. She gives a great interview. She really knows how to make it all look "effortless." Also, I got the sense that she's looking forward to having kids soon.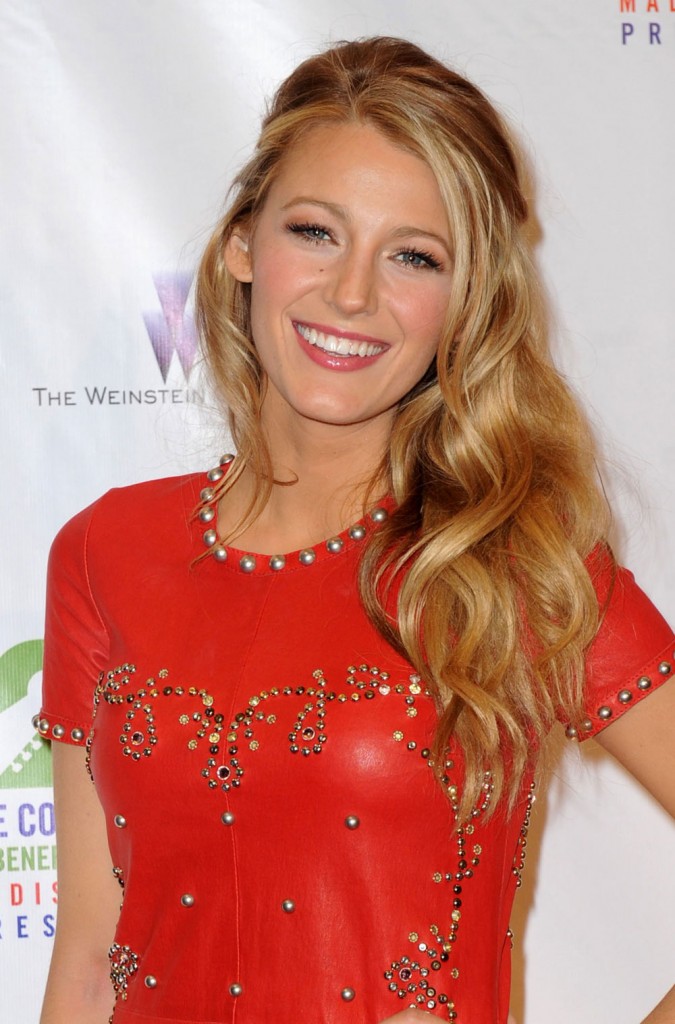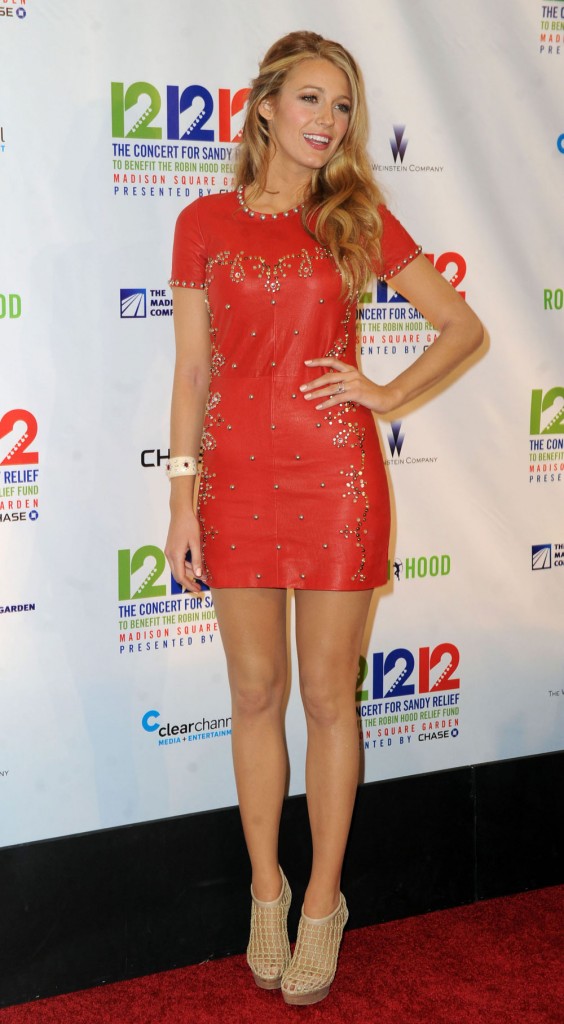 These photos are from 12-12-12 and 10-9-12. Credit: FameFlynet and PRPhotos