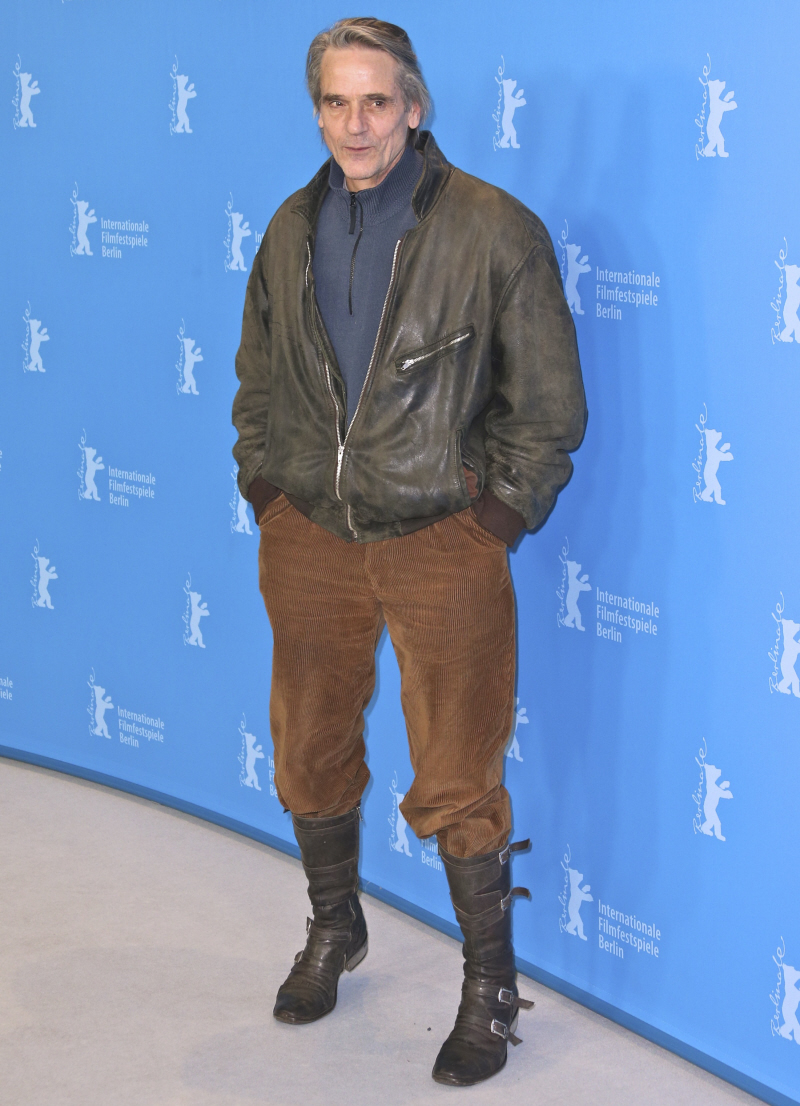 A few years ago, I wrote a story about a Jeremy Irons interview that bothered me. It was bothersome because I really didn't know much about Jeremy other than I thought he was (and is) a talented actor. But with that interview, I found out that he either has an open marriage or an understanding wife, and that he has a very outdated and misogynistic view of sexual harassment. Jeremy said, in part: "Most people are robust. If a man puts his hand on a woman's bottom, any woman worth her salt can deal with it. It is communication. Can't we be friendly?" Well, in a new interview, Jeremy is discussing those 2011 comments, and he's setting the record straight (sort of) on his marriage. Oh, and he also has some really screwed up ideas about statutory rape.
He has already enraged feminists by saying women should accept pats on the bottom in good humour. Now Jeremy Irons has waded back into the same controversy with the confession he loves 'touching' people – adding any 'self-respecting woman' would simply tell him to 'f*** off' if she minded.

Admitting he likes to 'stir things up', the 64-year-old also appeared to criticise people who claim they have been the target of underage sexual abuse, claiming they have been 'encouraged' to believe they are victims.

Mr Irons caused outrage in 2011 by saying: 'If a man puts his hand on a woman's bottom, any woman worth her salt can deal with it. It is communication. Can't we be friendly?'

But on Wednesday, the actor, who has admitted his relationship with wife Sinéad Cusack is 'dysfunctional', suggested he had been misquoted – before proceeding to reiterate his controversial opinions.

In an interview with The Times, he revealed: 'I love touching. I always touch people. I don't think I said 'bottom' but of course I was misquoted. Basically, I said that any self-respecting woman would tell you to f*** off [if she minded]. I think we're very robust as human beings.'

The star – famed for playing a sexually obsessed cabinet minister in 1992 film Damage – claimed he had been the target of unwanted advances as a young man, but never had any trouble fending them off. He said: 'I had people when I was younger trying to feel me up. Older men. I just told them to get lost.'

Mr Irons, who played a man obsessed with an young girl in 1997's film adaptation of Lolita, appeared to court further controversy by suggesting underage girls who have sex with older men should not be 'encouraged' to think they are victims of sexual abuse. He said an acquaintance told him of an affair she had with a much older man when she was 13 before he started filming the movie, adding: 'There was sex involved. She said: "By the time I was 16 or 17, it petered out — it's never affected me at all." There are people who are victims in life and I don't think they should be encouraged.'

Seemingly well aware of the controversy his comments are likely to provoke, Mr Irons added: 'I think the job of artists is to stir things up'.

The star seemed anxious to advertise his disregard for authority and for convention. He has been married to Miss Cusack, 64, for 34 years. The couple, who have two grown-up sons, are reported to have an open relationship.

Asked about his marriage in his latest interview this week, Mr Irons would only say: 'It goes on.'

He has been spotted in the company of much younger women on several occasions. In 2001, he was seen kissing French actress Patricia Kaas outside London's Chinawhite nightclub. In 2009, he was seen in a 'prolonged clinch' with an assistant stage manager less than half his age. The following year, Spanish actress Loles León successfully sued a five-star hotel for £39,000 after breaking her wrist and pelvis falling down steps in the actor's luxury suite.

She claimed she went to the room so she could tell her friends she had spent the night with him, adding: 'I think he was up for it.'

Describing his marriage as 'dysfunctional', Mr Irons once revealed: 'Sinead and I have had difficult times. Every marriage does because people are impossible. I'm impossible, my wife's impossible, life's impossible.'

In another interview, he said: 'No marriage is what it seems. I will say that it is very difficult to be everything to one person.'
Let's tackle this one by one.
Sexual harassment – Jeremy has a minor point, which is that women being harassed should feel like they can tell a harasser to "f—k off". The problem I have with Jeremy in particular saying this is that he's a movie star and a respected actor, and if he's groping some intern or assistant, she probably feels like she has to put up with it or her job will be on the line. It's about the consequences of telling a harasser to bugger off. And it's about the harassment too.
Statutory rape – this is just so… wrong. Jeremy has met one person who had sex with an older man when she was 13, and so he extrapolates from that one incident that victims of statutory rape shouldn't be encouraged to think of themselves as victims? Good God. That's a Pandora's box of ill-conceived sentiments.
His marriage – it sounds like he just does whatever he wants. I guess he thinks that his wife will never divorce him. Maybe. Whatever. You couldn't pay me to be married to this man. Here's a pic of Jeremy and his wife Sinead Cusack.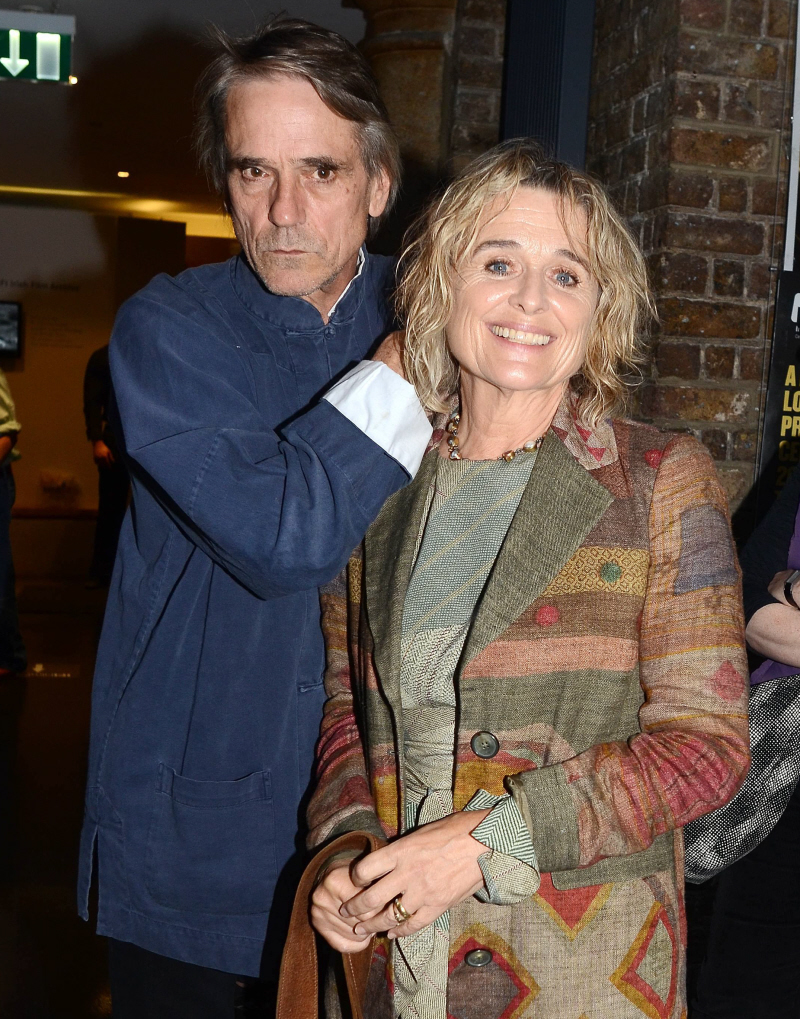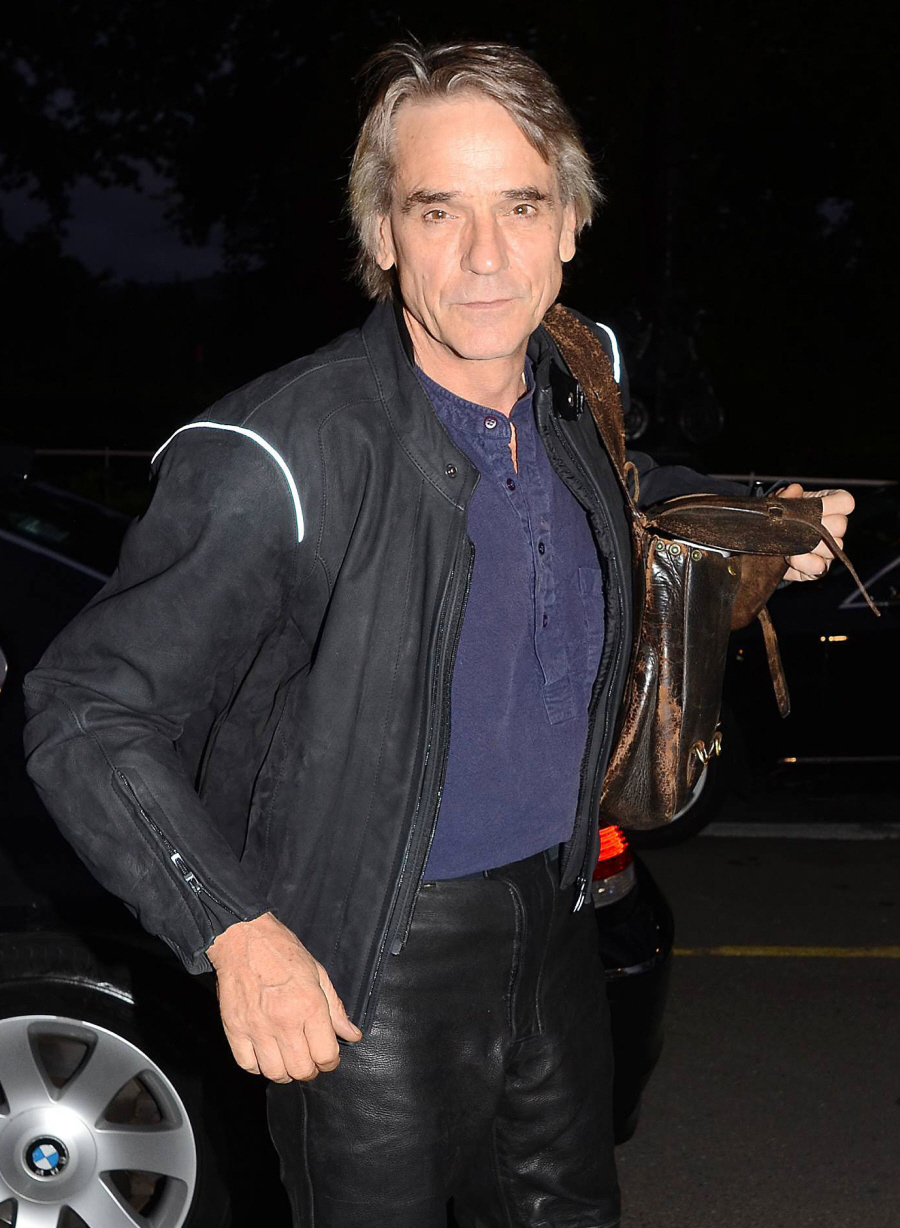 Photos courtesy of WENN.