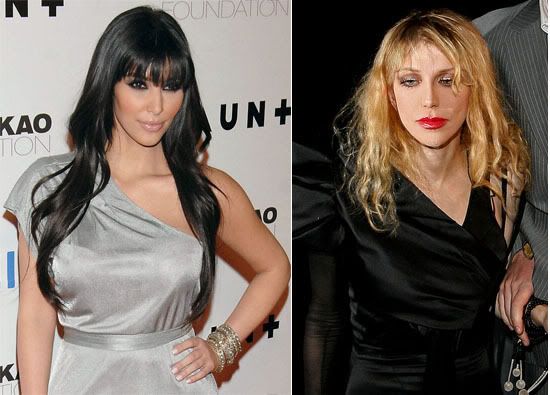 Courtney Love wrote a blog post that was uncharacteristically understandable in which she alleged that Kim Kardashian's brother Rob Jr. punched her gay employee outside Club Hyde and called him a "f'ggot." She said the LAPD made fun of her injured friend and wouldn't respond to her multiple calls afterwards.
If you read through the first half of Courtney's story it sounds like this happened recently and that she witnessed the incident and then called the police to ask why they didn't help her friend. At the end she adds an update revealing that this alleged hated crime happened on September 14 and that there were multiple witnesses although she wasn't one of them. She only just heard about it second hand from the guy who claims he was punched. If that's the case then the supposed victim didn't tell her for three and a half months. No wonder the cops aren't taking her calls.
(I won't bother excerpting any of Love's blog entry because it's painful to read. If you feel like sifting through it you can read it yourself.)
Kim Kardashian, the sister of the guy Love accuses of punching her employee three and a half months ago, says it's not true. Kardashian blogged that what she does understand of Love's accusation isn't accurate and that her brother never punched the guy and didn't call him the "f" word:
Courtney Love wrote a disturbing blog this morning that is obviously very untrue…

Ms. Love immaturely called my brother Rob names and accused him of physically assaulting her "employee" at Hyde nightclub, breaking his nose.

This is TOTALLY FALSE!

A lot of what she wrote doesn't even make much sense and doesn't follow a clear train of thought… At one point she says Brody was there too and that someone yelled discriminatory expletives against gay people, but I honestly can't figure out who she is accusing because her writing is so bad.

All I know is that both Brody and Rob didn't do anything close to what Ms. Love has described.

My entire family's response is this: We are so saddened to hear that someone is blogging this insanity on Christmas Eve. Everything this person writes is obviously untrue and we will forward this terrible nonsense to our attorneys. Merry Christmas!
[From Kim Kardashian's official website via US Weekly]
I know that everyone has a right to blog and to write whatever they want online, but someone should shut off Courtney Love's Internet. She's just confusing everyone and you can tell she's typing faster than her addled brain can handle it. If this really happened she's not doing her friend any favors by blogging about it. She's the screaming cat lady on the corner of MySpace. She might be telling the truth, but the few people who can figure out what she's saying aren't going to take her seriously. She's so unable to communicate that you assume she doesn't have a firm grip on reality.
Kim Kardashian is shown on 12/18/08. Credit: WENN. Courtney Love is shown on 10/18/07. Credit: PRPhotos