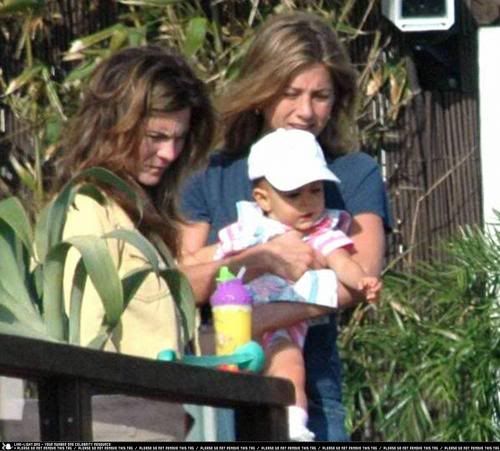 I realize this story keeps getting recycled and sounds old, but there's a story in the National Enquirer this week that Jennifer Aniston plans on adopting up to two babies.
I beileve the Aniston adoption story originated from what's safe to assume was a complete bullshit story in Britain's Grazia magazine about two weeks ago which claimed that a friend and a relative of Aniston's said she's planning to adopt and is using an LA adoption agency.
The article said that she was encouraged by Oprah (somehow all these fake stories involve allmighty Oprah) to take in an African baby, but that she was set on an American baby and even wanted two of them for double the fun.
Here's the Enquirer's take on Aniston's adoption, and it sounds so similar to that Grazia story that I would say that's the source and doubt that The Enquirer has any insider information:
The 37-year-old star decided she's running out of time, and has spent the past several weeks consulting adoption experts – and looking for a newborn American baby girl, The Enquirer has learned.
[From The National Enquirer print edition, February 5, 2007]
Grazia:
Grazia can exclusively reveal the 37-year-old has spent the last five weeks instructing different lawyers to make approaches to adoption agencies on her behalf. Two sources close to the star – one a friend, the other a relative – told Grazia that Jennifer hopes to find a newborn baby through a private agency in Los Angeles.
[From Grazia print edition, date unknown. Online posting date of January 22, 2007]
Both articles also say that Aniston is using a private agency which would make it possible for her to adopt directly from a mother, and repeat the Oprah advice story. Aniston is said to want a daughter first and then a son soon after if possible.
The reason I'm repeating this is that Aniston was said to have bought a bunch of baby stuff from that popular LA kids' boutique Petit Tresor. It could have been for a friend's shower, and since she got stuff like a baby basket, diaper bag, and blanket, it sounds like a gift, not something you would use to outfit your house for a baby.
I don't think she's pregnant or planning to adopt. One thing she does seem fond of lately is plastic surgery, because she is said to have had her "deviated septum" fixed and her boobs do look slightly bigger.