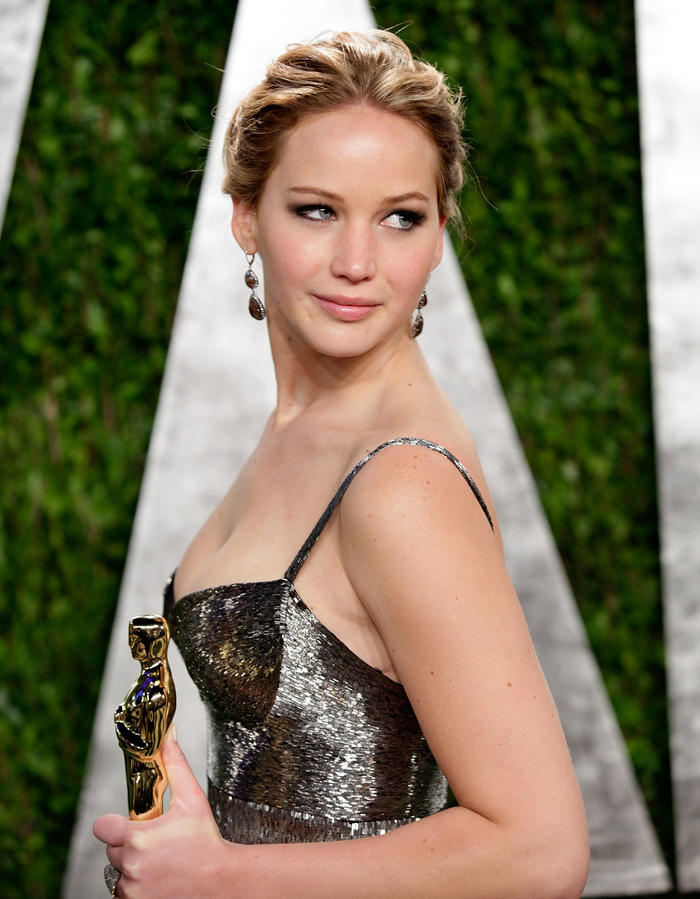 Now that the Oscars are over, we've steadily moved into the backlash phase, and the feeling of wishing Anne Hathaway would go away for a few years is a given. Somehow though, people don't feel the same way about Jennifer Lawrence. People just want more of her, and she's already gone back to work. Yesterday, JLaw almost immediately dyed her hair back to Katniss color for her Catching Fire reshoots.
Before I get to this story, I wanted to quickly mention an article that appeared in the Mail a few days ago, and we didn't cover it because it's been fashion city here. Here's the thing — Jennifer is from Louisville, Kentucky, and whenever she pays a visit to home, she makes sure to stop by and see a very close childhood friend, 23-year-old Andy Strunk, who has Down syndrome. Now I'm pretty sure that her team didn't put out this story; instead, everything comes straight from Andy (and his mother), who is very proud of JLaw and has been showing the media photos of him and JLaw together at various ages. According to Andy, he and JLaw "are like best friends," and they talk on the phone all the time because, "She's kind… I think she has spirit." I just thought it was a sweet story, and a way to prove that Jennifer has apparently always been very down to earth. Some of you think it's all an act for her public image, but it's hard to fake it to this degree.
More proof? A new video from GMA that contains a post-Oscar ceremony interview between JLaw and George Stephanopoulos. The two were discussing Jennifer's "actual shock" at winning a Best Actress when Jack Nicholson started looming out from the background. George casually stated, "Oh, you got a fan here." and Jennifer rolls back in disbelief. Then JLaw and Jack compliment each other's work, and then things get hilarious when Jack starts hitting on her: "You look like an old girlfriend of mine," to which the she joked, "Oh really, do I look like a new girlfriend?" Jack smugly responds, "I thought about it." Then he starts to walk away, and she fangirls, and it gets even better, but I'll let you watch this video for yourself.
Warning: If you don't like JLaw and don't want to like JLaw for any reason, please do not watch this video because it will be your JLaw kryptonite.
I love this clip. Jennifer is totally in disbelief over the fact that Jack Nicholson even knows who she is. The dude may very well be a legend, but I think she has more range than he does! She's so cute and genuine. I think she'll be around for a very long time. Maybe even longer than Jack.
Thanks to E! Online for this gif.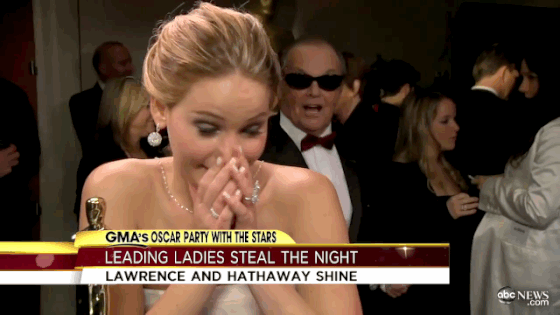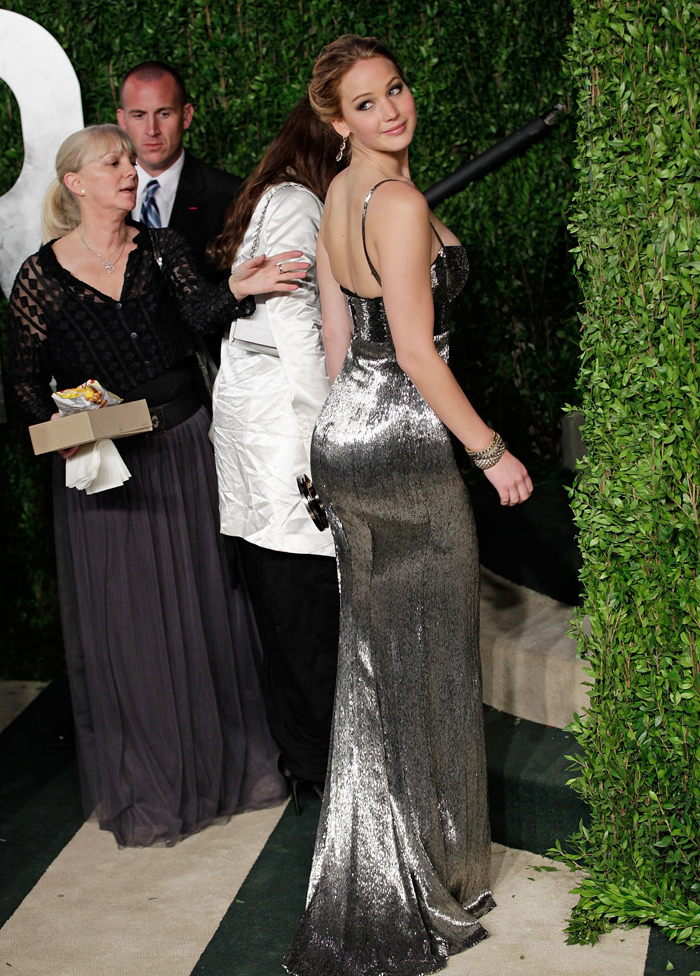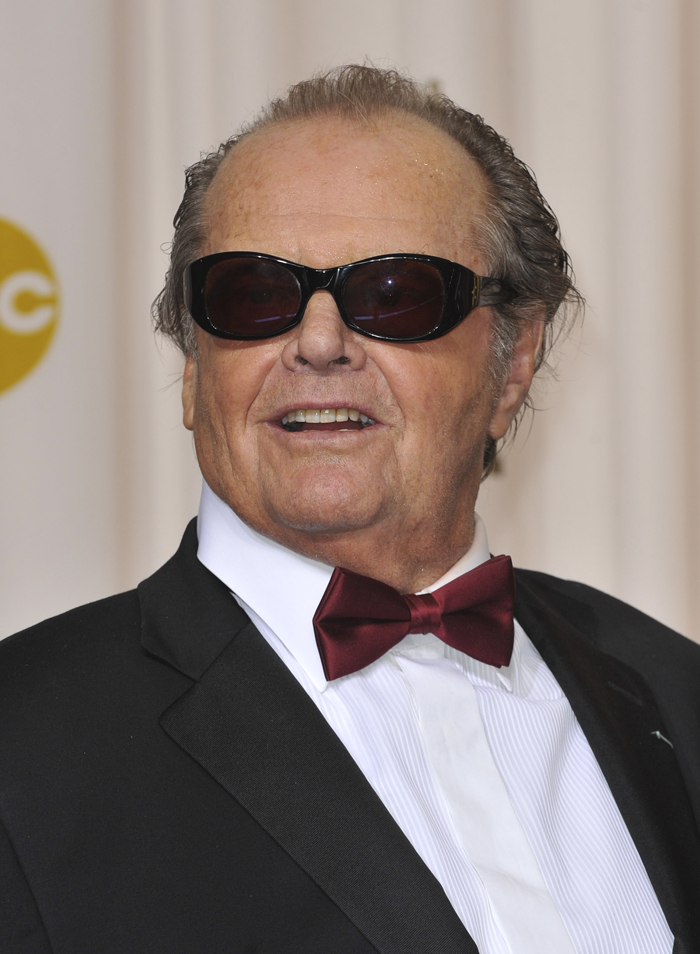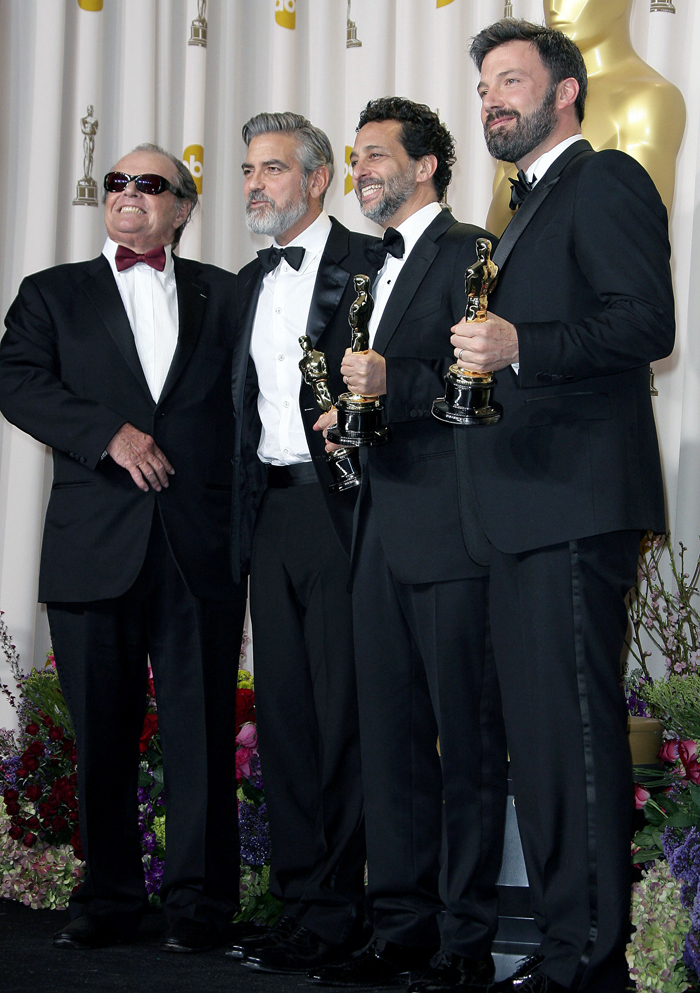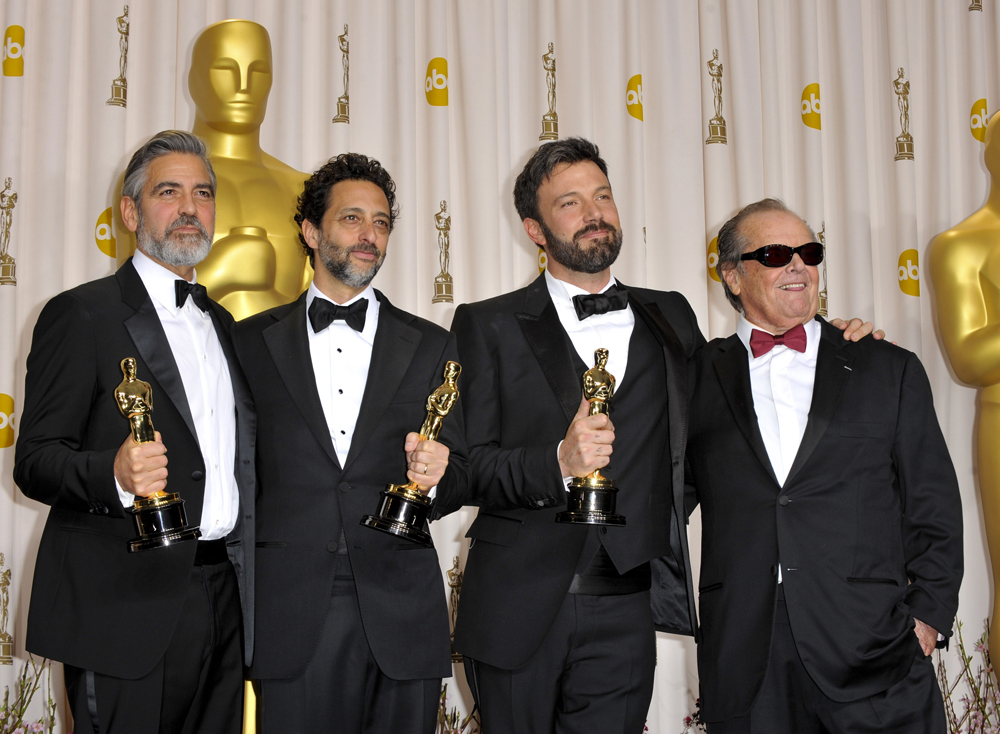 Photos courtesy of WENN