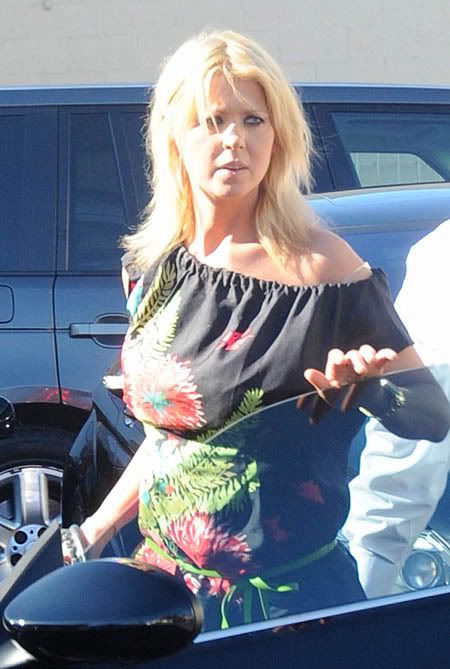 Star Magazine claims that plastic surgery victim Tara Reid had her rehab stay at Promises completely comped by the facility in a publicity attempt. According to Star, Promises hasn't had a high profile client in some time and put the word out that someone could stay in their plush facility for free in exchange for a press release. With an on-site gym, jacuzzi, pools, and gourmet chef it's more like staying at a high end spa and Tara probably welcomed the all expenses paid sober vacation. That's not to say she didn't need it though:
Star has learned that [Tara Reid] got an offer she couldn't refuse – a free ride at Promises treatment center in Malibu!

"Enrollment is down due to the bad economy, so in an effort to drum up publicity, they asked around Hollywood to see who wanted to stay there for free," says a source. Promises, which costs about $1,600 a night and has treated such celebs as Lindsay Lohan and Britney Spears, is giving Tara the VIP treatment. The 33 year-old gets to stay in a large room, and her incoming packages are not searched, like other guests.
[From Star Magazine, print edition, January 5, 2008]
In Touch has a "Rehab Exposé" story this week that relies heavily on quotes from Brandon Davis about how cushy rehab can be for celebrities, and how they're given special treatment not afforded the other rehab attendees. They quote Tara's rep as saying that her super expensive stay at Promises was paid for by her parents and there's no mention of it being comped. According to Wikipedia, Tara is from Wyckoff, New Jersey, an affluent suburb. Her parents are teachers who own a day care center. It's possible they're wealthy if they run a large and/or exclusive day care.
Whoever paid for Tara's rehab, the important part is that she's getting sober. If she had some encouragement and the whole thing was an arranged publicity stunt then at least she took the bait and is working on conquering her addictions.
Update: Promises denies comping Tara's rehab stay and has issued a statement to TMZ that:
"The suggestion that Promises would search Hollywood for a celebrity who needs rehab in an effort to garner publicity is libelous, offensive and without merit."
[From TMZ]
Tara Reid is shown out on LA on 10/9/08. Credit: WENN