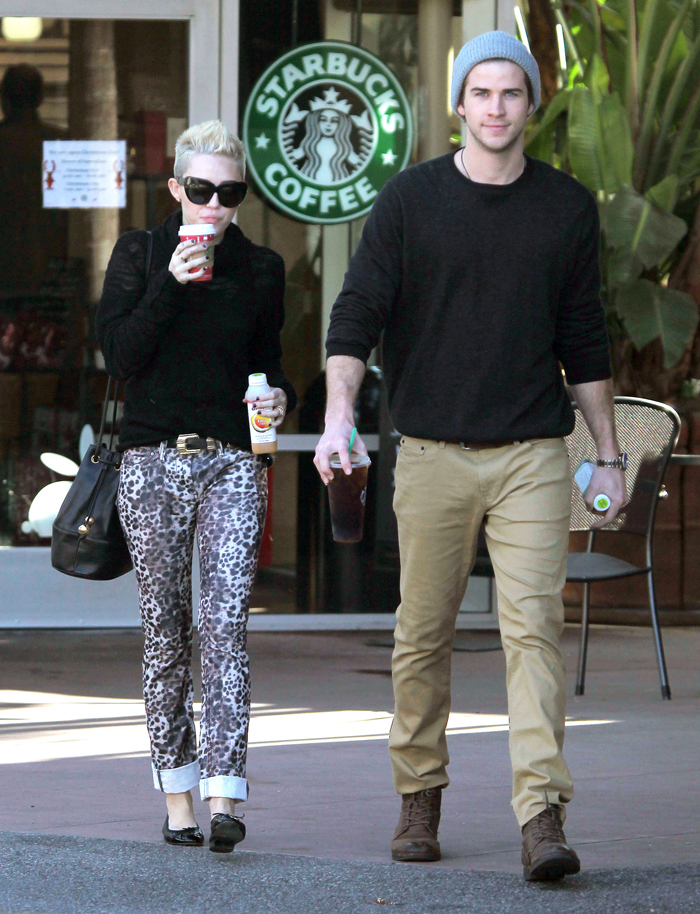 On Friday, we reported how Miley Cyrus had finally (after two weeks of speculation involving Liam Hemsworth and January Jones allegedly getting it on at a pre-Oscar party) stepped out for photogs without her engagement ring. By then, Life & Style had already published an alleged breakup story, but Miley had insisted that she and Liam were cool. All along, I was wondering why Miley never got papped with Liam to prove there were as okay as she had claimed.
Ordinarily, I try not to read too much into the wearing of wedding and engagement rings because I am not a huge jewelry person myself and have been guilty of forgetting to wear significant pieces as well. However, Miley knows exactly what she's doing, and now a new story from E! News comes straight from Miley's team. The piece acknowledges that Liam has flown alone to Australia but that Miley is still here because she's so busy being a rock star. Further, "Her new music is going to be so amazing, she can't wait for everyone to hear it" (which is a similar sentiment to her recent twitfit), and it doesn't bother her at all that a bunch of Aussie girls spotted Liam in New Wales and "started screaming his name and running toward him."
Here's something kind of hilarious though. TMZ ran into January Jones as she was landing at LAX a few days ago, and they asked her what happened with Liam in the back of that car. January said absolutely nothing (she never does) and merely glared at the camera, which pretty much tells us everything we need to know. If anything, January knows exactly how to keep a secret because we're all still wondering about the identity of her baby daddy. As for Liam, he hasn't directly said anything about the situation as of yet, but someone from his side told People that he flew to Australia on March 1 so that he could "have a break" from his troubles with Miley. Here are the details: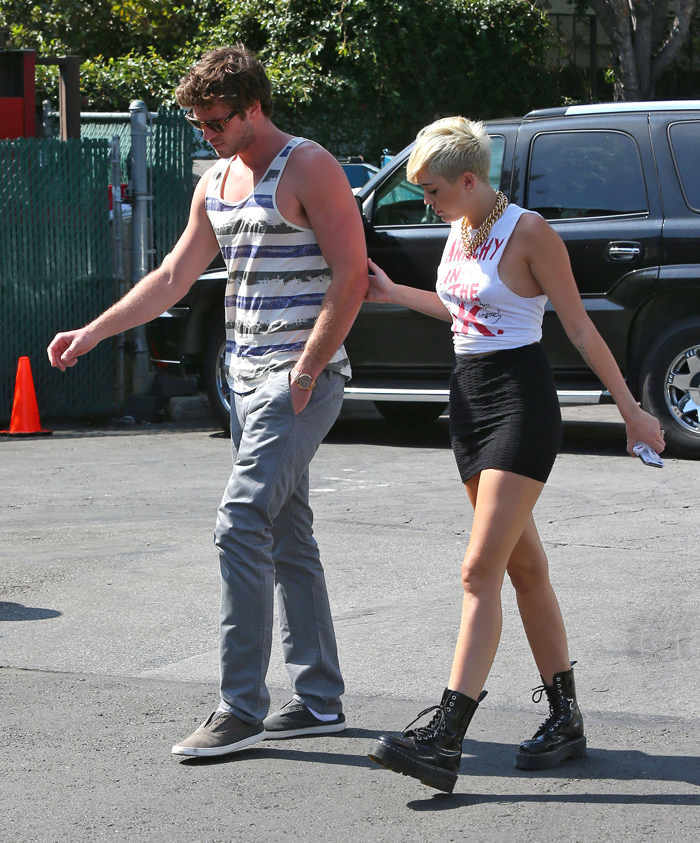 Following days of split speculation, the tension continues for Miley Cyrus and Liam Hemsworth.

"Miley is still upset with Liam," a source told PEOPLE on Friday after the 20-year-old star stepped out sans engagement ring. "She took the ring off to make him mad."

But, says the source, "It doesn't mean that they have split. Miley says they are still together."

Given the recent ups and downs, "Liam did fly home [to Australia on March 1] so they could have a break," the source adds, noting that he has been spending time with his brother Chris, with whom he is very close.

And while he is about 14,500 miles away, Cyrus is hanging in L.A. and was photographed out Thursday night with longtime pal, Paul Khoury.

Problems between the engaged pair became apparent at the end of February, when rumors flew that Hemsworth, 23, was overly friendly with January Jones at a party — and then spotted sharing a ride.

But an insider counters that the two have been longtime friends: "[They] used to go clubbing together in L.A. They have been friends for a while," says insider.

Earlier this week, Miley was "upset and angry about the cheating rumors," according to the source. Still, the problems don't stem solely from infidelity buzz.

"Miley is crazy about Liam, but sometimes doesn't treat him great," the source said at the time. "She likes things her way and tends to play games. Liam is also a strong person and that's why they often butt heads."
[From People]
The spin here is clearly coming from Liam's team with the not-so-subtle implication that Miley treats him like crap at times. Still, that doesn't excuse him getting caught in the backseat of a car with January Jones unless he and Miley and broken up ahead of time (and even then, it's still sketchy). Meanwhile, Us says that Miley failed to wear her tacky engagement ring for a second day in a row and that she's allegedly doing so not because she and Liam have officially broken up, but she's just leaving the ring off to bother him, which is also the same vibe I'm getting from the People story. Us also says that "he's not happy," and "she's over it," but Miley was spotted attending a party with one of Liam's friends, Paul Khoury. So who knows.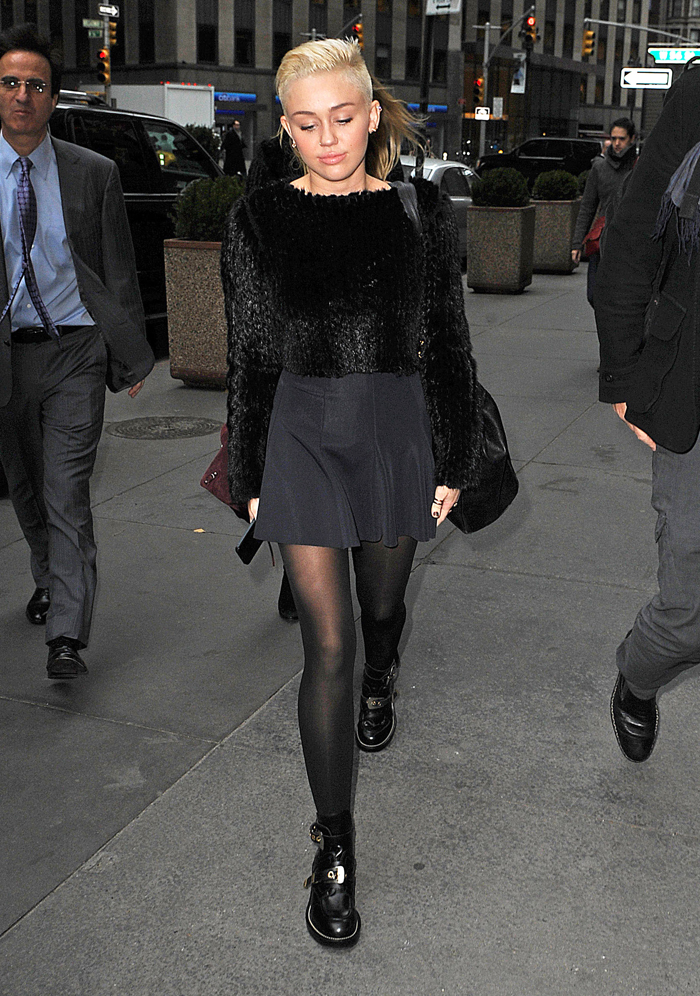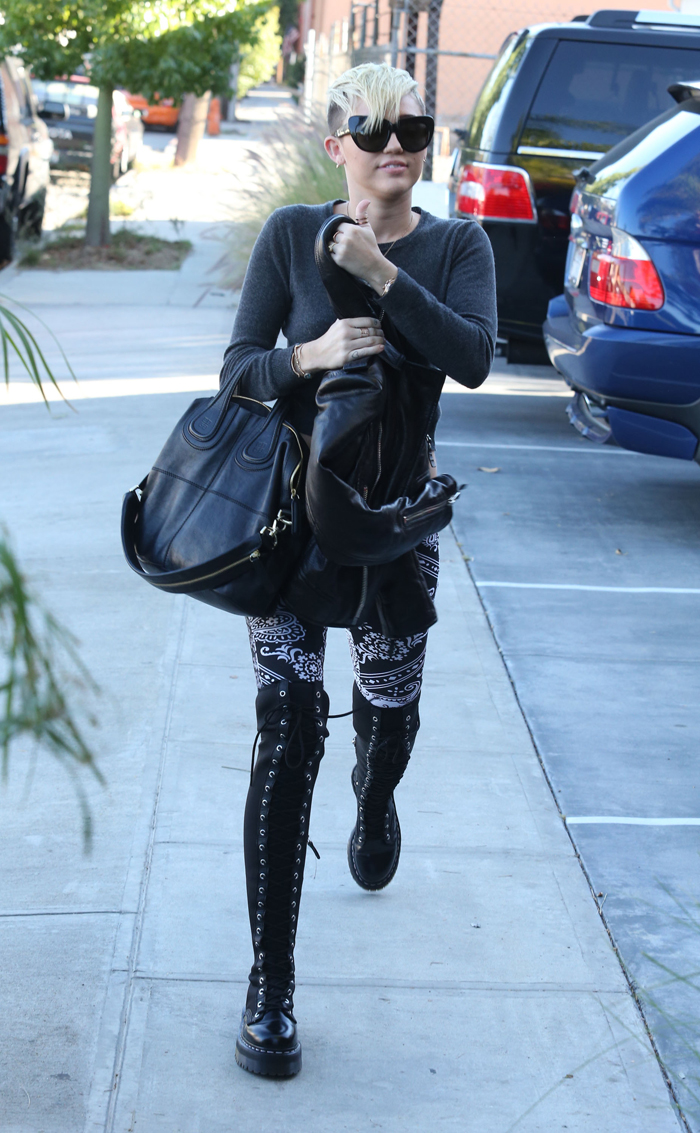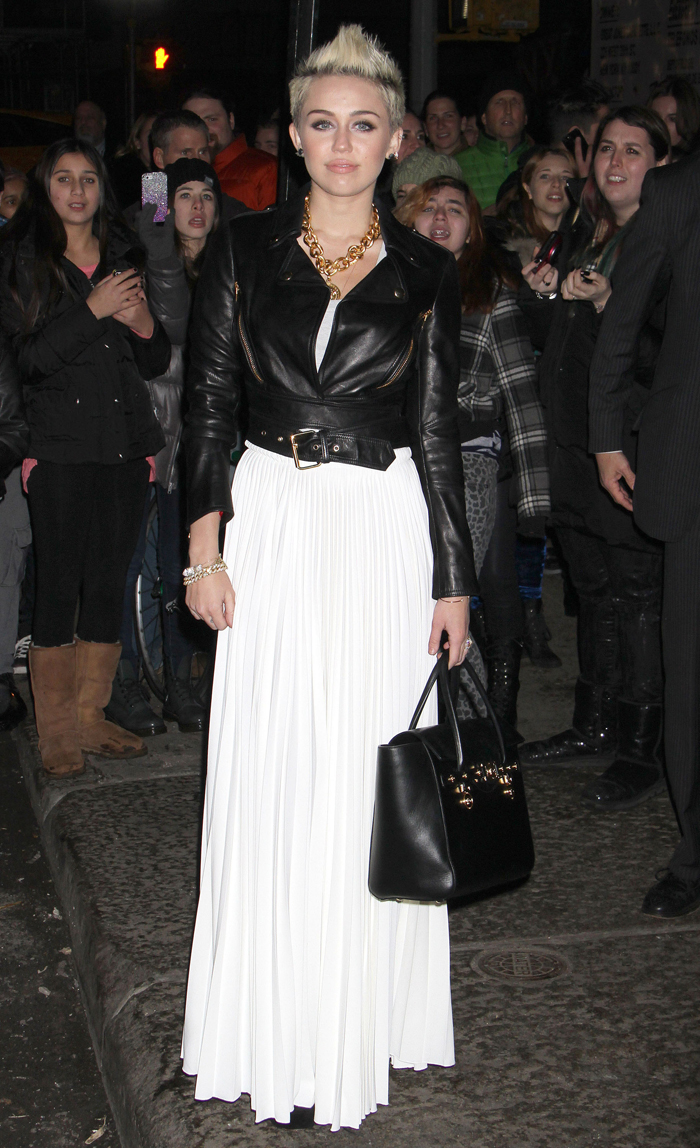 Photos courtesy of Fame/Flynet