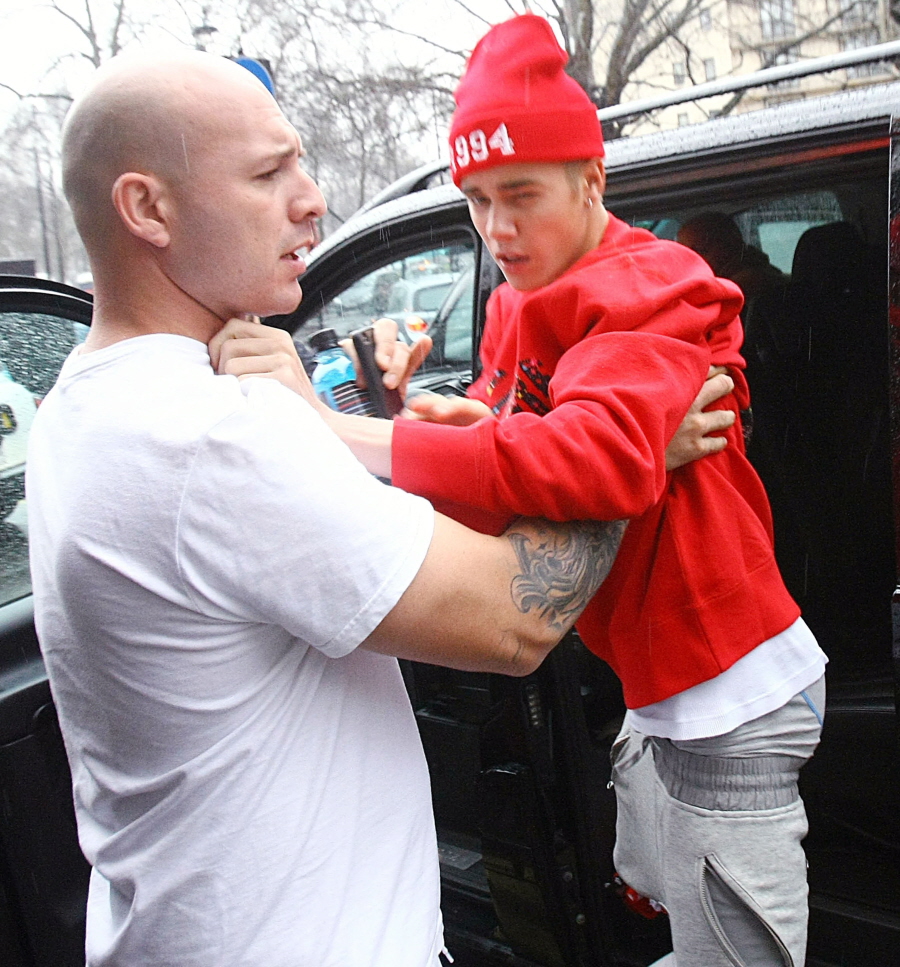 Here are some of the now-infamous photos of Baby Bieber in the middle of a world-class temper tantrum on Friday in London. Baby Bieber had spent the night in a hospital because he was so "out of breath" at his concert (hours before he had been wandering around London in a gas mask, for what it's worth). Fame/Flynet writes about these photos, "Good morning, Mr. Grumpypants! An angry Justin Bieber has to be 'restrained' by his body guard to keep him from attacking the photographers waiting outside his hotel…" I love the use of "restrained". Super-bitchy. Poor baby! He needs a diaper change and a bottle. I think he got them too, because his concert on Friday night (his final of a series) went well:
It'll take more than a fainting spell to stop Justin Bieber! The 19-year-old pop star took the stage for his final concert in London on Friday, March 8, despite still feeling "a little short of breath."

"U just gotta smile sometimes," the "Boyfriend" singer wrote on Twitter Friday, pointing out that he's trying to stay positive amid his dramatic week across the pond.

"So while I have seen some crazy stuff it is all smiles," he continued. "Im gonna get some rest and keep doing what i love. Entertain all of u. thanks."

And, based on his reaction to his final show shortly after his performance, the singer was amply rewarded for his perseverance.

"Still a little short of breathe tonight but was an incredible show," he wrote. "London fans go hard! 4 SOLD OUT O2 shows in a row!! #BLESSED."

Bieber gave his fans quite a scare during his concert on Thursday, March 7, after the singer fainted midway through the show and had to leave the stage for 20 minutes.

"He left the stage for 20 minutes, then came back and finished the show," his rep told Us Weekly at the time. "He is now on his way to a doctor to get checked out and see what is wrong."

Though a reason for the singer's sudden collapse has not yet been revealed, Bieber has already been back up and running on social media to let his fans know that he'll be just fine, posting a shirtless photo on Thursday.

"Getting better," he wrote after the incident. "Thanks for everyone for pulling me thru tonight. best fans in the world. figuring out what happened. thanks for the love."
I kind of like this moment in a celebrity's inevitable breakdown, where the wheels are just starting to come off the bus and it's still a question as to whether the people around the celebrity (his sycophantic yes men) will actually step up and help the celebrity, or whether the celebrity will just get to crash and burn. At this point, I don't know what's going to happen with Bieber. He could go either way. Either this disastrous London trip will serve as a wakeup call that something is wrong, or this will just the first stage in what will be progressively worse behavior. We'll see!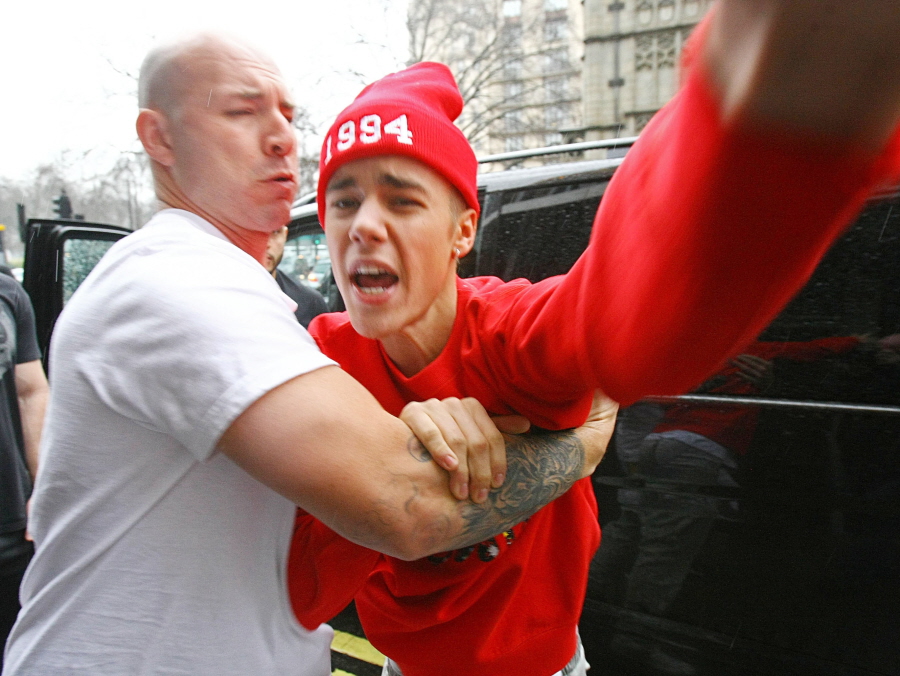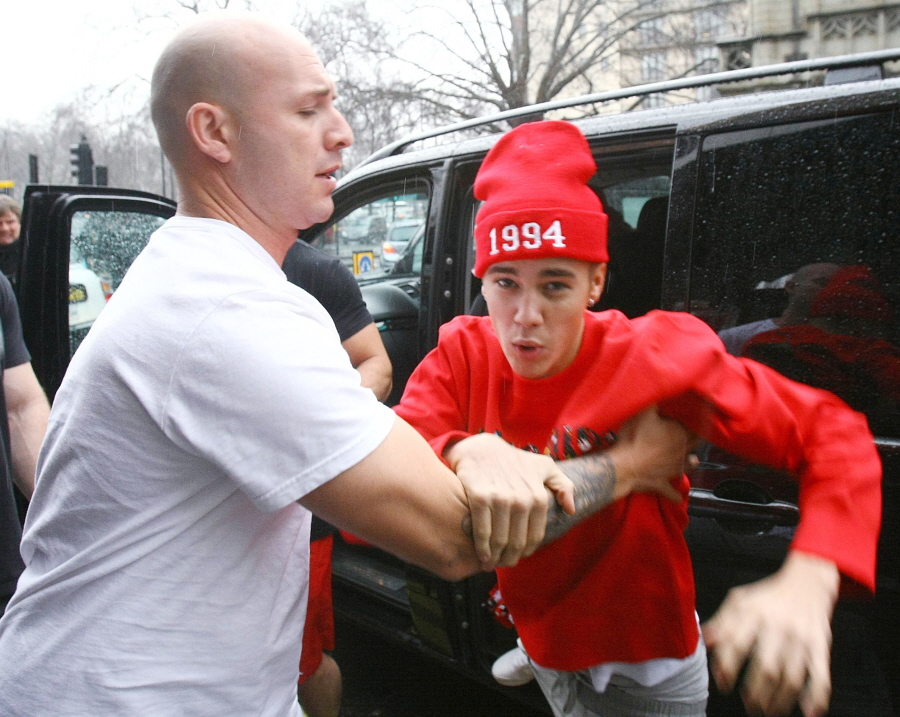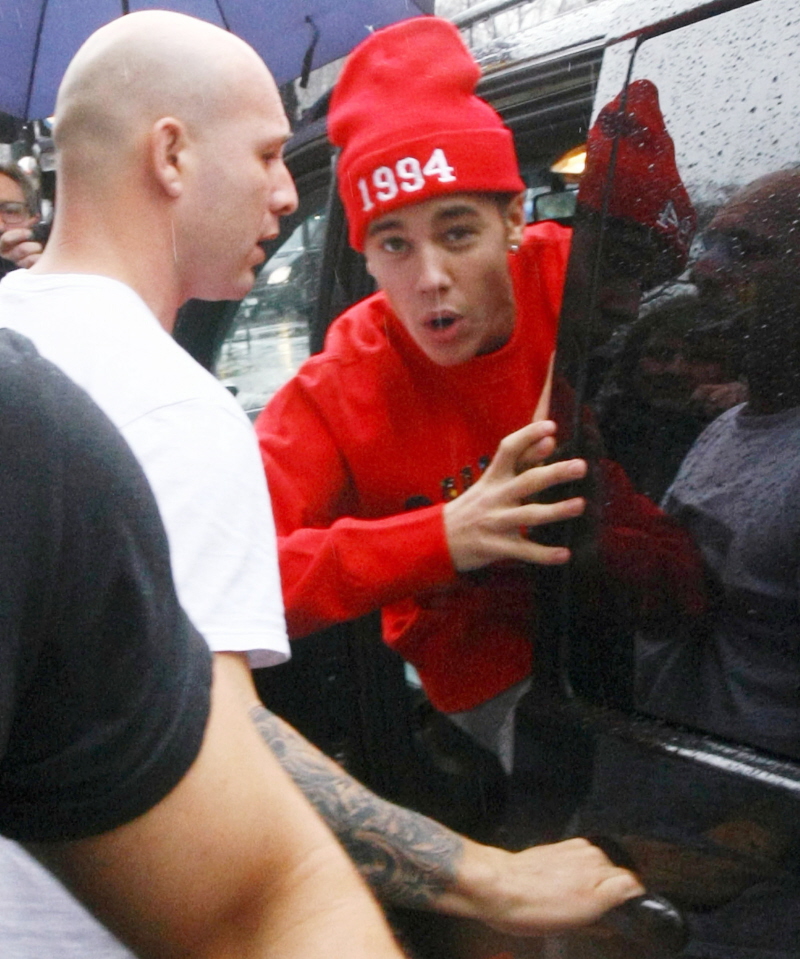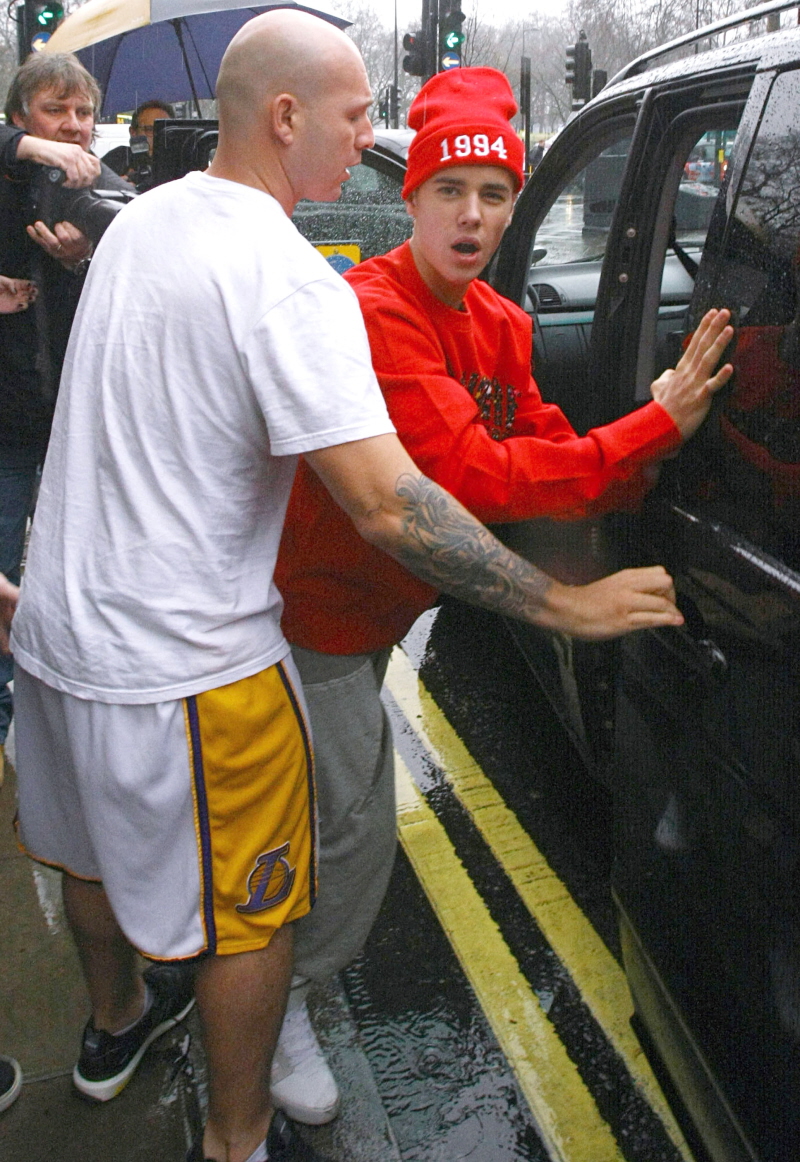 Photos courtesy of Fame/Flynet.