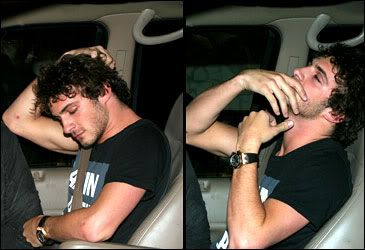 Stavros Niarchos showed up drunk at Paris Hilton's house at 1:00 am on Monday morning begging her to take him back:
The photographers who were camped outside her house tell TMZ that
Stavros arrived around 1a.m. and spent an hour crying and ringing her door bell
, begging to be let in. At one point, Stavros was spotted sprawled out on her driveway.
Around 2 am Paris finally let him in and the screaming continued. We are told they were so loud the fight could be heard outside the house. Stavros was heard hollering "Take me back!" and "I give you everything!!" Sources say during the fight Matt Leinart's name was brought up a few times.
We are also told Paris was overheard trying to calm down the rich Greek by saying "Take it easy" and "Go home and get some sleep."
During the night, a cab came and went three times, but each time left without the shipping heir. Finally, around 8 in the morning, Stavros got in a cab and headed out.
The plot thickens as Paris and Stavros were seen out Wednesday night together and sources tell us the two wound up spending the night at her house, leaving us to wonder are they apart… or not?
Paris was at Matt Leinart's draft party on Tuesday so that means she was with her new guy one night, and her old one the next.
Matt Leinart may be hot but he's not as rich as Stavros. Stavros inherited $275 million on his 21st birthday this month, while Leinart's contract with the Arizona Cardinals is said to be worth around $12 million. He also has a new endorsement deal with Nike, so it's not like he will be suffering.
Paris is playing the field wisely.
Here she is with Nicky going to Shag nightclub on 5/2. Barbara on the gossip rocks board points out that they are "two different shades of orange" and "so easy to hate." How right she is. [via]