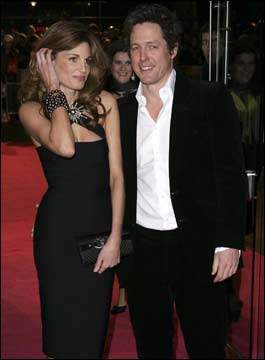 The endless dithery charm of Hugh Grant came to an abrupt undithery end yesterday morning. He is doing the early rounds promoting his new RomCom flick with Drew Barrymore Music and Lyrics. The Sun reports:
The star was on the BBC1's breakfast show when presenter Kate Silverton asked him whether he would be getting hitched to wealthy girlfriend Jemima Khan, 33.
But the Four Weddings And A Funeral hunk, 46, angrily replied: "I can't believe you asked me that. This is supposed to be a classy show, surely? I'm ashamed of you."
When the interview ended he walked off the set muttering.
Lets admit – before we go any further — that walking off muttering is a complete and exhaustive description of every screen performance Hugh Grant has ever given .
Now let's examine the reasons for the loss of temper. Could it be:
a) That his new girlfriend, Jemima Khan, the worlds best known Muslim divorcee, looks very like an unsuccessful Babs Streisand imitator who's slapped on too much makeup … even for the dim lighting at her weekly Sunday gig hosting Gay Bingo in Brixton .
b) His far more presentable ex-girlfriend Liz Hurley is inches away from tidying up her post-Hugh life by marrying a far wealthier new glamorously Indo-German boyfriend. Insult to Injury – the Hugh replacement does not too bad a job at Grantesque 1980s floppy hair … a fast disappearing skill since Flock of Seagulls disbanded.
c) His Drew Barrymore co-starrer sounds like a total re-tread of his character in About a Boy. The story of the son of a washed-up song writer who can't do much else. As if the pitch was "Its like Hugh Grant's last decent movie –excepot he's his own dad … with Drew Barrymore thrown in to make him seem less old. – We'll keep the floppy hair though – same reason."