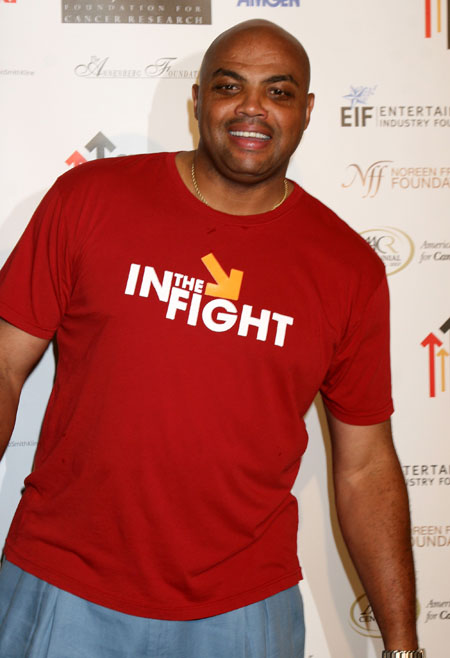 TMZ reports that 45 year-old retired NBA player Charles Barkley has been arrested and released on suspicion of DUI. The sports commentator was stopped at a mobile DUI checkpoint in Arizona this morning and was seen getting blood drawn. He was then released and took a taxi home.
There are pictures on TMZ but not much more information about it. While Barkley looks sober enough you can't really tell from photos. He's probably awaiting the results of the bloodwork that will determine whether he will be officially charged.
The guy is 6'6″ tall and he's gained some weight since his professional career ended in 2000. It must take a lot to get him drunk and maybe he had some drinks that led police to suspect he was intoxicated but it's possible he wasn't over the legal limit of .08 in Arizona.
Barkley played professional basketball for 16 years, from 1984 to 2000. He was known for his skill and domineering personality on the court and his fights with other players. In 1993, Barkley famously said that sports stars shouldn't be role models. He claimed that it wasn't realistic for children to aspire to become high paid professional players and that "A million guys can dunk a basketball in jail; should they be role models?"
Since retiring, Barkley has admitted to gambling away millions of his earnings. He claims it's not a problem for him as he has the money to waste.
Barkley has announced that he intends to run as an Independent for governor of his home state of Alabama in 2014 after he completes the seven year residency requirements for a run. If he ends up having a DUI on his record it's not going to bode well for his campaign no matter how well known he is.
[some factual details from Wikipedia]
Charles Barkley is shown at the Stand Up 2 Cancer benefit on 9/5/08. Credit: WENN