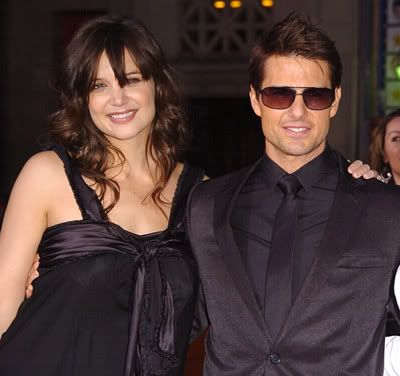 Katie Holmes came to the Los Angeles fan screening of MI3 last night, and she looked gorgeous. She did pair white shoes with a black dress, though. (It's surprising that she couldn't find a better pair since she spent all that time shoe shopping in her final days of pregnancy. She must have realized too late that comfort matters.)
In the "this sounds fake to us" department, Katie Holmes was said to be slated for a role as a Bond girl in "Casino Royale" before her pregnancy kept her from taking the part.
Tom appeared on BET Wednesday while in NY promoting MI3. He tried to dance, with humorous results (video below):
As part of yesterday's Mission: Impossible 3 city-wide publicity stunt, Cruise made an appearance at an uptown screening and took part in a live taping of the BET Show "106 and Park." At one point, the show's hosts encouraged him to dance and the awesomeness that transpired really can't be done justice in print. Suffice it to say there were Frankenstein arms, some awkward knee-bending and a seriously scary pelvis.
Here are Tom and Katie engaging in their trademark public PDA at the MI3 screening: