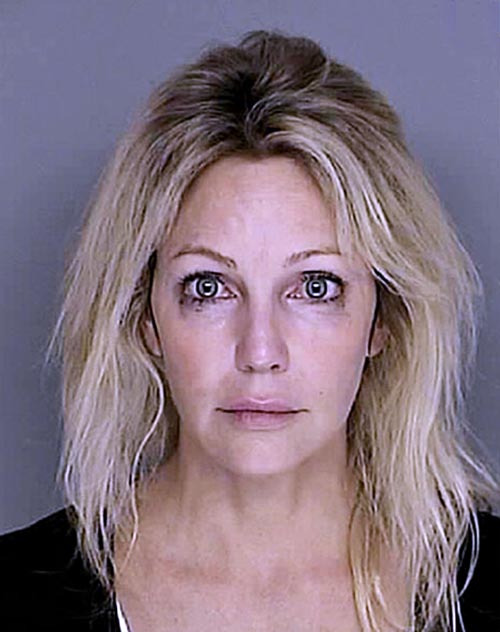 Actress Heather Locklear was picked up on suspicion of Driving Under the Influence in September. The circumstances of the case were always a bit fishy – a known paparazzi who'd been following Heather around for months called the cops – and it was clear from the beginning that Heather would fight the charges. I would, too, if that mugshot got out. Anyway, Heather has pled to a lesser charge of reckless driving and the DUI charge has been dropped. Heather's lawyer was none other than Blair Berk, who represented and worked out beneficial plea agreements for Mel "Sugartits" Gibson in his famous DUI debacle, as well as Heather's ex-husband, Ritchie Sambora.
Heather Locklear just got her driving under the influence case dismissed, and she's pled to a much lesser offense.

Heather pled no contest to reckless driving, a misdemeanor. She'll be placed on three years informal probation, pay a $700 fine, and she must attend a 12-hour drug education course.

Heather was arrested last September after she was allegedly driving under the influence of prescription meds. The D.A. says Locklear's blood tests showed prescription drugs were indeed in her system. No alcohol was involved.

Score one more for the unbeatable Blair Berk, who seems to work mini-miracles for some of these celebs who cross the legal line. Berk was in Santa Barbara court this AM for the plea. Locklear was not there.
Ah, to be rich and famous and never have to pay for your mistakes. That's the life. Any regular person living in a normal town who was driving erratically with prescription drugs in their system probably would have served some jail time by now – but Hollywood has its own bizarre justice system that us little people aren't supposed to understand. Anyway, I hope Heather has learned her lesson and doesn't get behind the wheel while whacked out on pills ever again.