Here is a good example of the ongoing coverage of Kim Kardashian's pregnancy weight – In Touch Weekly's cover story this week about Kim "getting paid to get fat". The cover story is full of lines from insiders claiming things like "She knows what she's doing by showing off her heavier figure and stuffing her face in public. The more she looks heavy and out of control with her eating, the more she will be worth. Everything Kim does is on purpose." Basically, the point of the story is that for the Kardashians, any business is good business, and any attention, good or bad, helps the brand. Which I actually believe, despite Kim's cries and whines to the contrary. Kim's empire is a house of cards built on attention, famewhoring and pandering to the least common denominator. It's a living. And a profitable one at that.
But here's what bugs me – when Kim is held up as some kind of One Of Us Victim. That's exactly what Gloria Steinem is doing now – Us Weekly spoke to Steinem at an event last week, and they asked her what she thought of the whole "Kim Kardashian looks really big while pregnant" story. Gloria's reaction was… ugh.
Sometimes help comes from the most unexpected of places. As Kim Kardashian fights back against critics who call her fat, stars including Gwyneth Paltrow, Helena Christensen, and Jenna Dewan-Tatum have rushed to her defense, saying it's "despicable" to bully a pregnant woman for her weight. And now the reality star can add another name to her list of unlikely allies: Gloria Steinem.

Us Weekly caught up with the famed feminist on April 5 at the 4th Annual Diane Von Furstenberg Awards in New York City, where she voiced her opinion about the recent scrutiny over Kardashian's ever-evolving curves, and about society's attitude toward pregnant women in general.

"Our bodies are never public property under any circumstance," the 79-year-old activist told Us. "It's wrong, and people in the street who feel the right to touch a pregnant woman's belly ought to be arrested for harassment. Our bodies belong to us, and if we don't invite touching, we shouldn't tolerate it."

Steinem added that the mistreatment of any woman for her appearance, Kardashian included, doesn't just hurt the victim — it hurts society as a whole. Criticizing people's bodies, she said, devalues both their brains and ours.

"If our bodies are treated as ornaments instead of instruments, that's because we are rebelling because it's an effort to distract us," she explained. "So don't be distracted. Why bother getting caught up in that?"
As I've said many times before, I hate when everyone talks about Kim being "fat". I hated it when some people did it to Jessica Simpson too, and I find Jessica to be WAY more sympathetic a figure than Kim. I believe "Our bodies are never public property under any circumstance" except for one circumstance: when the woman puts her body, her life, her family and everything else up for sale. When she puts every piece of herself up for public consumption. When her brand is built on a sex tape, bikini photos and a pregnancy. When she's given us a price for her body – and that price is that we simply pay attention to her and have an opinion of her. That's why I don't understand how I, a woman who self-identifies as a feminist, should feel any feminist outrage at the way Kim is being treated in the media. Because she loves every second of it. Because every time we talk about her, that's money in the bank for her. Because she'll get the last laugh.
Oh, do you want to hear a less serious Kardashian story? This is from Star Magazine – Kim Kardashian is "forcing" Kanye West to laser away every hair on his body! Kim has been "dragging" Kanye to the salon ever since they started dating because "Kim wants to make sure every hair is gone." She's "obsessed" with laser hair removal and her "entire body is hairless". Kanye seems "happy to oblige as long as it makes Kim happy." That's so gross. Ew.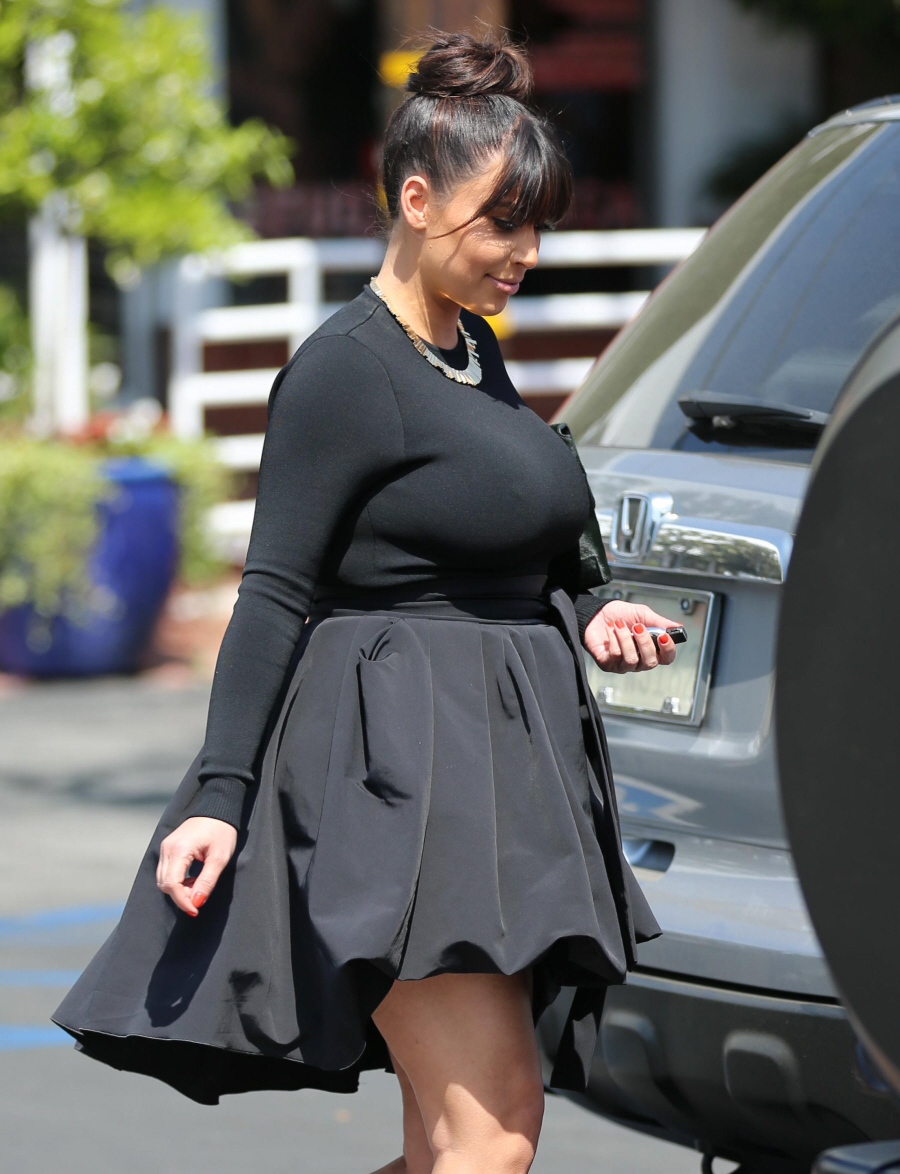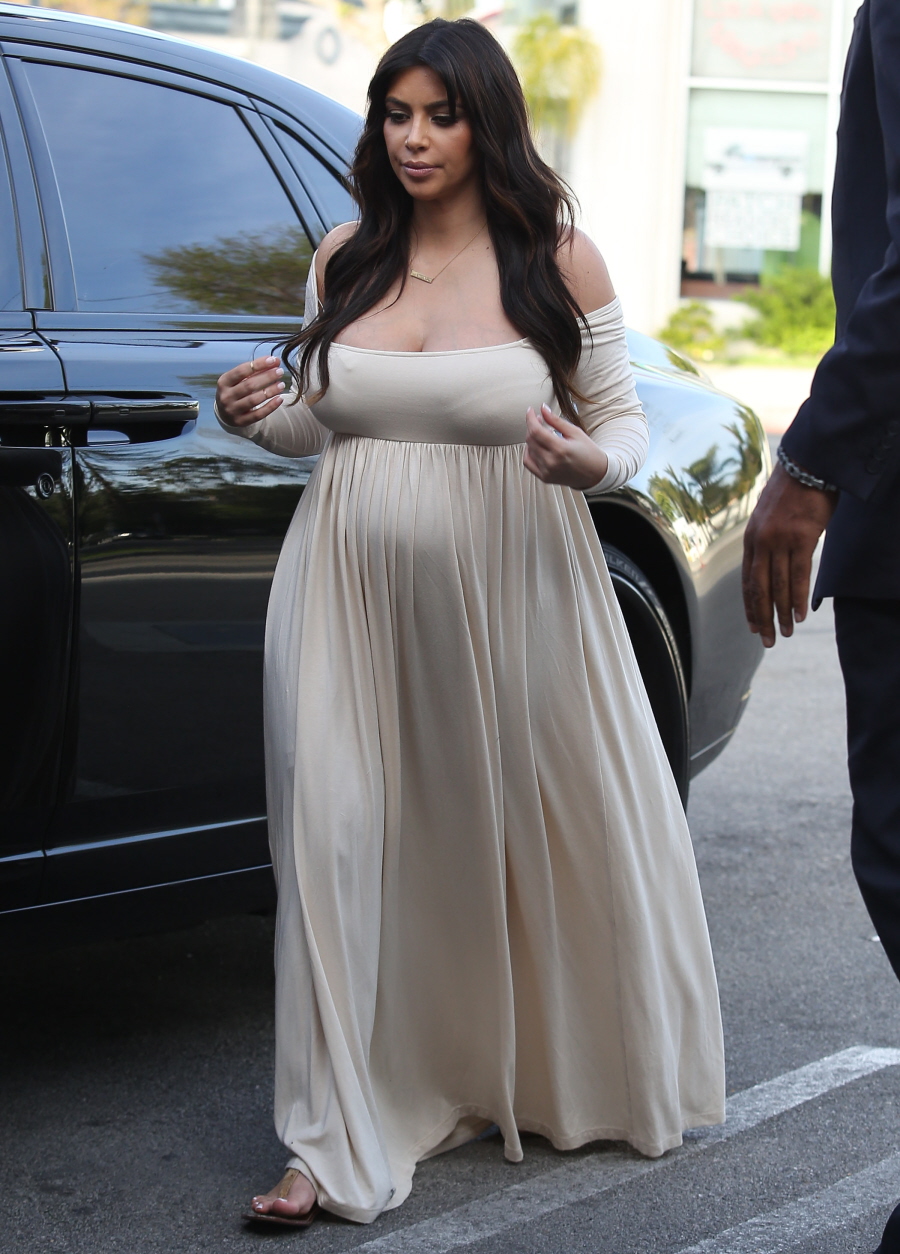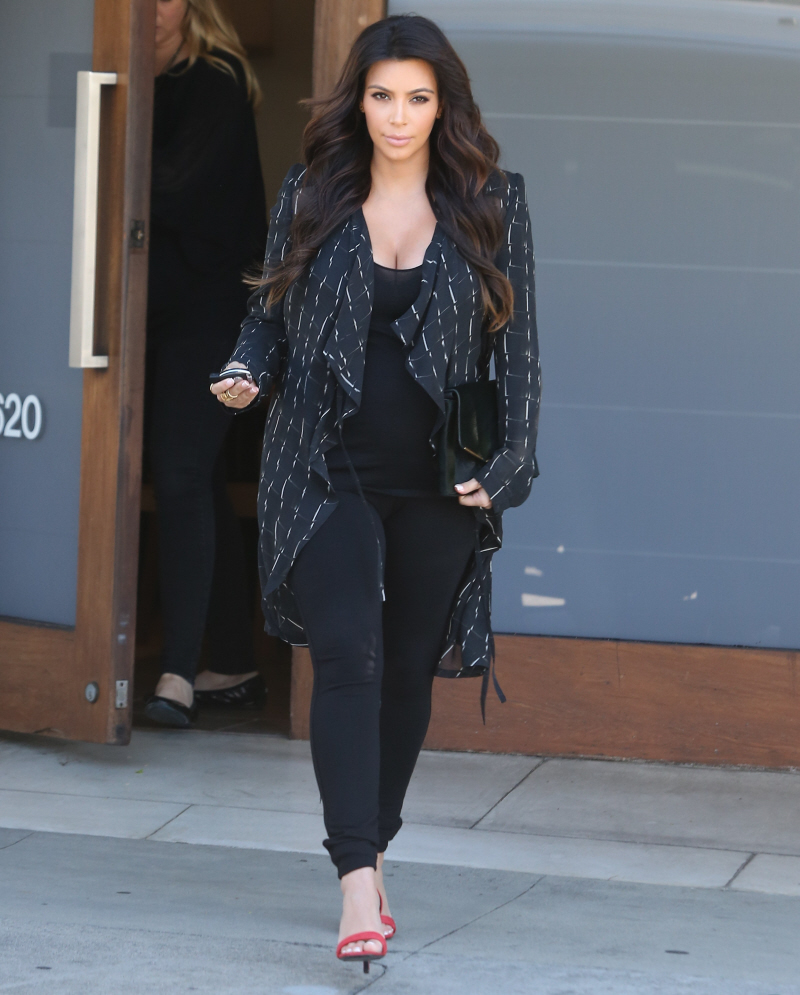 Photos courtesy of Fame/Flynet and WENN.