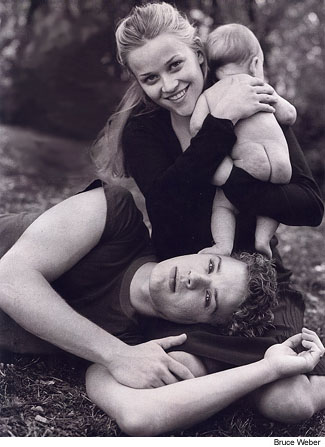 Ryan Phillippe is not only a cheater…he's a liar.
I believe that men who dump their wives and leave their kids are jerks. I am sure there are reasons. But most of the time there is one reason and her name is Tawny.
It really makes my WT blood boil when guys like this try to put on a "nice guy" front and act like victims. If you want to be a creep and abandon your responsibility, then just do it. But don't come back after the fact and act like it was something out of your control.
Ryan Phillippe is trying to "spin" his version of his impending divorce by going on TV's Extra this week.

In the interview with TV's Extra, airing this week, Phillippe says, "This is the most difficult time in my life. It's unfortunate when you have kids … but I signed up for this and have to deal with it. I don't read the magazines or watch the shows. … It's hard when people follow me to my kid's school."
Gag me. He probably doesn't mention that he brought this on himself by cheating on his wife. I am going to be very interested to see his whining interview on the Extra.
It looks like he's also been making the rounds of some of the magazines, he also talked to TEEN PEOPLE about this difficult life. Gag me with a chainsaw. What a great role model for teen girls! Marry a great guy like Ryan!
Reece Witherspoon is darling. I hope she moves on to a nice guy.