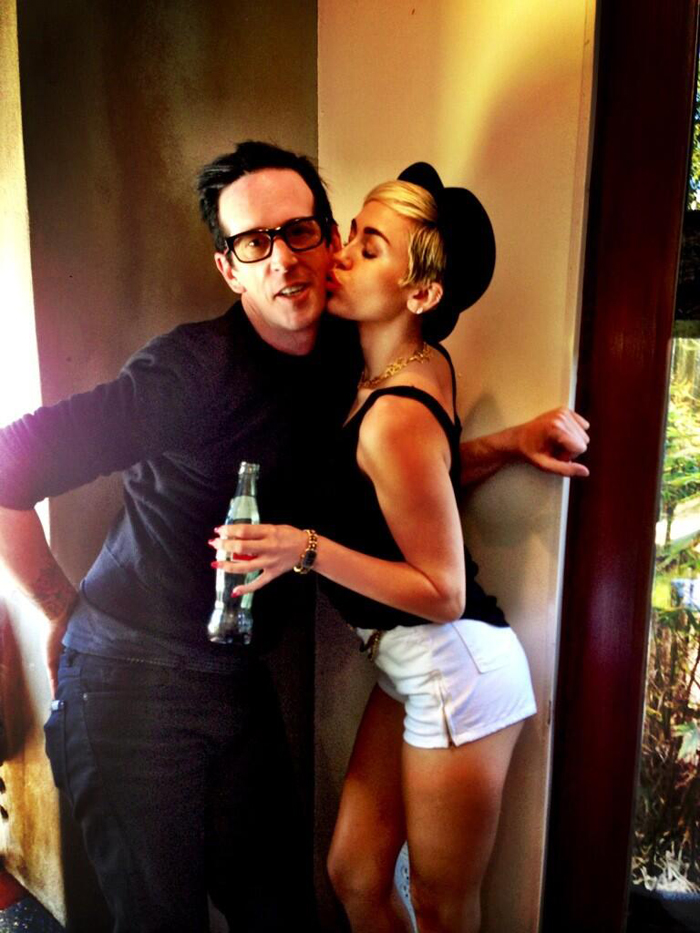 Miley Cyrus has been busy posting Twitter pics to her heart's content in recent days even though she swore up and down that her account was only about the music now. You might notice in the above photo that Miley (who is kissing her hairdresser and not wearing her engagment ring, but whatever) is wearing a pair of tiny shorts that don't even come close to covering her booty. Sure enough, the Mail has photos of Miley shopping while wearing these shorts, and her butt cheeks are totally hanging out for all to see. I get that Miley lets her booty do the talking as a means of attention, but this is just unsanitary and gross. Cover up the cheeks, Miley.
But enough of that — let's get back to the music too, so to speak. Miley has just recently participated in some musical collaborations that are geared towards changing her image and getting people pumped up for her upcoming album. It's not a bad idea, really. A few years ago when she tried to abruptly act sexy for her Can't Be Tamed tour, everyone laughed at her obviousness in trying to break free from the Disney shackles, so easing into an adult image by teaming up with other artists is a pretty smart tactic. Also, Miley doesn't possess a very strong or versatile singing voice, so riding on others' coattails might help push her along a bit. The tactic has certainly helped Justin Timberlake, who managed to put out a ridiculously mundane new single ("Suit & Tie") and album, but since he's touring with Jay-Z, everything will turn out great for him in terms of dollars. In that same spirit, Miley has just been featured in Will.i.am's new single, "Fall Down," and here's an audio-only clip of the song:
It's not that great, right? Miley sounds completly autotuned, and her lyrics are pretty dumb: "Boy you're like an elevator 'cause you always pick me up / boy you're like my doctor when I'm sick you always stitch me up / You could be my DJ I'm your record come and mix me up / boy just be my lollipop lemme lemme lick you up." Still, this is the same kind of mindless crap that will end up on Top 40 lists and play on repeat at my gym for months.
In addition to the above example of mediocrity, Miley has also recorded a single (it's a few weeks old by now) called "Ashtrays & Heartbreaks" (which as a song title reminds me a whole lot of Tissues & Issues, Charlotte Church's ill-fated attempt to establish herself as an adult pop star in the UK) with Snoop Dogg/Lion, and it's … not very good at all. Give it a listen if you so dare.
Oh, and one more thing. Miley tweeted this photo that came from a new "Family Guy" episode, and apparently Stewie Griffin is using Liam Hemsworth's photo for his passport. Nice touch, and I guess this means that Liam and Miley are still banging even though they probably postponed their wedding. Good for her, I guess.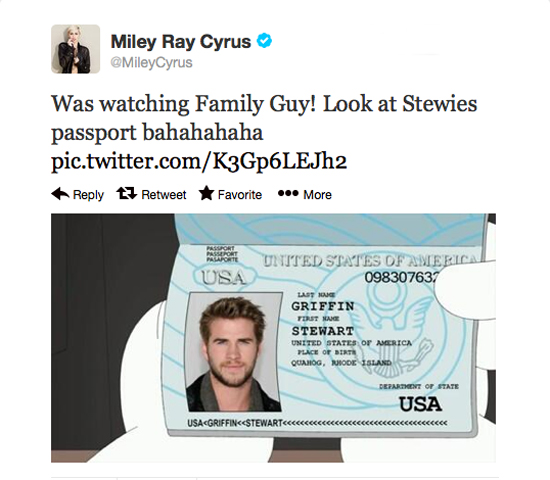 More Miley Twitpics: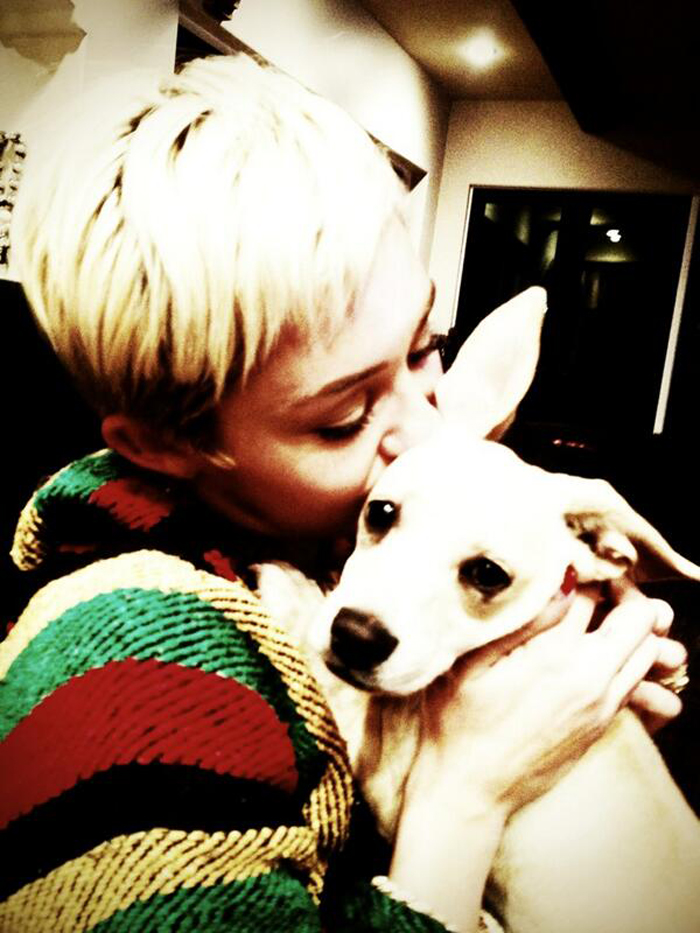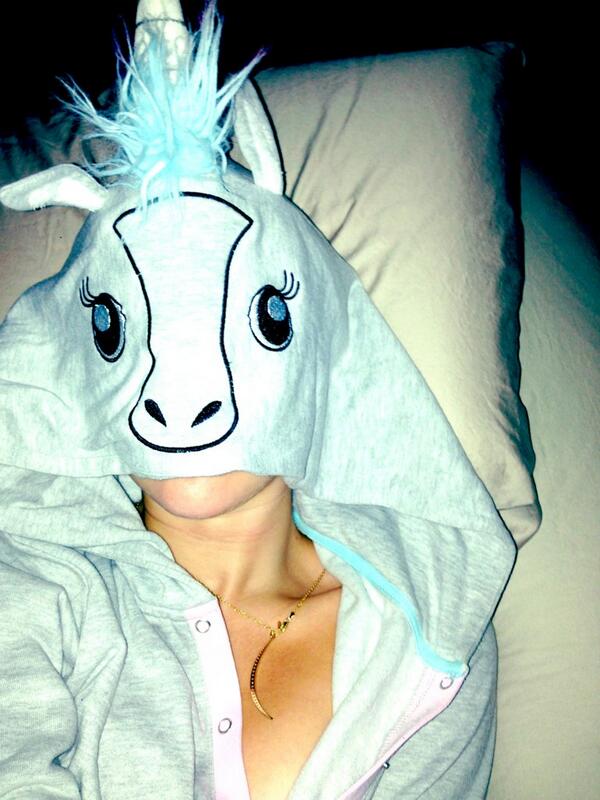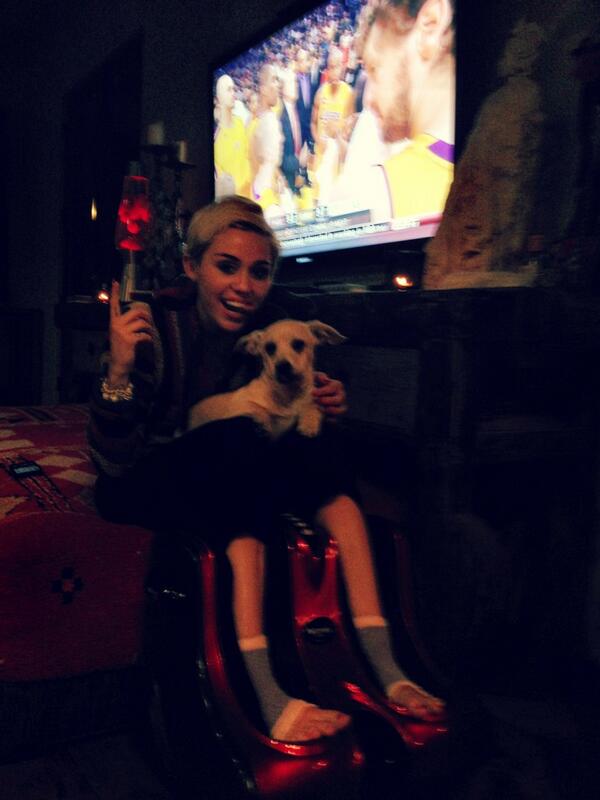 Photos courtesy of Instagram and WENN