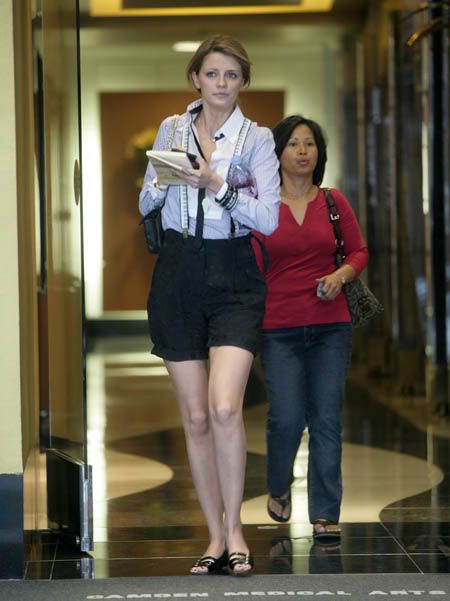 Mischa Barton has been all snotty about the fact that her character was killed off The O.C., and basically said her departure was the reason the series was cancelled.
According to IMDB, she has two movies in the can and another two planned so it seems like she should be keeping busy, even though there are plenty of photographs of her just hanging out looking fug lately.
She might have another shot at television too, as rumor has it that she's in talks to play an intern on ER. They still air that show?
According to an insider, Mischa is in talks to join the show as a new intern.

"Misch misses being on a TV show," her pal says. "She liked having a job to report to every day." If the details can be worked out, Mischa, 21, could be joining the show for the season finale in February. When asked about Mischa joining ER, a rep for NBC would only say, "No comment."
[From In Touch print edition, January 12, 2007]
I can't believe that show is still on. Is it decent anymore, and has anyone seen it lately? Haven't like all the main characters left? From what I can tell the ratings are doing well so people must be watching it.
They might get a new flaky doctor in training to pretty up the place in time for February sweeps. After Clooney left it was pretty much downhill for me with that show, but it seems like they keep reinventing it and unlike many of the characters it never dies.
Here's Barton out in Beverly Hills on 2/6. Thankfully she'll be wearing scrubs most of the time in her potential role.
Pictures from Gossip Rocks.