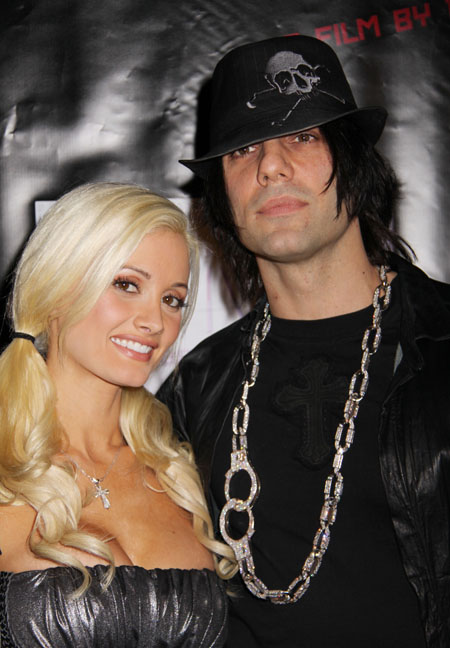 Holly Madison, until recently one of Hugh Hefner's girlfriends and a star on The Girls Next Door, has introduced her boyfriend, illusionist Criss Angel, to her parents.  Considering that her parents have never met any of her former boyfriends, this may be a precursor to wedding bells.  The rumors are substantiated by a shopping trip to Berger & Son Fine Jewelers on Christmas Eve, where another shopper claimed to have overheard a proposal:
"They were looking at one ring and Criss said, 'Would you marry me?' " our spy reports. "Holly didn't say anything. She just looked at him."

But then the couple saw that a crowd was beginning to form in front of the store,so they quickly took off.

"Criss handed the ring back to the sales guy and said, 'Thanks,' " the spy said.

Reps for Madison and Angel say we shouldn't go looking for their wedding registry just yet. "Criss bought Holly a ring for her birthday," Madison's rep said. "It's a flower ring."
[from E! Online]
On The Girls Next Door, Holly talked about getting married to Hef almost every episode.  This was usually followed by a resigned sigh and a comment about how Hef doesn't want to get hitched again.  So it isn't that surprising that there is talk of a wedding already.  Adding to the speculation is the fact that another of Hef's former girlfriends, Kendra Wilkinson, is already engaged to her boyfriend of three months, Hank Baskett.  Their wedding will happen on June 27 at the Playboy Mansion.  Holly's rep doesn't do a very good job denying her client's engagement, so it's still possible we'll see a double ceremony.
It's also interesting that two of the Girls have found love so quickly after their "breakups" with Hef.  Although there was of course media control surrounding their removal from the Playboy Mansion due to the filming and subsequent airing of their reality show, it seems so orchestrated.   While both Holly and Kendra are said to have been dating their significant others since October, after they broke up with Hef, there were rumors circulating about their love lives before the official "breakup."  The date that Holly uses as her anniversary with Criss is probably way off from the official date.  But with Kendra celebrating her wedding at the Playboy Mansion, it's obvious that Hef is, and has always been, in on the joke.
Holly Madison and Criss Angel are shown at the premiere of Repo! The Genetic Opera on 11/6/08. Credit: WENN