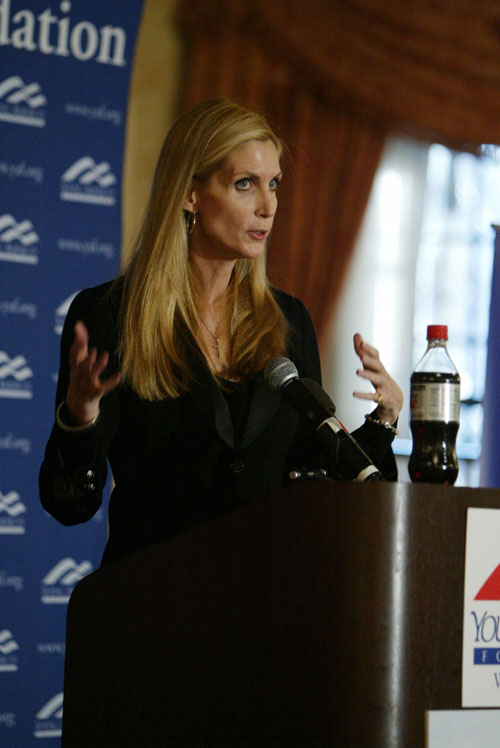 Neo-conservative poster girl Ann Coulter was suddenly dropped from an appearance on NBC's Today Show recently, prompting reports that she has been unofficially banned from NBC. Coulter was set to appear on the show to promote her new book, "Guilty," which examines the theory that left-leaning liberal media were the reason for Barack Obama's election win. Yeah – I'm sure that's what got her dropped, and not the controversy she caused on her last Today Show appearance during which she slammed widows of firemen and policemen who died on Sept. 11, saying she'd never seen anyone "enjoying their husbands' deaths so much."
The nation's top selling conservative author has been banned from appearing on NBC, insiders tell the DRUDGE REPORT.

"We are just not going to have her on any more, it's over," a top network source explains.

But a second top suit strongly denies there is any "Coulter ban".

"Look for a re-invite, as soon as Wednesday," said the news executive, who asked not to be named.

NBC's TODAY show abruptly cut Ann Coulter from its planned Tuesday broadcast, claiming the schedule was overbooked.

Executives at NBC TODAY replaced Coulter with showbiz reporter Perez Hilton, who recently offered $1,000 to anyone who would throw a pie at Ann Coulter. Hilton is also launching a new book this week, RED CARPET SUICIDE.

Coulter was set to unveil her new book, GUILTY.

One network insider claims it was the book's theme — a brutal examination of liberal bias in the new era — that got executives to dis-invite the controversialist.

"We are just not interested in anyone so highly critical of President-elect Obama, right now," a TODAY insider reveals. "It's such a downer. It's just not the time, and it's not what our audience wants, either."

Others inside the peacock network strongly deny the book's theme is at issue.

For the book, Coulter reportedly received the most-lucrative advance ever paid to a conservative author.

The TODAY show eagerly invited the author months ago, for her first network interview on GUILTY.

The exclusive was to air during the show's 7 AM hour. The cut came Monday afternoon.

Coulter was also to appear on the TODAY's fourth hour. A host even teased the segment saying the 'conservative pit bull and bestselling author' would be a guest.

NBC's cable outlet, MSNBC, will also become a Coulter-free zone, insiders explain. Morning host Joe Scarborough is said to be concerned with the new ban. "He's working to overrule it," tips a source.
Reuters is reporting that the ban story is nothing more than a rumor, and that Coulter was dropped because the network decided to switch to live coverage of the attacks happening in the Gaza Strip instead.
NBC News denied Monday that conservative author Ann Coulter has been banned from the network after "Today" dropped her from Tuesday's program because of breaking-news events.

The Coulter incident garnered huge headlines on the Drudge Report, which reported that network sources said NBC was not going to allow the frequent guest to appear any more.

That's not true, NBC News said Monday. Coulter's segment was dropped from the schedule because of news that the show was expecting to cover in the Gaza Strip with the Israeli military action there and in Washington with the Obama transition. "Today" had booked former British prime minister Tony Blair. Coulter was to promote her new book, "Guilty: Liberal 'Victims' and Their Assault on America."
Personally, I think the entire world should be a "Coulter-free zone." Ann Coulter is the biggest embarrassment to the conservative movement since Richard Nixon. She suffers from a terrible case of diarrhea of the mouth, compounded by willful ignorance, and she's proud of her intolerance of minorities. Most of the time, she has no idea what she is talking about and can't seem to use facts to back up any of her statements. Every comment she makes is designed to insult people, grab headlines and sell another piece of crap book. She isn't trying to win any new converts over – just placate and entertain people who already think like her. This hate-mongering stick with bad hair just can't be the best mouthpiece the neo-cons have to offer. She is truly ugly – inside and out. That's why the idea of her getting passed over for airtime in favor or Perez Hilton made me cackle with glee – and I think Perez is a total hack! However, I'm sure NBC likes to have her on, because her appearances always end up getting attention. Just look at the hubbub her non-appearance made.
Here's the always hideous Ann Coulter speaking at a Conservative Political Action Conference earlier this year (above); and, laughably, at a National Journalism Dinner last winter. Photo credits: WENN.