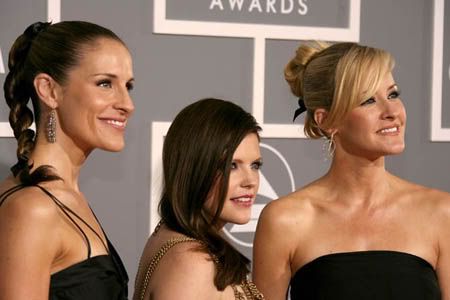 The Dixie Chicks took home five awards at last night's Grammys, one in every category they were nominated for. They are said to be planning to break up now that the Grammys are over, as they want to slow down and spend more time with their families. People say that it shows that lead singer Natalie Maines' outspoken opposition in the first stage of the war, while extremely controversial at the time, has been accepted. Now they're being honored for their music instead of being bitch-slapped for their political views:
The Dixie Chicks won all five awards they were nominated for, sweet vindication after the superstars' lives were threatened and sales plummeted when Maines criticized President Bush on the eve of the Iraq war in 2003. Almost overnight, one of the most successful groups of any genre was boycotted by Nashville and disappeared from country radio.

With "Taking the Long Way," the women relied on producer Rick Rubin's guidance for an album that was more rock and less country. (Rubin, who also produced "Stadium Arcadium," was honored as producer of the year.)

The standing ovations the Chicks received Sunday illustrated how much the political climate has changed regarding the Iraq war, and even Bush.

"That's interesting," Maines crowed from the podium after the country award was handed out earlier in the night. "Well, to quote the great 'Simpsons' — 'Heh-Heh.'

"Just kidding," added Maines. "A lot of people just turned their TVs off right now. I'm very sorry for that."

Bandmate Emily Robison noted, "We wouldn't have done this album without everything we went through, so we have no regrets."
Maybe they'll see this as their high point and decide to call it quits, or it's possible they'll stay together now that all their hard work has been vindicated.
It sounds kind of stupid for Maines to use Nelson's catchphrase like that, and it's typical of her to blurt stuff out. At least she apologized afterwards, and maybe it didn't come off like that at the Grammys. I totally agree with her about the war, and I did at the time she said it, but she still comes off as mouthy to me and kind of abrasive. Maybe that's just the way the media portrayed her, but if she's saying shit like "ha ha!" at the Grammys, they probably weren't far off.
Pictures from Gossip Rocks.