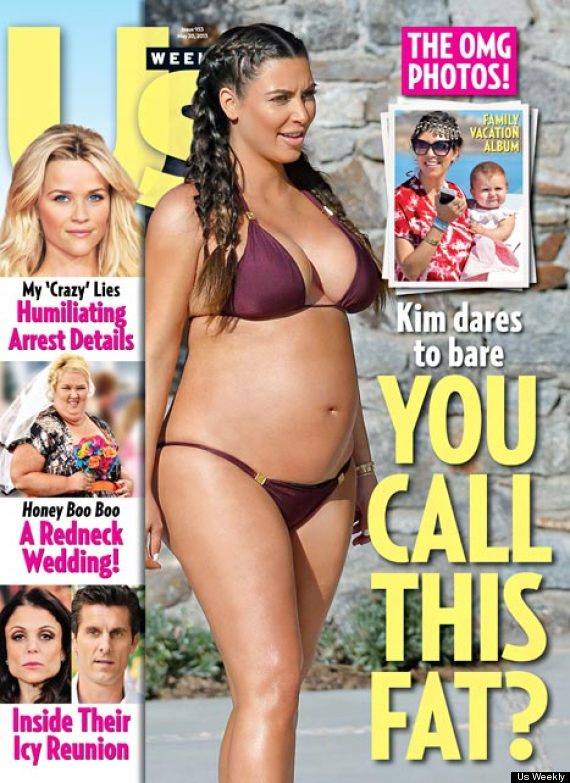 As we saw on Wednesday, Kim Kardashian's pregnant bikini photos cover the new issue of Us Weekly. Many of us threw some shade at the cover image because… well, we've seen Kim's pregnant body in clothes and I feel pretty comfortable saying that the Us Weekly cover image has been Photoshopped.
I also threw some shade because the bikini photos were so obviously a set-up by Team Kardashian and Kim herself. I assumed that Kim pre-arranged this "candid" photo shoot with Us Weekly during her family's trip to Greece a few weeks ago. That was my assumption, just because these photos seem to be taken from a close enough distance (meaning she knew the photographer was there and she was posing), and because no photo agency got these "money shots" of Kim wandering around in a bikini and no cover-up. And because Kim has a history of setting up photo shoots with Us Weekly. And because Us Weekly has been Team Kardashian throughout her pregnancy, and this is one of several covers they've done about "Kim is being fat-shamed, but she looks amaze-balls!"
So I don't know if this In Touch Weekly story is sour grapes or if they got a genuine scoop or what have you, but it's nice to see my assumptions verified somewhere:
"Kim is very controlling of her image and even works with paparazzi to retouch her photos," says an insider. "It's no secret that she's completely unhappy with her body. The fact that people can now see it in an unaltered photo is a nightmare for her."

"She's used to being sexy… she's terrified she won't be able to get her bikini body back after the baby is born."

But she's fine with anything Photoshopped.

"If she turns up in a magazine looking amazing in a bikini, you can bet she controlled the whole thing."
[From In Touch Weekly, print edition]
Yep. I'm sure Kim worked this photo shoot out with Us Weekly and in exchange for posing for bikini photos, she made them guarantee to Photoshop her body in some strategic places. Sure, it's vain, superficial and she's promoting a ridiculous lie about her body. But I think it's way more interesting that the Us Weekly story is all "Kim loves her pregnant body, roses, kittens and bubbles!" And In Touch is basically saying what we all know, that Kim is miserable. I don't understand why it would be such a PR disaster for a pregnant woman to admit that she's not enjoying her pregnancy? But you know the Mommy Brigade would boycott her if she ever said anything negative about her pregnancy.
Also – the Enquirer has a funny story about why Saturday Night Live hasn't been spoofing Kim too much these days. Apparently, Lorne vetoed a bunch of Kardashian sketches because he was trying to book Kanye on SNL.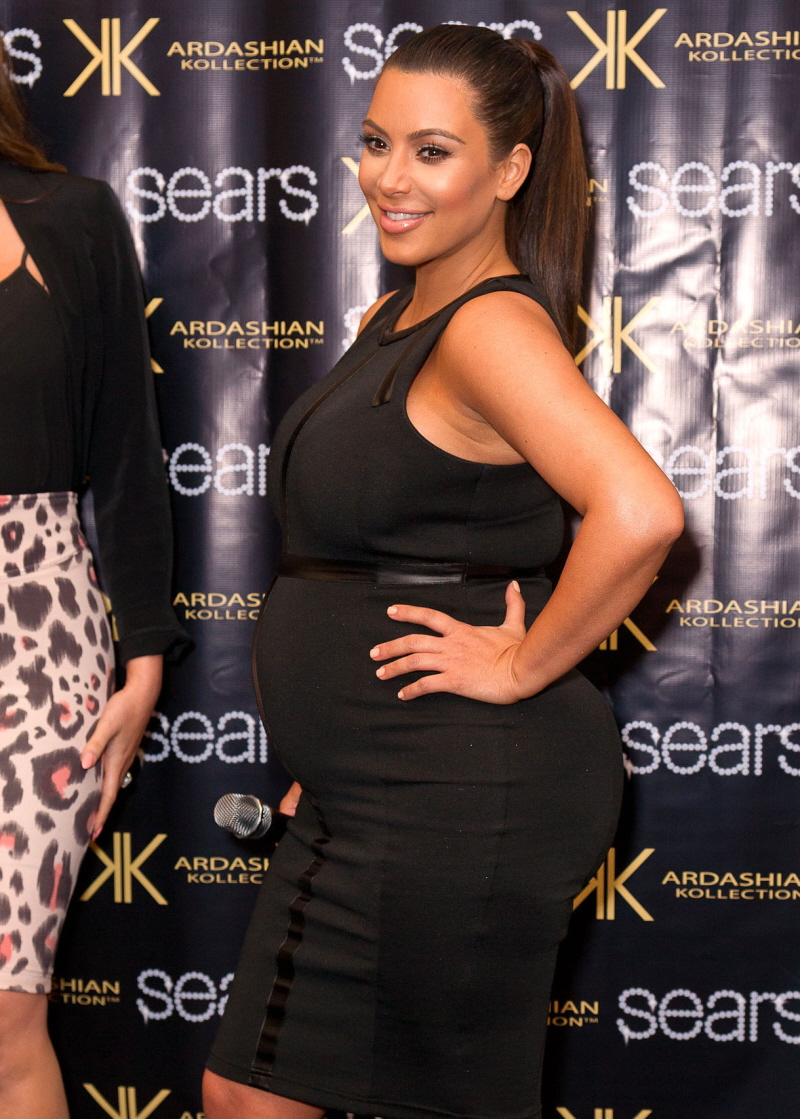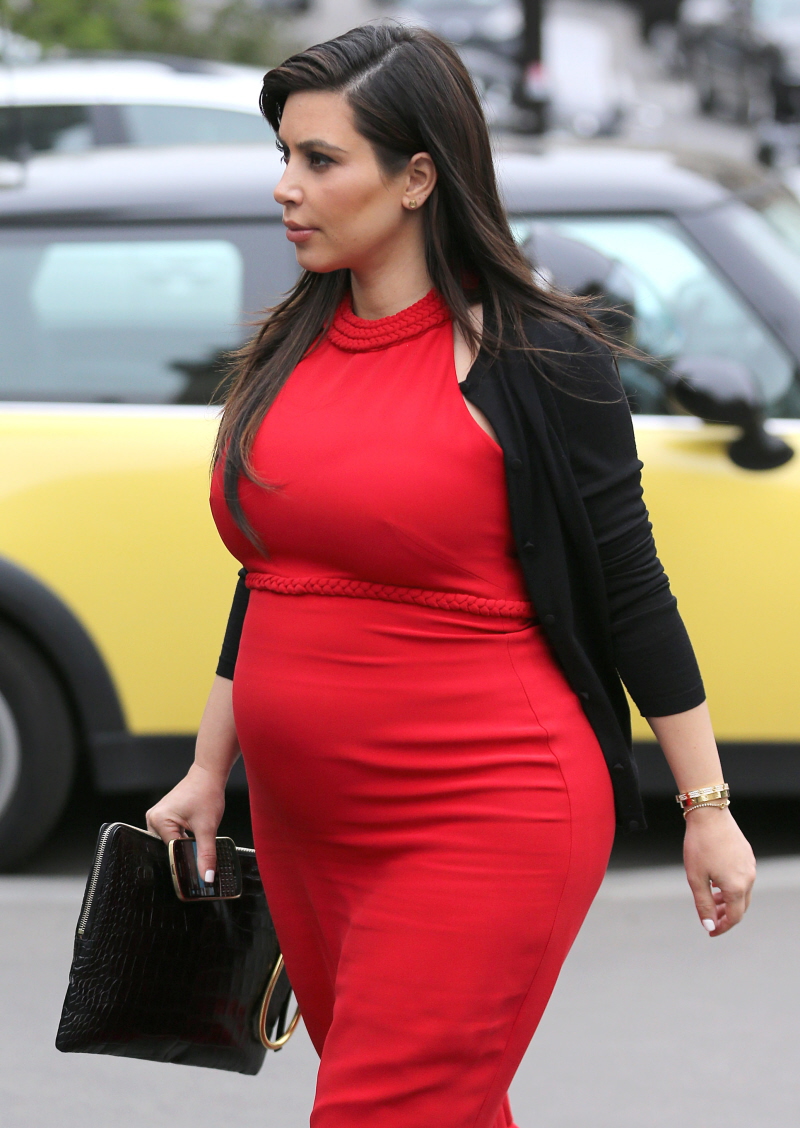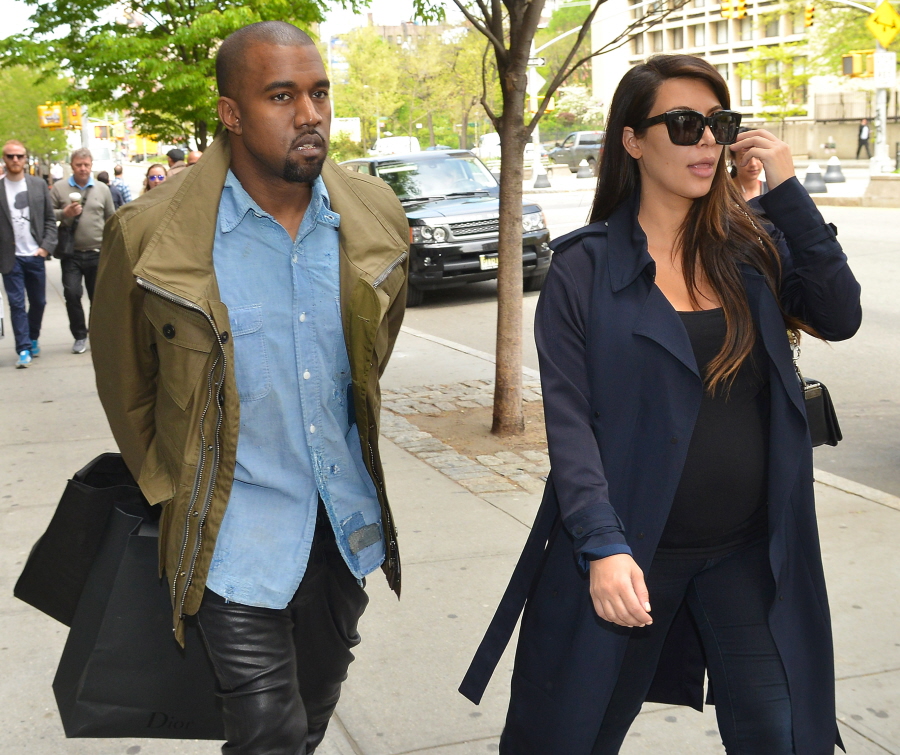 Photos courtesy of Fame/Flynet and WENN.