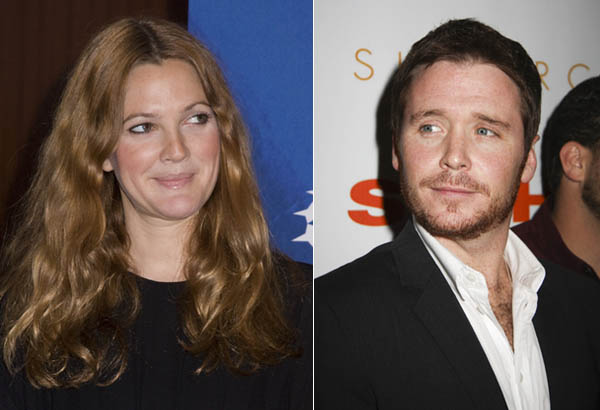 Drew Barrymore, 33, is said to be interested Kevin Connolly, 34, who is featured in her film He's Just Not That Into You. Connolly is playing hard to get with Drew, though, and while it sounds like there may be some spark of romance between them there's little chance it will turn into something long term, according to the National Enquirer. It sounds like this story is based on someone seeing them together at a bar, where Drew was putting the moves on Kevin and getting only a cold response:
Hollywood cutie Drew Barrymore fell for "Entourage" hottie Kevin Connolly on the set of their upcoming film, "He's Just Not That Into You." But while Drew is looking for a serious romance, insiders tell The Enquirer that the happy bachelor just wants to have fun…

Drew, 33, and Kevin, 34, were spotted having drinks together at the Laurel Tavern in Studio City, Calif, on Dec. 21. While Drew poured on the charm with touchy-feeling gestures, Kevin played it cool and barely showed her any affection at all.

"Drew was practically throwing herself at Kevin," an eyewitness revealed. "They were at the tavern for almost two hours, and Drew was definitely the one initiating all the physical contact."

While the two have been friends for a while, Drew is now falling for Kevin, and thinks there's a real chance they'll be together long-term.
[From The National Enquirer, print edition, January 12, 2008]
You can see Drew falling for someone and hoping he returns her affections. She's a woman who seems like she's in love with the idea of being in love and throws herself fully into a new relationship. Once the spark wears off, though, she has trouble sticking around and weathering the inevitable issues that come up. She was way too revealing with the press in her last relationship with Justin Long and the next time she gets in a serious relationship she'll hopefully keep it closer to her chest. Maybe Connelly isn't that "into" her, or maybe Drew is just super flirty and hoping for a good time.
Photo credit: PRPhotos