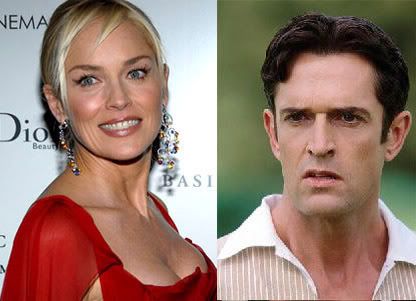 Lucky Guy …and if it all happened ten years ago a very lucky guy. (Unless he's one of those famous granny chasers you hear so much about these days – then I hope it all went down last week.)
Yes, Sharon Stone and Rupert Everett made out with the same guy, at least according to their onstage banter at the Rodeo Drive Walk of Style Award where Rupert was MC. Pop.nography reports:
"The other day I met a guy we both made out with," said Sharon Stone to Rupert Everett. "I feel closer to you now than ever before. It's no longer six degrees of separation."
Is that last line a clue? Does that mean they both made out with Kevin Bacon? Has anyone told Kyra Sedgwick? And if you crossed Sharon Stone with Rupert Everett wouldn't the love child come out somewhere in the Kyra Sedwick lookin' neighbourhood? Or is that just six degrees of unlikely babies?
Sharon continued, very effectively, in her saucy minx mode – trying to bump up the bids for a Lamborghini being auctioned that evening for the Elton John AIDS Foundation:
Stone used a bit of unconventional prodding to get cash from the men in the audience. "I want to take it from your pocket so I can feel how big your penis is when I take it," she cooed to the crowd. The car, she continued, is "the Viagra of the future." Her saucy ways worked, and a guy named Vic coughed up $500,000 for the slick sports car.
Some Dudes just love getting Stoned. Even when working the dirty talk from behind a podium Sharon can raise a cool half million. A Stone cold half million.
The award itself was being presented to both Donatella and Gianni Versace. Guests at the swanky do included: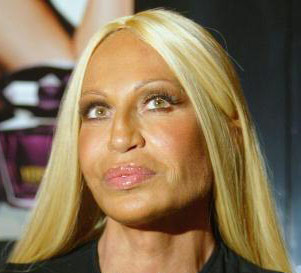 Jennifer Lopez and Marc Anthony (whose security guard flipped out every time someone approached the pair with a camera), Demi Moore and Ashton Kutcher, Penelope Cruz, Paris Hilton, Mischa Barton, Prince, Kelly Preston, Drew Barrymore, Quincy Jones, Courtney Love, Naomi Campbell, Cindy Crawford and Randy Gerber, and Jennifer Hudson.
Both guest and presenters were all tasteful enough to avoid Night of the Living Dead jokes even though Gianni Versace has been designing for Jesus and the heavenly host this last decade — and Donatella looks like this.
Although allegedly from the back of the room these famous words were heard:
"That is one beat down looking bitch … Even I could not Beat that bitch any further down …"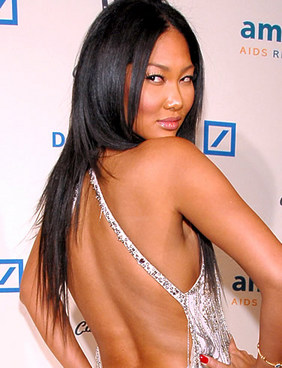 pics via Eog and filmweb and rethinkpink